Latest topics
»
Northern California & Coastal Valleys - What are you doing this month?
by
sanderson
Today at 3:45 am
»
CANADIAN REGION: What are you doing February 2017?
by
Kelejan
Today at 2:00 am
»
Oh Baby it's getting HOT Outside
by
sanderson
Today at 12:58 am
»
Hello from DFW
by
sanderson
Today at 12:56 am
»
Lower South Feb 2017
by
ralitaco
Today at 12:27 am
»
My Solar Dehydrator at Work
by
ralitaco
Today at 12:24 am
»
Mel's mix compacted help
by
ralitaco
Today at 12:23 am
»
N&C Midwest: February 2017
by
CitizenKate
Yesterday at 11:31 pm
»
Cauliflower
by
countrynaturals
Yesterday at 11:15 pm
»
How Many Square Feet Do You Have?
by
sanderson
Yesterday at 9:41 pm
»
Hello from Pottstown, PA
by
zackshea
Yesterday at 9:02 pm
»
What are you eating from your garden today?
by
Ginger Blue
Yesterday at 8:32 pm
»
Happy Birthday!!
by
trolleydriver
Yesterday at 7:41 pm
»
One Very Happy Earthworm!
by
countrynaturals
Yesterday at 7:14 pm
»
Ground Cherries
by
countrynaturals
Yesterday at 11:32 am
»
2017 SFG in Brooks, Ga
by
countrynaturals
Yesterday at 11:29 am
»
Calling all chicken owners
by
countrynaturals
Yesterday at 11:26 am
»
New SFG not sure where to go this year
by
herblover
Yesterday at 10:52 am
»
Mid-Atl - Mar 2017 - I'm a seed-a-holic
by
Mellen
Yesterday at 9:43 am
»
Compost for Mel's Mix
by
BeetlesPerSqFt
Yesterday at 8:05 am
»
Hello from (near) our nation's capital!
by
sfg4uKim
2/26/2017, 7:31 pm
»
Indoor Seed Starting Info?
by
sfg4uKim
2/26/2017, 6:21 pm
»
My name is boffer, and I'm a juicer.
by
trolleydriver
2/26/2017, 4:45 pm
»
So. California & Inland Valleys -March / April Planting Guide
by
countrynaturals
2/26/2017, 11:32 am
»
How to save ground cherry harvest???
by
countrynaturals
2/26/2017, 11:13 am
»
Advice and Preparations for Sweet Potatoes in Wisconsin
by
sanderson
2/26/2017, 1:25 am
»
February 2017 Avatar: Time to Wake Up!
by
countrynaturals
2/26/2017, 12:17 am
»
Bare Root Fruit Trees
by
countrynaturals
2/25/2017, 7:13 pm
»
Gardening in Central Pennsylvania, 3rd year SFG
by
BeetlesPerSqFt
2/25/2017, 6:12 pm
»
Invasive Tree Roots - Very important topic for newbies.
by
sanderson
2/25/2017, 4:25 pm
Page 2 of 2 •

1, 2
I've harvested my mesclun and Romaine several times for salads. My head lettuces are coming right along and my broccoli is finally forming its head (or whatever it is called) My kale doesn't look very good but I'll keep trying. Beans are all up and looking good. None of my asparagus were thick enough to harvest but they look healthy and it's only year 1 & 2 so I'll wait. Tomatillos are already blooming and my tomatoes look healthy. My cucumbers are all started. And best of all we ate our first strawberry yesterday! Very yummy.



Posts

: 10


Join date

: 2011-03-07


Location

: Memphis - Zone 7



I have to echo Furbalsmom post. Those pages mentioned really nail down those dates for you and are all you need to know. I do the hoop house thing and so can cheat a little and get my crops in a few weeks earlier. Broccoli transplants at the end of Feb / First week of March. Lettuce and Spinach in then also.

You got all your summer stuff planted in good time it sounds.

Remember you don't have to wait next year!!! Plant Broccoli, Peas, Lettuce, Spinach etc (all the other cool season crops) again in the fall. You'll get a great crop as most of the bugs are out of season by then and they grow in the warm late summer sun and mature in the cooler temps of fall.

Just how they like it !!!!



Posts

: 554


Join date

: 2010-11-24


Age

: 42


Location

: York, SC



Mimi,

I based my planting schedule in part on charts in the All New SFG book, in part on local custom, and in part based on my impatience and desire to plant SOMETHING even if it was a bit too soon!

So far everything is coming up gangbusters except the Collards which are WAY too early, but I wanted to experiment.

Next on my planting schedule is to plant Nantes carrots in April 15 for carrot week! In a couple weeks I'll put my celery seedlings out. After that, it's on to planting my warm season crops and perhaps another round of radishes.



Posts

: 668


Join date

: 2011-01-26


Location

: WNC 6b



greetings for the ATL. Figured i'd give an update..hopefully pics to follow this week. I have to admit, due to a ton of things going on in my life, i did not grow seeds this year for transplants. Most of my plants are transplants from the garden shop. I did uses seed for some of the cool weather things.

Right now my strawberries are looking great..however while i was away for a week discovered that the birds absolutely love them. Had to get bird netting this week. I've had only 4 strawberries so far but they are sweet and tasty.
English peas are doing well. I have two squares with them. Growing tall but still no flowers yet. I hope they do something before the weather decides to get up into the 90's soon.

I planted a brussel spout to later find out its probably better to start the seeds in the ground in july. Oh well hopefully the sprouts aren't too bitter
i've already harvested one round of muscelin lettuce. And i have several squares of butterleaf and salad bowl lettuce growing strong.

My asparagus i planted last year are doing well but still need some maturing, some are growing like you would expect some are growing more like the first year ferns....so since its the only second year, i've really only harvested a handful. But i guess if i'm patient, next year i'll have an abundance of asparagus and can harvest until my heart is content.

yesterday i planted all my transplants. picked up four types of peppers, red, green, banana, and jalapenos. 4 types of tomatoes, better boy, super100, cherokee purple, and a grape tomato (forgot exact name). I also planted two okra (may be a little early for them but i'm trying) and one water melon.

In several squares, i have typical herb seeds which are slowly sprouting including basil, oregano, sage, and chives.

I also have swiss chard seeds growing pretty well.

Also, not SFG, but i planted two blueberry bushes and another blackberry bush. Hopefully my garden run over this summer barring any major disasters.

I'll try to post pics soon!


It sounds like you are having a pretty good season shelostit.
Life happens and not everyone has the set ups to sucessfully grow seedlings indoors. Don't worry about it. Some purchased transplants and some seeds is still a great way to grow.
Speaking of your strwberries, I think we all would love to have access to SFG babysitters when we have to go away.
Perhaps there is a market for someone who would cover the strawberries, water the SFG beds, keep an eye out for pests, just general short term care.

Looking forward to seeing your pictures.



Posts

: 3141


Join date

: 2010-06-10


Age

: 70


Location

: Coastal Oregon, Zone 9a, Heat Zone 2 :(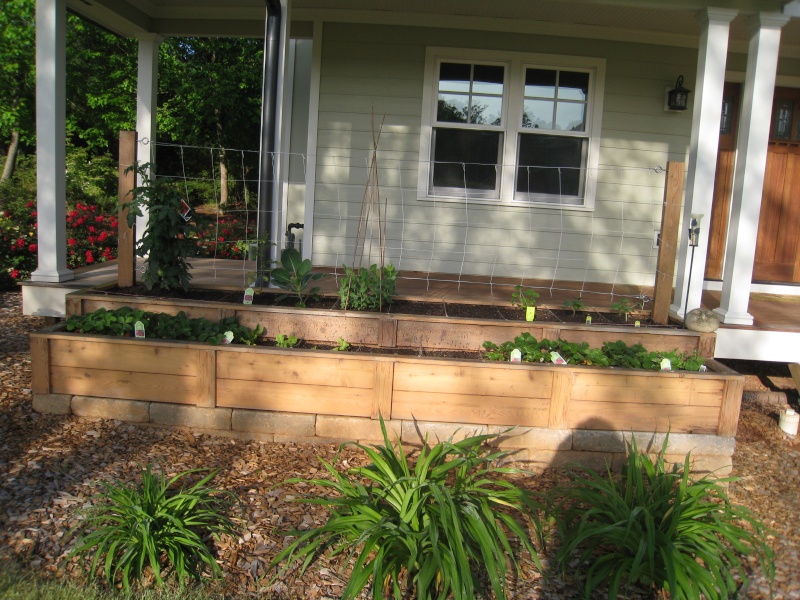 one of my gardens this am.
the other garden on the other side of my house. The large fern looking this is my aspargus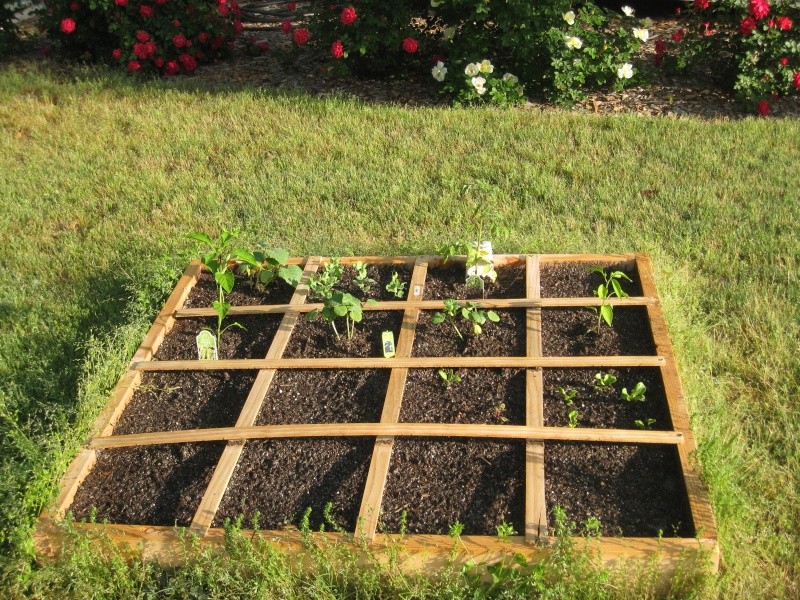 My true 4x4 sfg.
one of my blackberry bushes (no SGF just due to location etc)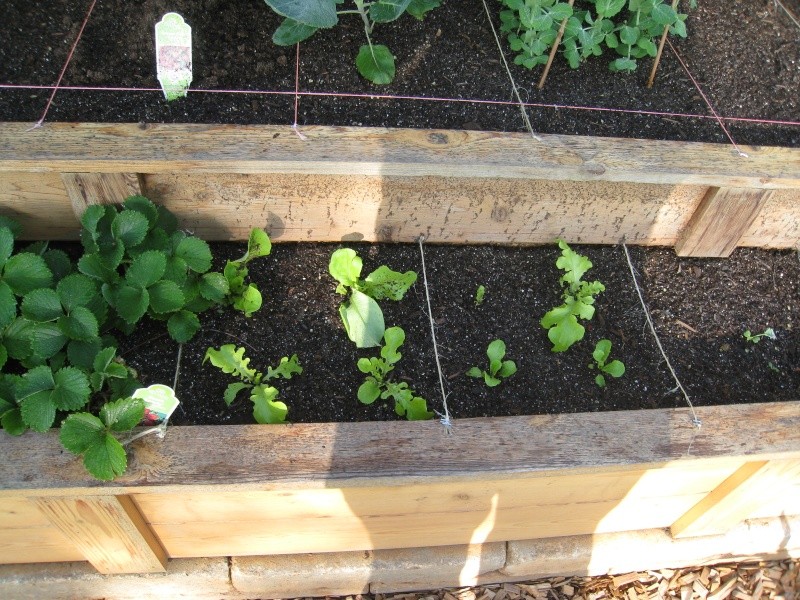 my lettuce starting to do pretty well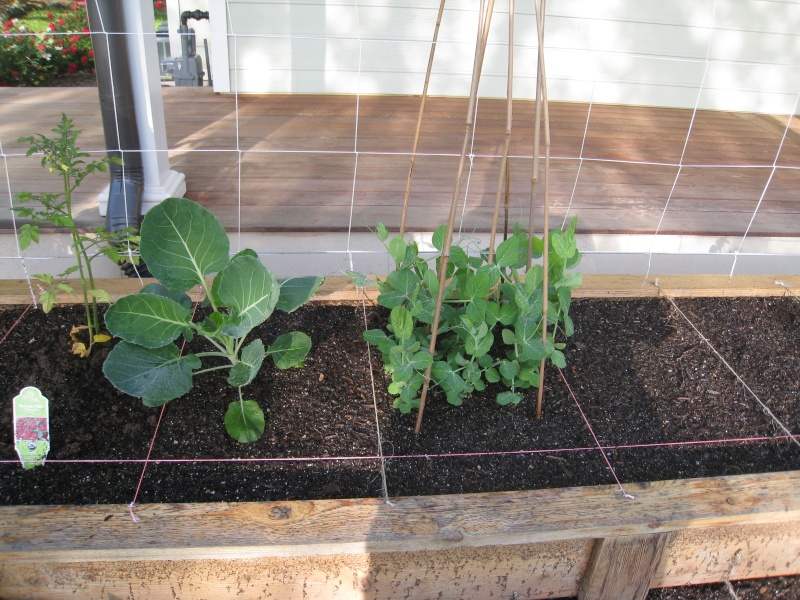 my english peas doing well right next to my sprouts. not really the right time for them...but i messed up. oh well hopefully they won't be too bitter.
I cheated on this one. Just bought this mater plant from the garden shop this week...it was already large but figured i'd get a jump on it. My hubby really loves his tomatoes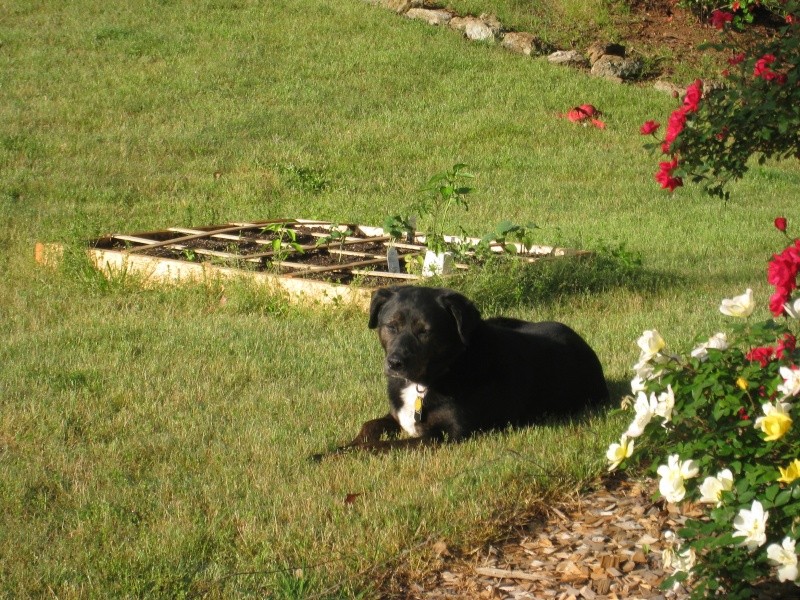 My dog not guarding the garden but enjoying the sun and trying to figure out my obsession with this gardening crap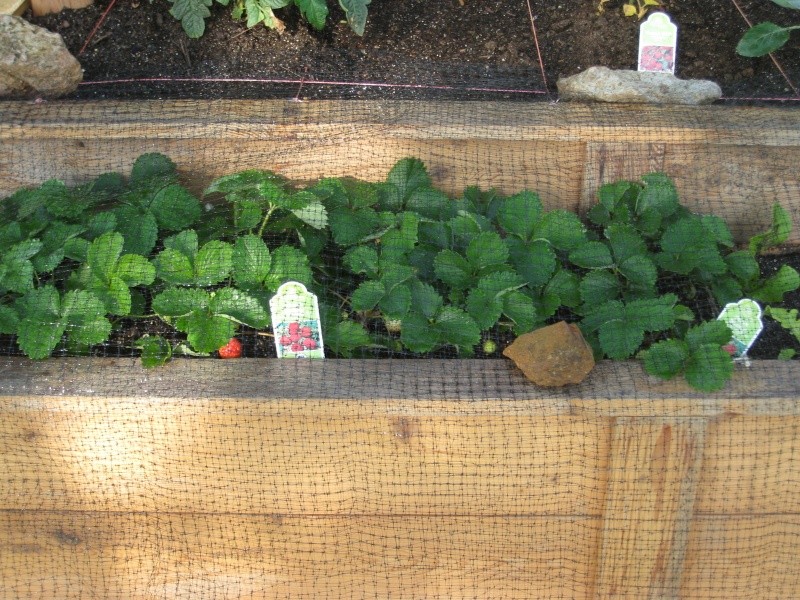 My strawberries finally protected from those pesky birds. You would think if i gave them a bunch of food (i have multiple bird feederers ) they'd leave my berries alone...but no...they love the yummy morsel and i don't blame them. They are sweet and yummy!!!!
Great pictures! Thanks so much for the update! Your gardens are looking great.



Posts

: 668


Join date

: 2011-01-26


Location

: WNC 6b



Wonderful
Glad you got protection for those strawberries.
That 'mater looks so good.
(green with envy) We can't even plant tomatoes on the Oregon Coast until mid May at the earliest. While our average last frost date is mid March, the soil takes forever to warm up and we don't really have much heat all summer long




Posts

: 3141


Join date

: 2010-06-10


Age

: 70


Location

: Coastal Oregon, Zone 9a, Heat Zone 2 :(



thanks guys...this is the first year doing SFG and i feel like its such a better and easier concept already!

Page 2 of 2 •

1, 2
---
Permissions in this forum:
You
cannot
reply to topics in this forum