My first year with SFG. Boxes aren't pretty but follow all the specs. I used moulding to create one grid but it cost me $16 in wood. With 4 boxes, that's just too expensive. I switched to wire and that seems a much better idea. I just measured and dropped in screws at the right spots to wrap the wire on, then used galvanized steel wire from the hardware store - $4 for 50 feet (enough for 2 boxes) in the picture hanging department. You can see in the pic I also tried green plant wire (back left) which works fine but is nearly invisible.
My plants include (some planted a few days after this pic) a wide assortment - 3, tomatoes, 2 squares bush beans, 2 sq. sweet peas, 1 zuke, 2 sq carrots, 1 sq spinach, 4 sq lettuces, 3 sq strawberry, 3 sq peppers, 2 sq shallots, 2 sq garlic and 1 sq scallions, 6 sq broccoli. About 75% of the garden is in full sun, the other part gets shade from the trees to get about 6 hours of sun a day. I'm probably too late on the peas but maybe the weather will stay cool.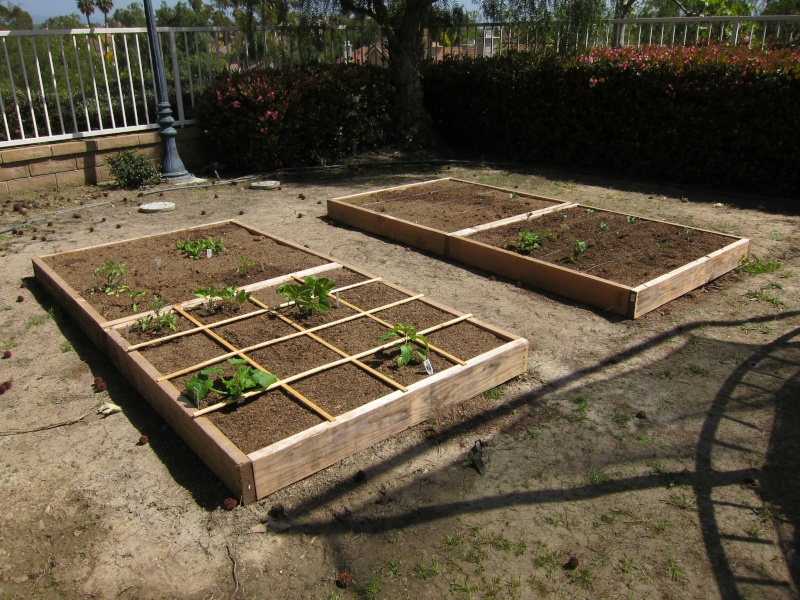 Posts

: 3


Join date

: 2010-03-13



Looking good i had a few issues myself with makeing my grids until i finaly found some wood lathe for $5.95 a bundle with 12 in the bundle at 8 ft lenghts so without doing the math i grabbed 2 of the straightes bundles i could find then realized i had way more then i needed lol but i can always use the xtra to repair damaged pieces and to build more boxs good luck with your garden looks like your off to a great start



Posts

: 459


Join date

: 2010-03-02


Age

: 42


Location

: New Port Richey FL.



Looks nice. Congratulations and good luck with your first SFG.

Certified SFG Instructor




Posts

: 778


Join date

: 2010-03-02


Location

: Frisco, Texas



Hi Jeff
Your gardens look great, and in a few short months they'll be brimming with greens!

If you have a Lowe's around your area, they carry bundles of wood lath.....50 4' pieces for $13.
But it looks like you have something that will work for you anyhow.

Good luck with your gardening.



Posts

: 215


Join date

: 2010-03-05


Age

: 42


Location

: southeast MN, zone 4a



What part of So Cal are you in? I'm in the Palm Springs area.



Posts

: 21


Join date

: 2010-03-06


Location

: Indio, CA



---
Permissions in this forum:
You
cannot
reply to topics in this forum