Latest topics
»
1st Seed Catalog Arrived :)
by
yolos
Today at 5:30 pm
»
SUGA 2017
by
SQWIB
Today at 4:55 pm
»
My first Attempt
by
21Actual
Today at 4:25 pm
»
Biochar?
by
SQWIB
Today at 3:24 pm
»
Senseless Banter...
by
sanderson
Today at 3:19 pm
»
Spring Fever Anyone?
by
sanderson
Today at 2:37 pm
»
CANADIAN REGION: What are you doing in January 2018
by
Kelejan
Today at 2:36 pm
»
Newspapers vs Weed Cloth
by
sanderson
Today at 2:30 pm
»
2018 - First Annual Seed Exchange Week - January 20-28 (Edited)
by
sanderson
Today at 2:23 pm
»
Too Many Red Wiggler Worms in Raised Beds??
by
sanderson
Today at 2:09 pm
»
Is there ever enough compost?
by
Kelejan
Today at 1:15 pm
»
What is this? Plant identification?
by
sanderson
Today at 3:10 am
»
Areogardening
by
sanderson
Today at 2:38 am
»
January 2018 Avatar: Surprise Us
by
sanderson
Yesterday at 4:51 pm
»
My Shreveport Garden 2018
by
sanderson
Yesterday at 4:47 pm
»
Are vegetables hurt by too much light?
by
BeetlesPerSqFt
1/20/2018, 8:38 am
»
Seed Starting!!
by
brianj555
1/19/2018, 9:14 pm
»
How's the Weather Where You're At?
by
sanderson
1/19/2018, 2:56 pm
»
Weight Watchers Turkey, Bean and Vegetable Chili
by
hammock gal
1/19/2018, 8:43 am
»
Sow True Seeds
by
AtlantaMarie
1/19/2018, 8:00 am
»
Colored Mulch
by
No_Such_Reality
1/18/2018, 7:12 pm
»
Taking on 4 Season Gardening
by
Roseinarosecity
1/18/2018, 5:19 pm
»
Fourth Year SFG in Canada
by
trolleydriver
1/18/2018, 3:53 pm
»
Butternut squash, turkey Italian sausage, cannelini bean soup
by
yolos
1/17/2018, 9:25 pm
»
Happy Birthday!!
by
yolos
1/17/2018, 9:12 pm
»
N&C Midwest—January 2018!!!
by
Scorpio Rising
1/17/2018, 7:08 pm
»
What are you eating from your garden today?
by
Scorpio Rising
1/16/2018, 9:10 pm
»
Gophers
by
countrynaturals
1/16/2018, 12:32 pm
»
High heat tolerant tomatoes
by
walshevak
1/16/2018, 6:03 am
»
Mid-Atl - Jan 2018 - Brrrrrrrrrr! and Happy New Year
by
AtlantaMarie
1/15/2018, 6:43 am
We just got the hardware cloth stapled on (and I'm REALLY glad we sprung for that because our neighbor was just telling us about his epic battle with moles last year), I have the weed cloth, and tomorrow we plan to mix up the MM and fill the boxes.

I started some seeds inside (no grow lights, and it was a last minute thing so I didn't expect much) so the only thing that actually came up was the romaine lettuce. I"m a total beginner, so please bear with the dumb questions:

1. If I transplant my teeny 3" seedlings, do I need to make a hoop house for them, or will a frost bother them? I know we'll get another one here soon. Our last frost date is around May 10th. Also, what about rabbits, etc. If I don't have plastic over it, would I need chicken wire anyhow?

2. If I need a hoop house, I'm worried about getting one made in time since we have a few other projects going right now. Should I just keep them inside until I get a hoop house?

3. What about planting peas and carrots now? Those (aside from onions and garlic, which I'm not worried about freezing) are the only other cool weather crops I intend to plant. If I do plant those, do they need a hoop house until the last frost?

4. Finally, why are garden centers selling tomatoes now if we can't put them in the ground yet? Is it a good idea to buy what I want now so they don't run out and keep them indoors until I can put them outside, or is it a better idea to wait and let the nursery do the hardening off work for me?



Posts

: 68


Join date

: 2011-03-29


Location

: Lafayette, IN 5b



No question is too dumb. No worries...
I have different frost dates for you. Check the zip code, and if different, plug in yours. This is the coolest page ever. If you have questions about it, just ask.
http://davesgarden.com/guides/freeze-frost-dates/index.php?q=47901&submit=Go
1- Do you plan on extending your harvest this fall? Do you plan to start earlier next spring? If yes, you need hoops. May as well do them now, imo.
Do you know of lots of rabbits/squirrels/critters around the neighborhood now? If yes, then you may need constant protection imo. I keep my hoops up all year round. I have netting on them. If I need plastic, I just toss it on top and brick it down for the night. That way, I have both issues constantly "covered." (Pun intended.)
2- Iffy. But, you will likely need to start hardening them off if they've been inside long. May as well start now.
3- Peas do well even with frosts. Carrots, I don't know about their durability, but mine have been fine. If you directly sow your seeds in the garden, they will come up in their own time. Mother Nature has pre-programmed them to know when it's ok to pop their heads up. I wouldn't be as concerned about them until they start to sprout...then I'd take precautions when a freeze is imminent.
4- Because most people are not as informed as you....and will buy them. All about $$. The stores are getting consistent shipments when they run low. You should be able to find healthy, hardened off tomatoes well past your frost date. Don't sweat this one.
Hope this helped.



Posts

: 2727


Join date

: 2010-12-25


Age

: 44


Location

: St. Louis, MO



If you can't get your hoop house made yet, do you have any wire clothes hangars?
Unfurl them, arc them, and place over your square(s). Then over those you can put an old towel or blanket and clip to the wire with spring clothes pins.
I use this method all the time and it works against a sudden cold snap.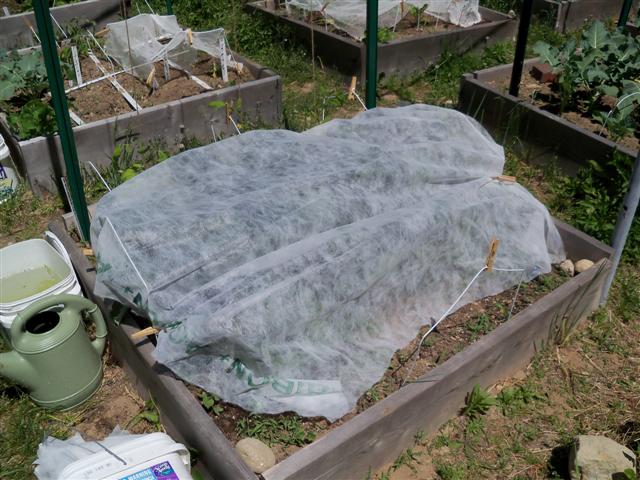 Here I'm using the wire hangars to hold the lightweight row cover in place over my cabbages against flea beetles.
I use them to hold cheesecloth over newly planted seedlings against too much sunlight the first couple of days and against sunlight over lettuces when its getting into summer.
Just a few wire hangars can be a big help against an overnite cold snap. At least it'll give you some time before your hoop house is in place.



Posts

: 4700


Join date

: 2010-03-21


Age

: 75


Location

: Southwestern Maine Zone 5A



That is definitely a cool site. Thanks.
The coat hanger suggestion is good, so I guess I'll go ahead and start planting as soon as my boxes are set up. I suppose the worst that happens is that I lose my lettuce seedlings that I grew (9 cents/pkg, so not much of a loss), and at least it will be a learning experience.
We do have tons of squirrels around. I'm not sure about rabbits, but I wouldn't be surprised. I live in town, but in the historic district with larger land plots, and we have a section of woods at the back of our property, so I assume we have lots of critters back there. I'm sure I'll find out soon if I need chicken wire.



Posts

: 68


Join date

: 2011-03-29


Location

: Lafayette, IN 5b



I have been keeping the bunnies out with a cheap 2' plastic fence, zip ties and posts. It goes up very quickly and works. Last year I hesitated and lost a crop of broccoli. They didn't eat much lettuce, but ate broccoli down to the ground. Check HD or lowe's.



Posts

: 440


Join date

: 2010-05-25


Location

: Beaver Dam, Kentucky, zone 6a



---
Permissions in this forum:
You
cannot
reply to topics in this forum