We planted about 3 weeks ago, and most everything's going crazy now! We bought tomatoes, peppers, and eggplants as plants, but everything else we started from seed. We have 100 squares, a little over 1/5 of which are not whole squares. 72 squares, I believe, are planted. We'll be planting some more next week.
Looking north. Early and late garlic in the foreground, along with cantaloupe and watermelon. An experimental square of corn, several squash, bell peppers, bush beans, onions (not many coming up), radishes, carrots, a short square of snow peas, and tomatoes.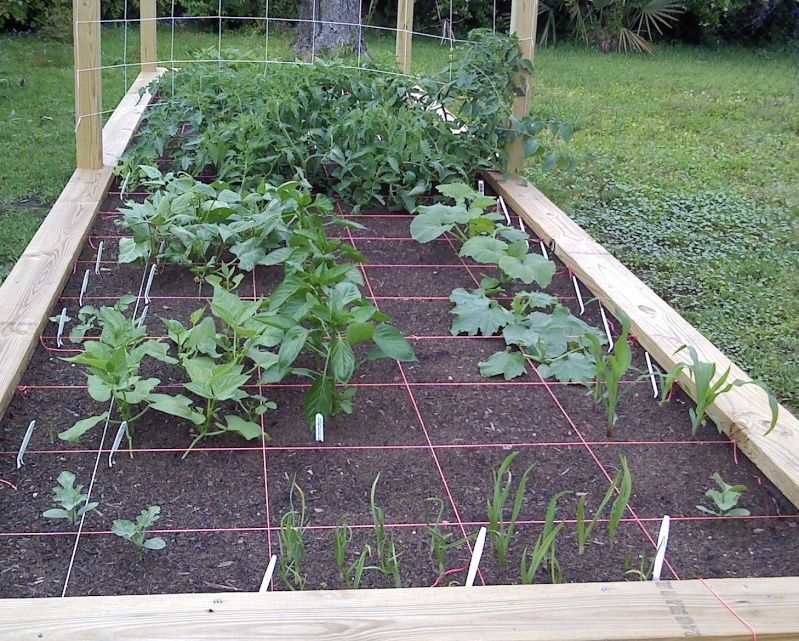 Looking south. Pole beans and sweet peas in the foreground. Then turnips, beets, a cubanelle pepper, eggplants, potatoes (which I already had to bury a good bit), okra, lettuce and spinach in the shadow of the tomatoes, and a cucumber.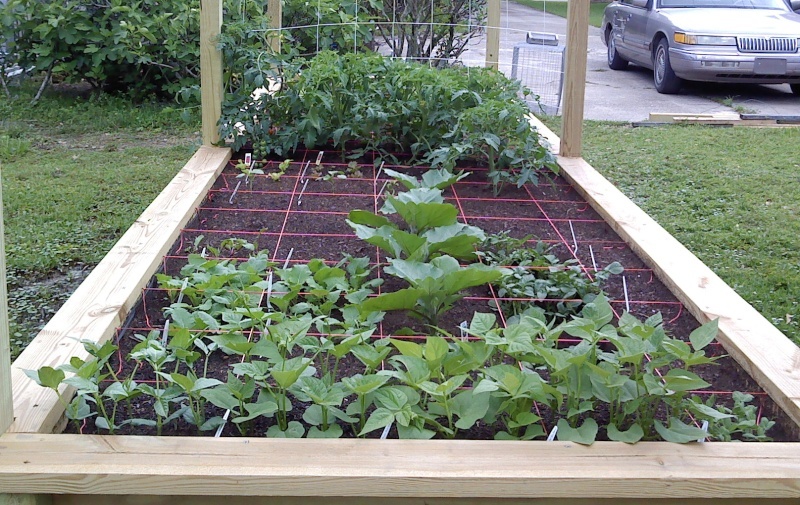 I need to get the rest of my trellises in! By the time the melons are big enough to shade anything, the sun should be pretty much directly overhead, so that shouldn't be an issue. Even if it is, we plan to build another garden that is oriented 90* relative to this one, so we have the long side for trellising.

You can actually just make out an already-ripe Sunsugar cherry tomato on the left!

Sooooooooo pretty.



Posts

: 1697


Join date

: 2011-04-01


Location

: zone 9a St.Johns county FL



WoooooooooooooWhooooooooooo!
Awesome garden! I like your box and trellis construction as well. It looks great. Thanks for posting the pictures!



Posts

: 668


Join date

: 2011-01-26


Location

: WNC 6b



Thank you!

Here's a picture of the whole thing, taken when it wasn't sitting in quite as much water:
The box is 18-24" deep (uneven ground), because it spends a large portion of its time in standing water. Obviously, not the first choice for placing a garden, but most of the yard has the same problem, and this part of the yard gets the most sun. So... whatcha gonna do?

The vertical structure is multi-purpose -- we will be adding a few more crosspieces, and then we will put chicken wire on the top. The sides will have bird netting. The birds and squirrels here are unstoppable, but I'm hoping to change that. The top will be chicken wire, because it will help support plastic sheeting in the winter (rounded so the rain rolls off), and then we will have the sheeting on the sides, too.
It has 9" of sand in the bottom, and is currently sitting in 2-4" of water. The end by the fig tree (south) normally has no standing water. On the other sides, we have laid 2x4s and 4x4s on the ground as a temporary walkway. Sometimes, the walkway floats. Eventually, we'll put a permanent walkway in. It's a little low on the priority list right now. And... a little hard to do in standing water.
The rest of the depth allows us to grow things like potatoes, of which I will put more in when the other garden is built. The other garden will have the typical 6" of Mel's Mix, on top of 9" of sand. Or maybe a foot of sand, to bring it up to an easier sitting height.

Very impressive!



Posts

: 284


Join date

: 2010-03-17


Location

: Mason, OH



That is marvelous.
I love the trellis structure. Being able to change from plastic to bird netting as needed is a great thing. If your weather gets too warm, youcan also add some shade cloth.
Congratulations on a job well done!



Posts

: 3141


Join date

: 2010-06-10


Age

: 70


Location

: Coastal Oregon, Zone 9a, Heat Zone 2 :(



Thank you!!!
I hadn't even thought of shade cloth!

---
Permissions in this forum:
You
cannot
reply to topics in this forum