Page 2 of 2 •

1, 2
You can add a little fish bone meal or rock phosphate, if you need phosphorus. It has been said here on the forum MM is the best "soil", but some times the composts use are lacking something. I don't see adding this as going against SFG and I know Mel wants us to be sucessful. If you have your own compost pile you may never have to add anything but that black gold ever again.



Posts

: 1697


Join date

: 2011-04-01


Location

: zone 9a St.Johns county FL



Thanks to everyone for your continuing encouragement and for cheering on my little successes. I am still determined to post a photo of my radishes. Here goes another try: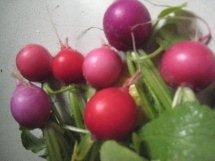 YESSSS!! It worked! Here's another one:

Hizzah!
Those radishes look amazing. I bet they taste pretty good too!



Posts

: 668


Join date

: 2011-01-26


Location

: WNC 6b



Great looking radishes jthreadsmith
Mine still are not doing much




Posts

: 3141


Join date

: 2010-06-10


Age

: 70


Location

: Coastal Oregon, Zone 9a, Heat Zone 2 :(



jthreadsmith, those are SO PRETTY! how did they taste? :?:


Forum Moderator Certified SFG Teacher




Posts

: 14165


Join date

: 2010-03-06


Age

: 54


Location

: Keene, NH, USA ~ Zone 5a



Those are just so pretty !!!



Posts

: 1123


Join date

: 2010-03-12


Age

: 57


Location

: Southwest Ms. Zone 8A (I like to think I get a little bit of Zone 9 too )



Real beauties! What kind of radishes are those?



Posts

: 284


Join date

: 2010-03-17


Location

: Mason, OH



Golly, yall, thanks for all the complements on the radishes! They are Cook's Custom Mix from Cook's Garden. The mix is equal parts D'Avignon, Pink Beauty, Champion, Snowball and Purple Plum varieties. Haven't seen a white Snowball yet. As for taste, they taste great-for radishes

! I'm not a big radish fan but my husband and dad love them and would be so disappointed if I didn't grow any. They like these. I have tasted a couple of them and I would call them mild but still radish-y.
We are getting lots of good rain here lately and my SFGs are loving it. The seeds are germinating quickly and my transplants are looking so much happier than they did in their little cramped growing pots last weekend.
Page 2 of 2 •

1, 2
---
Permissions in this forum:
You
cannot
reply to topics in this forum