Latest topics
»
hanging grow light suggestions
by
sanderson
Today at 3:23 pm
»
A new SFG fan from Texas
by
Scorpio Rising
Today at 2:12 pm
»
How's the Weather Where You're At?
by
Scorpio Rising
Today at 2:11 pm
»
2018 SFG in Brooks, GA
by
Scorpio Rising
Today at 2:09 pm
»
N&C Midwest: When are your starting seeds?
by
Scorpio Rising
Today at 1:28 pm
»
Happy Birthday!!
by
Scorpio Rising
Today at 1:22 pm
»
Northern California & Coastal Valleys - What are you doing this month?
by
countrynaturals
Today at 10:48 am
»
Hi Everyone
by
countrynaturals
Today at 1:53 am
»
N&C Midwest: February 2018 !
by
Scorpio Rising
Yesterday at 11:07 pm
»
Horsetail weed
by
sanderson
Yesterday at 7:36 pm
»
CANADIAN REGION: What are you doing in February 2018?
by
Kelejan
Yesterday at 9:31 am
»
MD Home & Garden Ticket Drawing (until 2/24/18)
by
sanderson
Yesterday at 2:55 am
»
Path Width
by
donnainzone5
2/23/2018, 11:20 pm
»
parsnips in square foot garden?
by
Turan
2/23/2018, 8:38 pm
»
Your favorite blackberries or raspberries?
by
Mikesgardn
2/23/2018, 5:51 pm
»
SUGA 2018
by
SQWIB
2/23/2018, 2:02 pm
»
Mid-Atl - Feb 2018 - Anyone starting seed indoors yet?
by
BeetlesPerSqFt
2/23/2018, 12:22 am
»
Hello from Northern Ontario Eh!
by
skidmoca
2/22/2018, 9:04 pm
»
Eggplant - (Japanese) Millionaire
by
Scorpio Rising
2/22/2018, 8:57 pm
»
Floating Away and New Seeds!
by
Scorpio Rising
2/22/2018, 8:55 pm
»
ahoy mateys from Arkansas
by
Scorpio Rising
2/22/2018, 8:45 pm
»
Sowing Experiment! Anyone Tried This?
by
Scorpio Rising
2/21/2018, 8:49 pm
»
Fourth Year SFG in Canada
by
trolleydriver
2/21/2018, 5:13 pm
»
Aerogrow by Miracle Grow
by
AtlantaMarie
2/21/2018, 7:05 am
»
Seed Organizing Ideas
by
AtlantaMarie
2/21/2018, 7:04 am
»
Areogardening
by
BeetlesPerSqFt
2/20/2018, 9:54 pm
»
has55's R & D Journey
by
sanderson
2/20/2018, 1:55 am
»
WANTED: Pictures of Compost Bins
by
bigdogrock
2/19/2018, 10:28 pm
»
The New Square Foot Gardening Foundation page is now online!
by
sanderson
2/19/2018, 6:40 pm
»
February: What to plant in Northern California and Central Valley areas
by
sanderson
2/19/2018, 6:31 pm

Its a lovely day (sunny and 64*F) so I was in the garden getting it ready for another year.
Poking thru the layers of fallen leaves I checked on my parsnip blocks.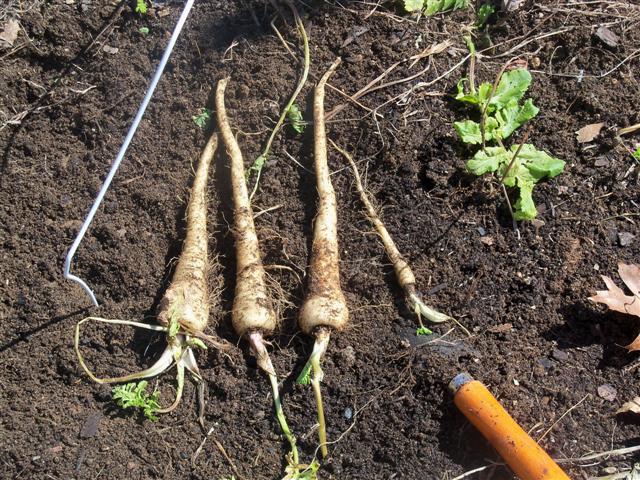 I pulled these today. The greenery you see are more parsnips that I'll harvest this week. I have to harvest them all before they begin growing new greenery or their flavor will be spoilt. Parsnip improves in flavor if it goes thru a few frosts or even overwinters.
Its wonderful getting something out of the garden when until this week, I couldn't even see all my beds under the snow. I'm so eager to transpalnt my broccoli and cabbages that I've got them outside for an hour today to harden them off a bit.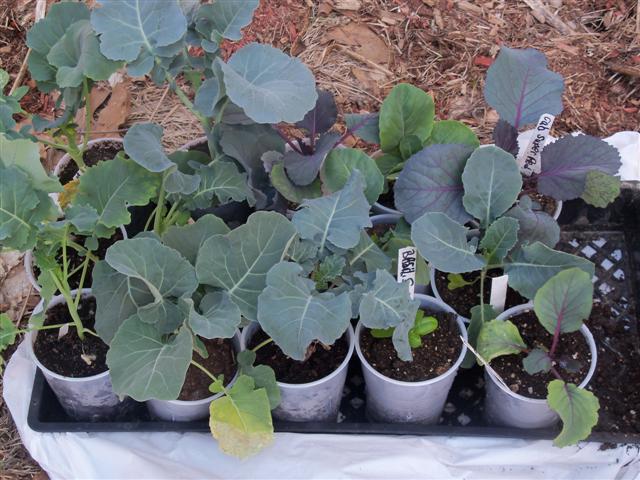 I plan to have them in their assigned squares next week.
I harvested the rest of my parsnips today. I had 3 squares of them and last fall I harvested a few of them but the flavor wasn't the greatest.
When they say they need a good freeze or to overwinter them, 'they' are right. What great flavor.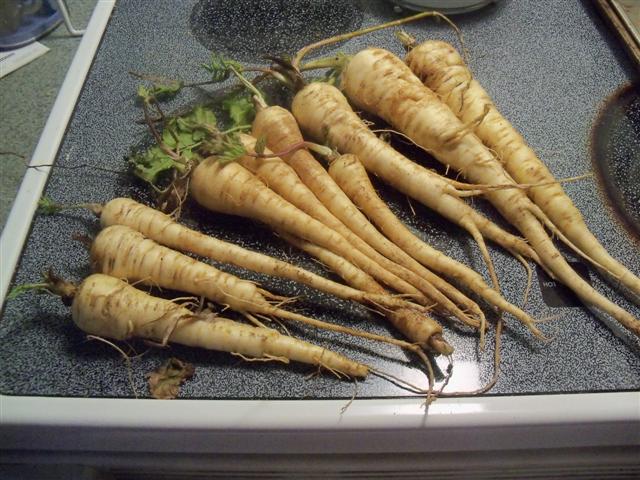 Here's what I harvested today.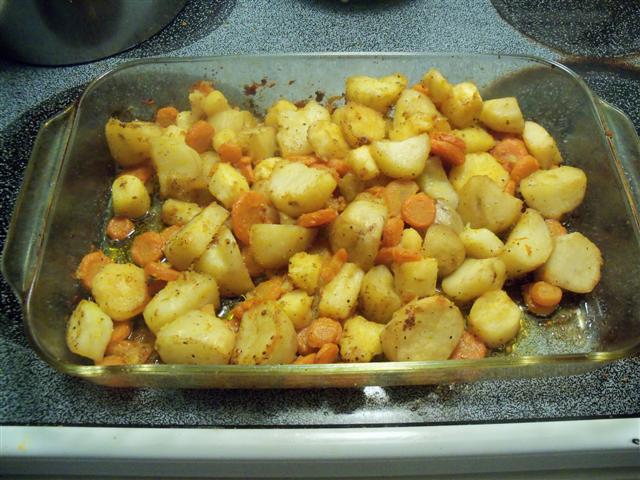 Here's my roasted veggie dish. I dug out my largest baking dish from the bottom of the cabinet , added oil and butter along with 3 flattened cloves of garlic and preheated the dish. Then I peeled and sliced potatoes and parsnips, washed and sliced them, then put them in the baking dish and tossed them with garlic pepper, a few seasonings, and pepper to roast at 425* to start, then turned the heat down to 400* after 15 mins. for the next half hour. I didn't have fresh carrots so opened a can of sliced carrots, drained them and added to the dish the last half hour with the oven lowered to 375*.
Mmmmmm good. My family couldn't get enough of it. My son had 3 helpings. Everyone proclaimed the parsnips a winner.
After trying them last fall I didn't think I'd grow them again, but after today you know there will be parsnips in my garden again to overwinter for next spring.
What a wonderful harvest and a yummy dish you prepped too ! I wish i had done parsnips. I had the seed but just did not get round to it. My carrots overwintered well and I bet they would have done great. You have inspired me to certainly include them in my late fall garden this year.

Thanks for sharing !!!



Posts

: 554


Join date

: 2010-11-24


Age

: 43


Location

: York, SC



Gosh they look great I am glad to see someone is growing them. As I live in zone 9 I thought I would give them a try this fall. We get a month or two of cold weather and if that is not enough I will cheat and put them in the freezer. That is a tip from Mel's first book if memory servers me right. Do you grow them in an extra deep box? Are there short parsnips?



Posts

: 1697


Join date

: 2011-04-01


Location

: zone 9a St.Johns county FL



My 'snips are all from 7" plus to 13" long in my 12" deep raised beds.
I never put any bottom or even weed barrier down before laying out my beds so they can grow beyond the bed depth if necessary.
My son rented a sodcutter to remove the lawn beforehand and I've not had troubles with weeds except for the new stuff that flies into the beds or what I bring up from dormancy if I dig around too deep in the square and what I've put there myself (winter rye I sowed last fall to improve my soil).

I wouldn't wait for late fall to plant your parsnip seeds. They have to grow before hard winter arrives and freezes them.

Tip: Push a crowbar into the spot where you want to sow the seed. Push it deep and then move it around in a circle. Pull out the crowbar and fill the hole with soil, tamp it down a bit with your hand, and sow the seed on top and cover it with soil. That way no hard stuff is in the way of the root growth.
Did you do anything at all to protect them over the winter? Do you think they froze solid...at least the top couple of inches? I am really curious to know. I have always dug my parsnips very late in the fall after several heavy frosts but before the ground is completely frozen. If I could overwinter them, I would do both.

PS. I cook mine like you do but throw a bit of fresh rosemary on them.

Gwynn
Regional Hosts




Posts

: 1156


Join date

: 2010-08-12


Age

: 66


Location

: Canada 3b



Old Hippie,
I didn't cover them with anything but the fallen leaves that fell in the beds. Here is southern Maine we got lots and lots of snowcover thru most of the past winter so I don't expect they froze very hard or very deep under that lot of white stuff.
When I pushed aside the dried leaves after I shoveled off the snow in preparation for getting my beds prepped for spring, I found flattened green leaves underneath. With a trowel I dug deeper and there they were, safe and sound. And tasty.

I knew I had to dig them out before the leaves started to regrow because when that happens, the parsnips lose their flavor.

I think a mulch bed of straw or dried grasses or even fallen leaves when winter is approaching is all that is needed. I only had a layer of new-fallen leaves, but the snow helped mulch the bed as well.
Got to try that this fall. Thanks.

Gwynn
Regional Hosts




Posts

: 1156


Join date

: 2010-08-12


Age

: 66


Location

: Canada 3b




---
Permissions in this forum:
You
cannot
reply to topics in this forum