Okay folks, been harvesting most of the day, turning over MM, adding back compost and getting beds ready for summer plantings, bought a few transplants of course but going for direct seed plantings also.
So just like my earlier Lettuce harvest, my trusty helper and I had barrels of fun finally harvesting the carrots from last fall's late plantings (and also to make room for the Carrot SFG April 15th kickoff). This was my first Carrot harvest and its hilarious pulling them up to find out what treasure lies beneath. Some of the biggest ones had the smallest set of leaves and vice-versa. Its a real lottery every time and we each pulled one at a time and compared the biggest and the funniest finds.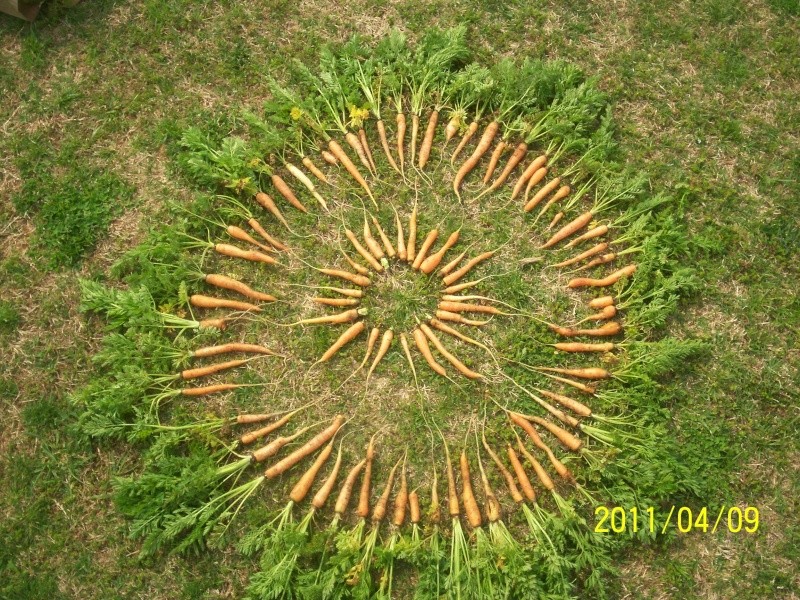 Here's my favorite five "Funny" carrots in no particular order.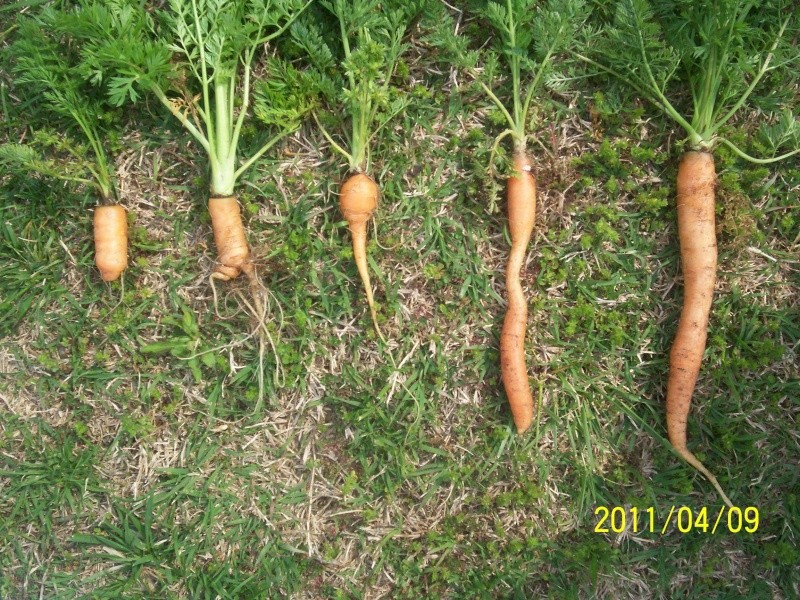 After sharing with neighbors, still a few pounds left. All washed and now stored.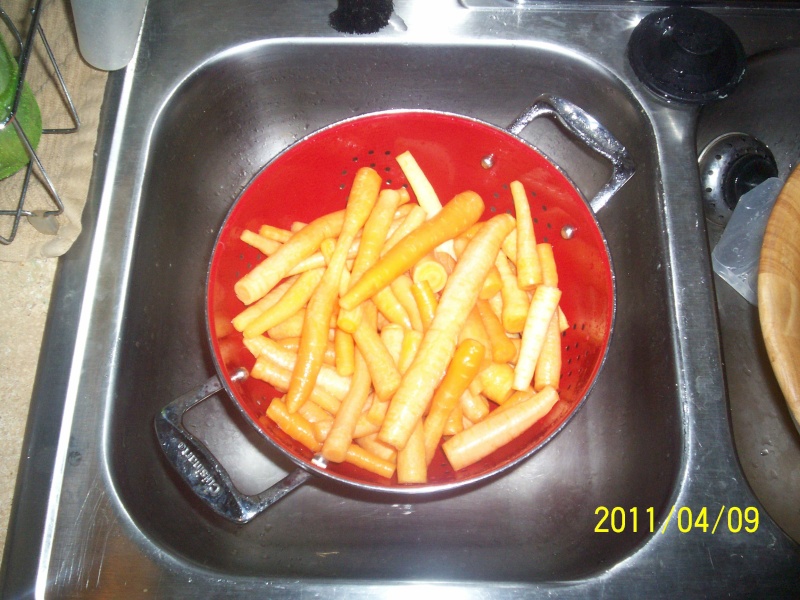 Gonna give our Carrot challenge a try but might be a little hot here at this point. No worries though, I'm in as Carrot harvesting is just plain fun




Posts

: 554


Join date

: 2010-11-24


Age

: 43


Location

: York, SC



You and your helper must have had a ball!

I grow 15-20 squares every year, and I've never seen some of those shapes before LOL



Posts

: 7392


Join date

: 2010-02-26


Age

: 65


Location

: yelm, wa, usa



I really don't know why Boffer either!!! Of course, I've not got the experience to compare to but for you to say that those shapes are unusual makes the harvest all the more crazy.

I actually only had a few straight and "store type" carrots. They taste great so i really don't care. Perhaps its because they stopped growing in the winter and resumed in the spring. The pic that is thin in the middle with two fatter ends shows evidence of this but other than that, I'm totally stumped.

We did have a great time though !!!



Posts

: 554


Join date

: 2010-11-24


Age

: 43


Location

: York, SC



Wow staf! Those are fantastic. Looks like a fun day at your house! You all need some good ol' southern carrot cake! Although, garden fresh carrots are about as sweet as cake anyway, so I guess you're good. Enjoy your harvest! Thanks as always for the inspiration.



Posts

: 309


Join date

: 2011-03-20


Age

: 43


Location

: Fort Mill, SC



I wish I had had a camera when I did my carrot harvest last year. I had one carrot that grew perfectly straight down through the hole in a washer that I didn't know was in the ground. Hubby couldn't believe it! (Well, neither could I, except I had the carrot in my hand!) :scratch:



Posts

: 3415


Join date

: 2011-02-16


Age

: 53


Location

: Zone 4A - NE SD



That's a great harvest. I'm happy for you.
Now you can get ready for the new season of goodies.



Posts

: 4708


Join date

: 2010-03-21


Age

: 76


Location

: Southwestern Maine Zone 5A



Great harvest! What a bounty you have there! Thanks for sharing the photos with us!



Posts

: 668


Join date

: 2011-01-26


Location

: WNC 6b




---
Permissions in this forum:
You
cannot
reply to topics in this forum