Latest topics
»
Today's Harvest
by
countrynaturals
Today at 2:13 pm
»
New England July 2017
by
hammock gal
Today at 2:10 pm
»
Bryan Greenbeard of Minnesota's 2017 Plans
by
Greenbeard
Today at 1:18 pm
»
Grow Produce from Produce!
by
countrynaturals
Today at 12:58 pm
»
What are you eating from your garden today?
by
newbeone
Today at 11:34 am
»
The SFG Journey: Onions. How To Grow, When To Harvest, How To Harvest, Storage. The life cycle of an onion.
by
countrynaturals
Today at 11:25 am
»
Hello from Silverton, OR
by
countrynaturals
Today at 10:02 am
»
What I've learned this year
by
MrBooker
Today at 10:01 am
»
HELP! Sweet Potato Plant!
by
countrynaturals
Today at 9:54 am
»
What do you know about making sauerkraut?
by
BeetlesPerSqFt
Today at 7:15 am
»
Just Completed my Garden.....What Should I Plant NOW!
by
No_Such_Reality
Yesterday at 11:07 pm
»
Do I need to pollinate my zucchinis?
by
CapeCoddess
Yesterday at 4:41 pm
»
Garden Footwear
by
hammock gal
Yesterday at 4:22 pm
»
help with raised beds! how much can I grow in a 4' x 4' raised bed?
by
Robbomb116
Yesterday at 11:54 am
»
Tornado Cake
by
Cajun Cappy
Yesterday at 11:08 am
»
Can anyone identify what type of watermelon this is at this age??
by
sanderson
Yesterday at 2:55 am
»
N & C Midwest; July 2017 !
by
CitizenKate
7/26/2017, 10:31 pm
»
Happy Birthday!!
by
trolleydriver
7/26/2017, 9:56 pm
»
Eggplant Blossom End Rot?
by
Fiz
7/26/2017, 6:11 pm
»
Your favorite watermelon and pumpkin
by
AlwaysHotinFL
7/26/2017, 1:23 pm
»
Growing Romanesco Broccoli
by
plantoid
7/26/2017, 7:20 am
»
CANADIAN REGION: What are you doing in JULY 2017?
by
sanderson
7/26/2017, 2:07 am
»
TrolleyDriver's Compost Thermometer
by
sanderson
7/25/2017, 4:18 pm
»
How's the Weather Where You're At?
by
trolleydriver
7/25/2017, 8:21 am
»
Turan in the Western Mountains
by
sanderson
7/25/2017, 1:07 am
»
Friday Rookie Topic XII: Cucumbers
by
Scorpio Rising
7/24/2017, 8:40 pm
»
More on garlic scapes
by
greatgranny
7/24/2017, 7:17 pm
»
Third Year SFG in Canada
by
SwampTroll
7/24/2017, 2:47 pm
»
My early garden
by
sanderson
7/24/2017, 3:15 am
»
Square footage
by
sanderson
7/24/2017, 3:03 am
I just built an SFG...I put a couple of broccoli transplants in there and one shot up and put out some pretty yellow flowers...I hate to sound stupid, but I've never grown broccoli in any type of garden before. Are we supposed to cut the flower off??
That's called bolting.




Posts

: 842


Join date

: 2010-04-09


Age

: 41


Location

: southern tip of Texas zone 9



Okie dokie...but what do I do? If I cut the flowers off will I have a chance at growing the broccoli...or do I just let it be 'pretty' in it's square until the fall and replant another one?
No, your broccoli is unusable now. Once it bolts (flowers) it's not good to eat, you would keep it only if you want the seeds. Broccoli is harvested when that flower is still "green".
Check this for more information: http://forums2.gardenweb.com/forums/load/cornucop/msg0621450921754.html



Posts

: 88


Join date

: 2011-04-07


Location

: Georgia, USA, Zone 7b (Middle South)



That's right, once it flowers its bolted and going to produce seeds. No good flavor at that point. You have to pick them when they look like this: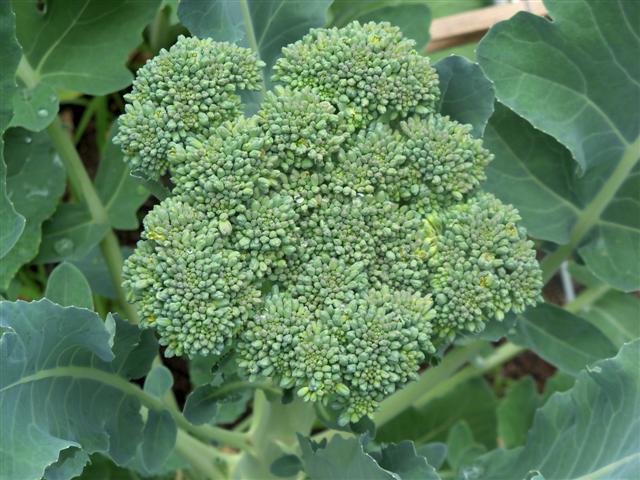 Its still good even if you have a bit of yellow showing up in the heads that look like little dots here and there.
After you pick that head in the middle, leave the plant. Small brocs will start growing on the stems around where the head once was and they are very tasty so harvest those as well.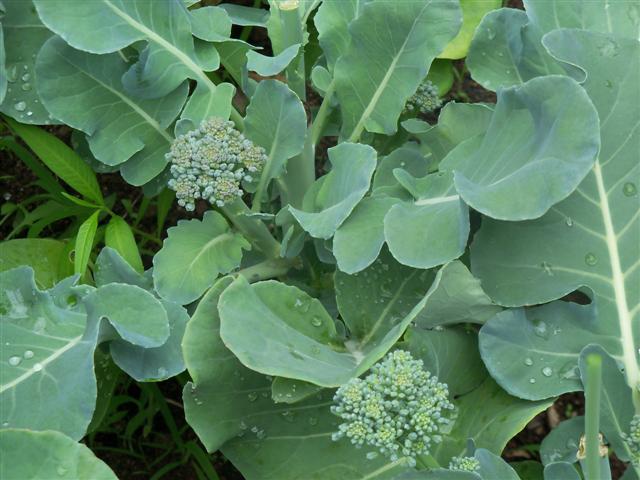 See the small broccoli nibs growing on the stems that were left?
Mmmmm good.



Posts

: 4683


Join date

: 2010-03-21


Age

: 75


Location

: Southwestern Maine Zone 5A



Typically when you plant broccoli it will form a head (called a crown) in the center of the plant first. You harvest the crown when the buds are still tightly closed. This will encourage side shoots to form, in fact you may see them forming already. You don't want to "pick" the broccoli, instead use a sharp knife and cut off at a slight angle.

Is the flowering shoot coming up from the center of the plant? I would cut it off and toss it, it's gone too far to be good eats. Can you see other small buds coming out on the plant? These will continue to grow and you can harvest them when they are still buds.

We planted Packman broccoli (8 plants) last year, we harvested broccoli from May to end of August. June was the best month. It was hard to eat store-bought after that! Got 8 more in a box for this year. Can't wait!

pattipan



Posts

: 808


Join date

: 2010-03-04


Location

: WV -- Zone 6a



Thank you, everyone, for posting replies! It helped alot! Yes, my flowers came from the middle (or crown) as you called it. But, I had just put that transplant in the garden a little over a week ago, and it hardly had time to "grow" into a big plant, the crown just bolted almost overnight tho I tried to keep it shaded with a large egg crate...it had gotten so warm so quickly this year down here, and we hardly have a "spring" season. I will plant them closer to our fall and see how it goes....
I see that many of you are from the southern area, also...What month did you put the transplants in the square or started from seed? I'm very curious as you all have the 80 degree spring weather like we do. I've looked back through Mel's book about when to do plant certain types of veggies, but we've either had frosts or super cold weather just before the last frost date and 2 weeks later we are up to 85 degrees already. What planting schedule has worked for you?
I'm sure someone from the lower south will give you their first hand experience as to when to plant broccoli.

But, broccoli is hardy to 18° F, so a little frost won't hurt it.



Posts

: 668


Join date

: 2011-01-26


Location

: WNC 6b



Your broccoli probably bolted because it's too warm. Broccoli is a cool season crop and likes a little frost, that's why the book says to plant it up to 5 weeks before last frost. In my area it's the right time to plant broccoli, in yours I'm afraid it's probably too late. You can try again in the fall though!



Posts

: 110


Join date

: 2010-03-08


Location

: Z5 Chicago Suburbs



Yep! Couldn't get my significant other to help me get the SFG done earlier...but at least it is done now and I can move forward with all the other summer plants...which isn't a bad thing, because it looks like I might be able to get a couple rotations on several of the summer veggies?! Can't have too many green beans in this household!

---
Permissions in this forum:
You
cannot
reply to topics in this forum