Well, I finally have some things in the ground. Here's the proof Lavender Debs...lol.
Decided to go with PVC frames and bird netting, rather than the chicken wire. So far it's keeping the squirrels out, and the neighbor's cat (or whatever it was that left the footprints across my bed the first day I filled it).
One bed is empty except for two squares of string beans that are still underground. I have some other seedlings that I'll transplant within the next few weeks. I sowed some carrot seeds in deep pots, and to my surprise a few have sprouted already (3 of 11 in about 4-5 days).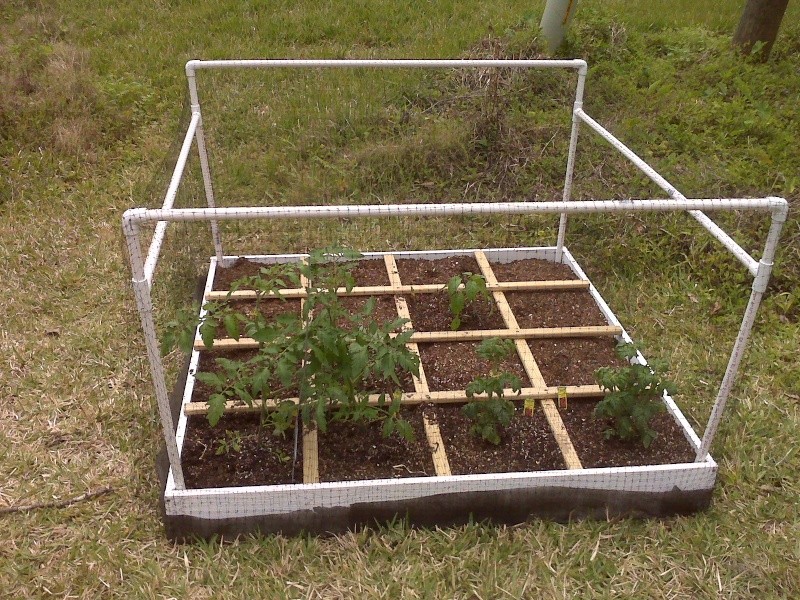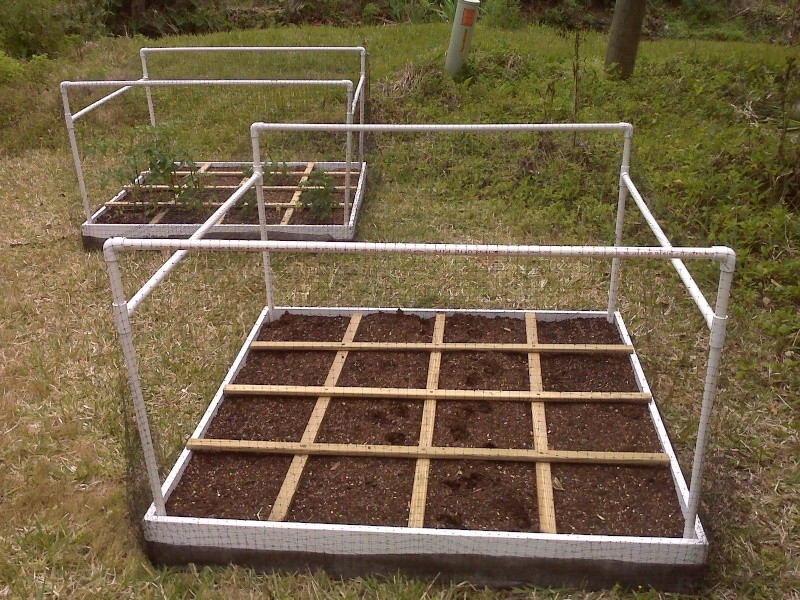 looks good, I like the fencing to kep the animals out because to a cat they look like one giant litter box. I know, I have 7 outdoor cats and they are always eyeballing the garden. I have a much bigger fence but I'm trying to keep 2 pitbulls, 7 cats and numerous squirrels, rabbits and armadillos out.



Posts

: 88


Join date

: 2010-03-04


Age

: 44


Location

: Northeast Florida



What a great idea to keep out animals and pests.
That should work out well for you.
Good work.



Posts

: 4687


Join date

: 2010-03-21


Age

: 75


Location

: Southwestern Maine Zone 5A



Actually, I don't reach down inside at all. The whole thing just rests on the ground with the 4 vertical posts in the corners of the 4x4 box. I just unhook the netting from some screws that I put in at the lower edge of the walls of the box, and lift the whole thing up over the bed. It's gotten a bit more tricky as my "vigorous" tomatoes have grown tall, but with the PVC, it's easily light enough for me to lift. I just grab the bottom of the posts and stand up with it (trying to lift with the knees and not the back).

The biggest problem I had was a snake that tried to crawl in and got himself thoroughly tangled. I was too late to get to him before he expired, but I had to cut him out of the netting. Not fun!
That looks great. Hope it works for you.
Do they have the tops covered or did you leave the tops open?



Posts

: 439


Join date

: 2010-03-19



I have covered the tops as well, which is another limitation. As the tomatoes have grown, I have had to raise the height of the cages. This, however, is really easy with PVC fittings (I did not use PVC cement of course, just slip fittings).

I actually have to do this on one of my beds tomorrow. I'll just replace 4 six-inch lengths of PVC with 4 24-inch pieces, and my cages will be 18 inches higher. Of course, the netting has to be long enough, or will have to be lengthened.
---
Permissions in this forum:
You
cannot
reply to topics in this forum