Latest topics
»
Coco coir... How often to replenish?
by
BMehalso
Today at 4:40 pm
»
Sanderson's Urban SFG in Fresno, California
by
sanderson
Today at 4:03 pm
»
SW Ohio (Cincinnati Area)
by
mijejo
Today at 2:50 pm
»
Do You Get The SFG Newsletter?
by
plantoid
Today at 1:59 pm
»
Northern California & Coastal Valleys - What are you doing this month?
by
trolleydriver
Today at 1:13 pm
»
Fourth Year SFG in Canada
by
trolleydriver
Today at 1:08 pm
»
Hello from Houston
by
CapeCoddess
Today at 1:07 pm
»
N&C Midwest—March and Spring is Here!
by
CapeCoddess
Today at 1:04 pm
»
New England Mar 2018
by
CapeCoddess
Today at 10:45 am
»
Garden Tower Project
by
SQWIB
Today at 7:59 am
»
What are you eating from your garden today?
by
Scorpio Rising
Yesterday at 6:36 pm
»
Trellis mod
by
SQWIB
Yesterday at 8:39 am
»
Happy Birthday!!
by
Dunkinjean
3/18/2018, 11:42 pm
»
Any suggestions on the stump grinding sawdust plus soil?
by
No_Such_Reality
3/18/2018, 7:36 pm
»
How's the Weather Where You're At?
by
Scorpio Rising
3/18/2018, 6:38 pm
»
Powdery Mildew and SoCal Fall Planting
by
countrynaturals
3/18/2018, 12:34 pm
»
Boat Gardening
by
AtlantaMarie
3/18/2018, 6:51 am
»
How many green beans per square foot?
by
Scorpio Rising
3/17/2018, 9:27 pm
»
2018 SFG in Brooks, GA
by
yolos
3/17/2018, 8:34 pm
»
Comfrey
by
sanderson
3/17/2018, 8:21 pm
»
Hello from Hagerstown MD
by
sanderson
3/17/2018, 6:10 pm
»
Horsetail weed
by
Kate888
3/17/2018, 3:02 pm
»
How much time for gardening?
by
Kelejan
3/17/2018, 1:33 pm
»
CANADIAN REGION: What are you doing in March 2018
by
Kelejan
3/17/2018, 1:12 pm
»
A new SFG fan from Texas
by
AtlantaMarie
3/17/2018, 7:17 am
»
Potatoes: Yes or No?
by
AtlantaMarie
3/17/2018, 7:13 am
»
Modesto, Central Valley, CA...
by
AtlantaMarie
3/17/2018, 7:03 am
»
has55's R & D Journey
by
sanderson
3/16/2018, 3:28 pm
»
FREE WEBINAR - SFGF & PLANT PURE COMMUNITIES
by
AtlantaMarie
3/16/2018, 6:40 am
»
Can you till Mel's mix?
by
sanderson
3/14/2018, 8:44 pm

I got the boxes filled and we planted the first crops yesterday. One bed is going to be exclusively
for strawberries so we didn't put a grid on it. We put the hoop houses on them today, which was so easy I could hardly believe it. The netting was from a Hancocks Fabrics and was only $1.69 a yard. It is a bit shimmery, but was way less expensive than the mosquito netting which was kind of ugly. My daughter said that the netting was pretty enough to be in a wedding.
The mix we used is not "official" MM but is pretty close. I got the bulk of it from a local place that makes their own mix using 40% peat, 40% black gold compost and 20% rice hulls. Now I do realize that the rice hulls will begin breaking down some, but at that point I will add some vermiculite. This way ended up being a bit more economical. I also added two bags of dr earth planting mix which has
Screened forest humus
fir bark fines
worm castings
chicken manure
bat guano
kelp meal
seaweed extract
I then mixed in some seabird guano for good measure and wet it all down before planting. Although it isn't exactly like the MM I think it will work out well. I am thinking of adding some hanging CD's to the hoop houses to scare away the birds.
We will be putting more in the garden later and am really liking how easy it is.
I appreciate all the helpful folks on here and hope everyone has a great spring season!
Jennie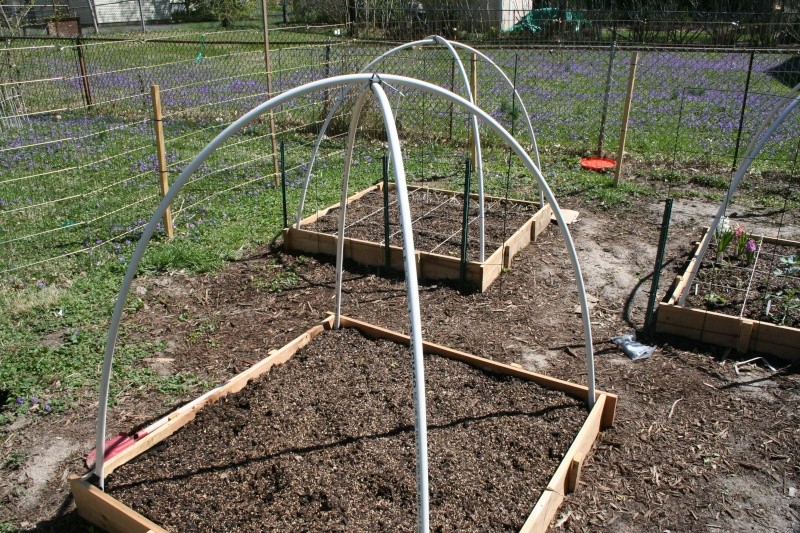 www.servimg.com/image_preview.php?i=8&u=16328781]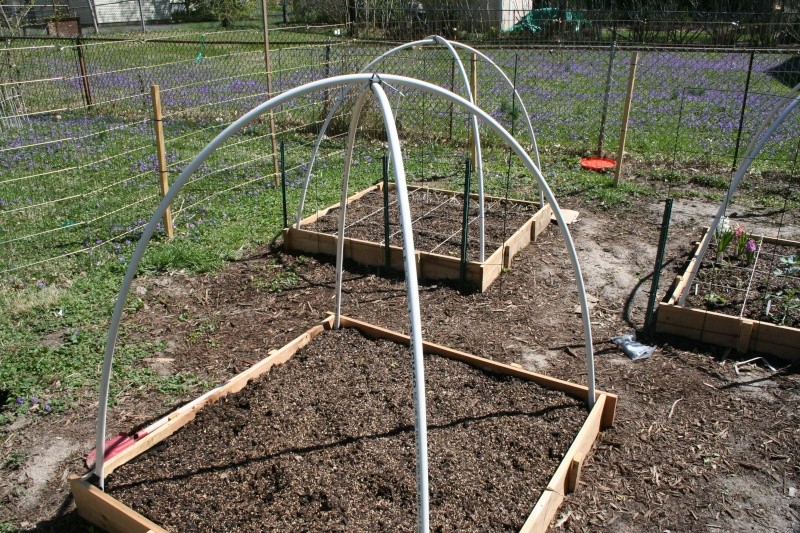 [/url[/url]]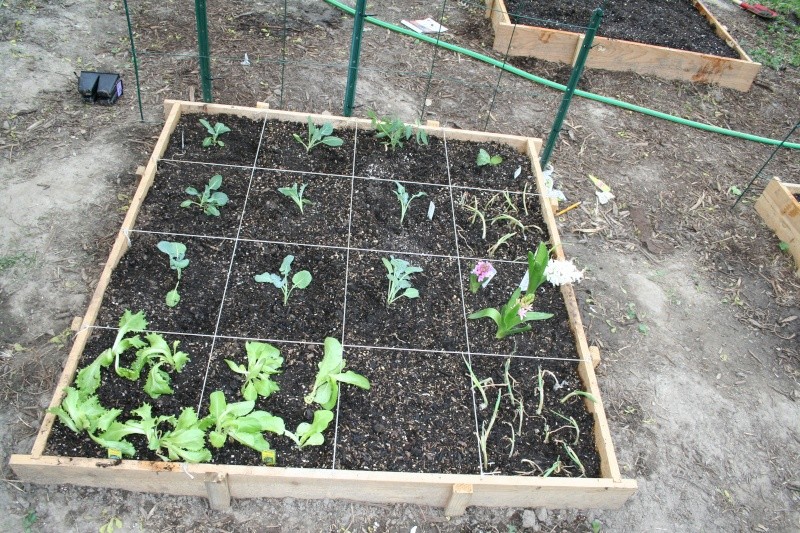 I love how easy hoop houses are...and versatile...from greenhouse to bug netting in no time.

You will have to report how your CD's work against the birds.
Sorry you didn't try the Mel's Mix.







Posts

: 2260


Join date

: 2010-04-25


Age

: 40


Location

: Post Falls Idaho and LOVING it



Hi, any chance you can re-write your table to get rid of the excess space? I didn't realize you posted pictures.



Posts

: 7392


Join date

: 2010-02-26


Age

: 65


Location

: yelm, wa, usa



@ Boffer - I'm going to repost with pictures

@ middlemamma - If my dh were home a lot and able to help me AND I had more money I could have done the MM. I am not able to actually put together the mix, and the mix I have is very, very close to MM. I will be amending with more compost as needed, but right now this is what will work for us. Perhaps if we do another smaller box at a later date we could do it b/c it would cost less mony all around. Dh isn't thrilled about the amt I am spending as it is. I'm also homeschooling the kids so this has already taken a lot of time from "traditional studies" already. Of course this does count as horticulture but one subject doesn't make a well rounded education.
Jymarino, we too homeschool! I hear you about the cost. I want to make 5 more beds, but alas, I'll have to wait until next year. It's great you can do SFG that will work with your family right now.

At the risk of turning this into a homeschooling post I have to share! I always am encouraged to find other homeschoolers when I least expect to. I've turned our garden prep into much of our school for almost 2 weeks. Studied seed parts and actually disected a bean seed to see parts. We visited a local greenhouse where my girls interviewed the owner and asked many questions and got to help plant some plants there. Of course, we've planted seeds in our sunny window and outside in our covered beds. I've integrated math (measuring pvc for hoop house, calculating how many plants would produce how much...), history (not really too long ago everyone had gardens for most of their food stuffs and how they would preserve them), language arts (the writing of questions and answers for green house tour and simply the numorous discussions about what we are doing is narration), and of course, it's all dripping with science from seeds to the bugs we encounter and study closely in the garden to keeping a close watch on the weather. One daughter loves to draw so she is drawing plants like crazy, so there's art as well. And the whole thing is helping teach a work ethic about doing a job until it's done and done well and joy in creating something that will grow in beauty and usefullness over time.

Anyway, for a few days or weeks, this makes a nice break from our regular work and the kids & I are truely enjoying each other and our spring garden. I wish everyone could have that element in their gardening!



Posts

: 133


Join date

: 2011-04-08


Location

: Northwest Wisconsin



JB

Thanks for sharing! I don't feel so bad now having so many horticulture days. Hope your garden turns out wonderfully!
Congrats on getting your garden started. It looks great! I did the MM last year, but am also having to forgo the 'perfect mix' on this years boxes, though I did spring for the vermiculite. It is really fantastic at keeping the mix loose. What do rice hulls do?



Posts

: 146


Join date

: 2010-05-17


Location

: Decatur, GA, Zone 7B



The garden looks great !! Keep us posted with pics and progress. We are homeschoolers as well

We have 5 total, and on our last 3. One will be done in the next year and ready for community college.
Ha-v-v



Posts

: 1123


Join date

: 2010-03-12


Age

: 58


Location

: Southwest Ms. Zone 8A (I like to think I get a little bit of Zone 9 too )



The rice hulls are supposed to work in a similar way to the vermiculite but they do break down eventually. Perhaps someday if I do an additional box that doesn't require as many ingredients I can do the MM but finances prohibit it this year.

---
Permissions in this forum:
You
cannot
reply to topics in this forum