Latest topics
»
Are vegetables hurt by too much light?
by
BeetlesPerSqFt
Today at 8:38 am
»
Seed Starting!!
by
brianj555
Yesterday at 9:14 pm
»
2018 - First Annual Seed Exchange Week - January 20-28 (Edited)
by
sanderson
Yesterday at 4:19 pm
»
Spring Fever Anyone?
by
sanderson
Yesterday at 3:06 pm
»
How's the Weather Where You're At?
by
sanderson
Yesterday at 2:56 pm
»
Weight Watchers Turkey, Bean and Vegetable Chili
by
hammock gal
Yesterday at 8:43 am
»
Sow True Seeds
by
AtlantaMarie
Yesterday at 8:00 am
»
Colored Mulch
by
No_Such_Reality
1/18/2018, 7:12 pm
»
Taking on 4 Season Gardening
by
Roseinarosecity
1/18/2018, 5:19 pm
»
Fourth Year SFG in Canada
by
trolleydriver
1/18/2018, 3:53 pm
»
SUGA 2017
by
SQWIB
1/18/2018, 12:57 pm
»
Senseless Banter...
by
sanderson
1/17/2018, 9:42 pm
»
Butternut squash, turkey Italian sausage, cannelini bean soup
by
yolos
1/17/2018, 9:25 pm
»
Happy Birthday!!
by
yolos
1/17/2018, 9:12 pm
»
N&C Midwest—January 2018!!!
by
Scorpio Rising
1/17/2018, 7:08 pm
»
Is there ever enough compost?
by
has55
1/17/2018, 2:41 am
»
What are you eating from your garden today?
by
Scorpio Rising
1/16/2018, 9:10 pm
»
Gophers
by
countrynaturals
1/16/2018, 12:32 pm
»
High heat tolerant tomatoes
by
walshevak
1/16/2018, 6:03 am
»
Mid-Atl - Jan 2018 - Brrrrrrrrrr! and Happy New Year
by
AtlantaMarie
1/15/2018, 6:43 am
»
CANADIAN REGION: What are you doing in January 2018
by
sanderson
1/15/2018, 3:53 am
»
New England Jan 2018
by
hammock gal
1/13/2018, 5:50 pm
»
My first Attempt
by
21Actual
1/13/2018, 5:05 pm
»
Air Fryer! HELP!
by
sanderson
1/13/2018, 3:26 pm
»
New SFG box-Humanitarian way
by
sanderson
1/13/2018, 3:24 pm
»
Drafts?
by
trolleydriver
1/13/2018, 1:18 pm
»
Hello from Northern Ontario Eh!
by
BeetlesPerSqFt
1/13/2018, 1:07 pm
»
January 2018 Avatar: Surprise Us
by
sanderson
1/12/2018, 4:57 pm
»
Review of Terms of Service
by
Ginger Blue
1/12/2018, 4:02 pm
»
DIY Plant Markers
by
countrynaturals
1/11/2018, 7:32 pm
I loved my introduction to SFG last year and wanted so much to extend my seasons. I can't build a coldframe and purchased ones are too costly for me, and I wasn't happy about a hoop house. I wanted to start early and have a place to harden off new seedlings and maybe start lettuce every week or so.
In the summer I can remove the plastic and cover the tent poles with cheesecloth for shading new lettuce, spinach, etc.
I planned my tenthouse and built it easily over a 4' x 4" raised bed which is 12" deep. You need the depth to keep the tent poles holding sturdily unless you have another way to brace them against winds.
The procedure for this can be followed on my blog:
http://quiltbeagardens.blogspot.com
I'm enjoying my new world of veggie gardening and have learned new things along the way which I hope to share.
I thank Mel every day that he introduced me to SFQ. Its opened up a new and wonderful part to my life.
A couple of days ago I started a few blocks under my tent for permanent crops. Things like carrots, spinach, scallions, chives, radishes and all lettuce mix. One uses so few seeds in these early plantings, that if I have to start again later due to losing the current crop, it won't be a hardship.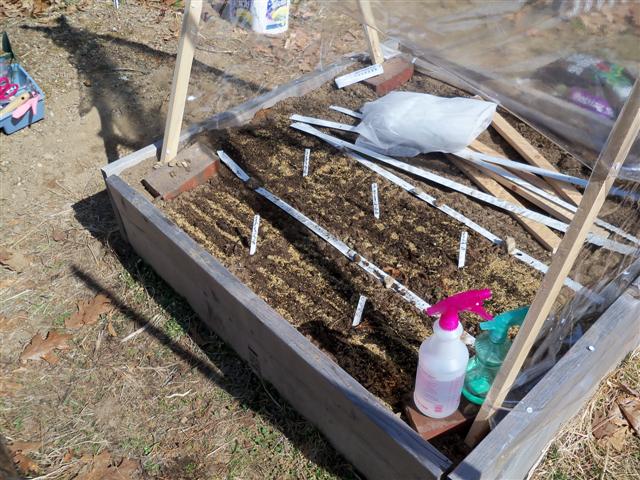 This is my tenthouse with the crops planted. At night I cover the two rows with row cover for added warmth. Our nites are cold, sometimes dipping below freezing.
Today its 45 out and cloudy. Inside my tenthouse its 60 so my plots are safe.
I hope to have some spinach, etc, much earlier than normally.
I have 9 raised beds and 4 raised mounds that are raised without lumber. I'm really into this SGQ.

Forum Moderator Certified SFG Teacher




Posts

: 14165


Join date

: 2010-03-06


Age

: 55


Location

: Keene, NH, USA ~ Zone 5a



Gorgeous photos of your SFG on your blog. Between Mel and Eliot Coleman, I feel that my life has been changed dramatically! I didn't try to winter garden this past year. I decided I needed to spend the time planning - I garden for my husband's and my restaurant. Last summer/fall, I had a successful garden, but didn't plan well for best use of the harvest. ( I mostly planted too little.)

Keep those cards and letters (and photos!) coming!



Posts

: 2188


Join date

: 2010-03-03


Age

: 60


Location

: Acton, Massachusetts Zone 5b/6a



I know I won't be able to winter garden, but I hope to have crops going into Dec this year with my tenthouse. The cool-weather crops might be able to handle it. I didn't even think of putting in fall crops last year so this will be a first for me.
Good luck with your garden and your restaurant.
Hats off to you, Bea! I just started my first sq.ft. garden today in my new mini tent/greenhouse (GrowCamp brand). Yours is bound to work with the amount of care and thought you've given it all. Nice job on your blog - thanks, I enjoyed it. I'm in central CT, and just planted golden beets, Bibb lettuce, Peas ((Peas N'a'Pot) 10" high plants)) and cherry radishes. The whole idea of planting outside in March is like a dream come true. It's going to work, Bea!

Moses



Posts

: 4


Join date

: 2010-03-15



Just an update on my A-frame. Its working wonders. I have 7 squares started with carrots, scallions, chives, spinach, lettuce mix and 2 of radishes and I'm seeing activity in all squares now, the radishes being the best. Its easy to raise the flaps and clip them up out of the way with the extra-large binder clips. They fit nicely on the edge of 1" lumber but also they clip to the plastic above.
I open the flaps days when our temps are in the 40s and close them at nite when they drop back into the 30s. So far, even on some pretty windy days, its held up just fine.
It protected from the inch of snow we got before the weekend as well.
Here's a view of it over the last 4 by 4 in the far corner.
url=http://www.servimg.com/image_preview.php?i=49&u=15016226]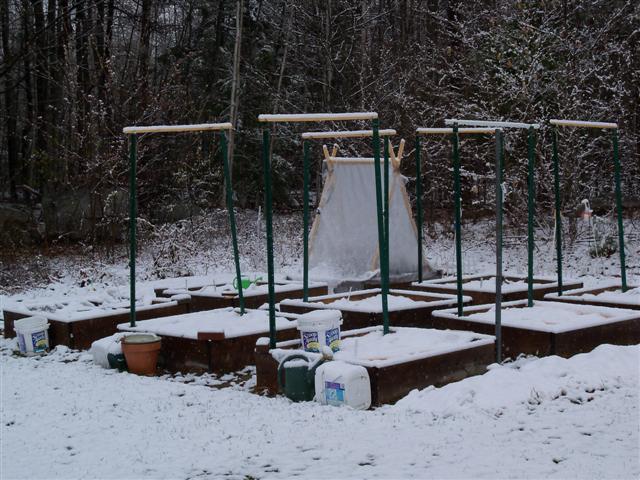 [/url]
@martha Nice to see another Mel - Eliot Coleman hybrid gardener here! This is my second year back to veg gardening (SFG style) after giving up on a traditional garden I inherited when we bought our house in 1998. Mel's no weeding, small space to maintain methods helped me overcome my "overwhelm" of gardening; Eliot's books have inspired me to go year round! I'm almost more excited for this fall than I am for the spring right in front of me!



Posts

: 31


Join date

: 2010-04-15


Age

: 47


Location

: Canuck in Salt Lake City (Zone 6b)



---
Permissions in this forum:
You
cannot
reply to topics in this forum