For those that grow indeterminate tomato plants that grow really tall, what do you use for cages or supports? Need some ideas, especially if I only have one or two plants near each other. I am venturing out of determinate safety this year, LOL! Thanks!



Posts

: 420


Join date

: 2010-03-18


Location

: MN Zone 4



Last year I planted my first indeterminate tomato plant (cherry Sweet 100) and used a 5' cage made out of remesh. I got the cage (actually 3 of them) for free because someone thought it was junk since it was rusty. It worked great. The tomato plant got crazy tall and we got lots of tomatoes off of it. This year I built the conduit/netting trellis like in the book and I'm adding 3 more different types of indeterminate tomotes to it. Yellow Pear, Early Girl and a Micado Violettor.



Posts

: 76


Join date

: 2011-03-28


Age

: 37


Location

: Tip of the Thumb of Michigan, Zone 5B



I have a 8ft trellis made out of pvc pipe. My husband made it for me. The tomatoes went over it and hung back down. I have all indeterminate tomatoes I believe this year as well. I am using cages for them and stakes I will just let them grow and see what happens.
Trellis when it was 4ft
Trellis when it was 8ft and still is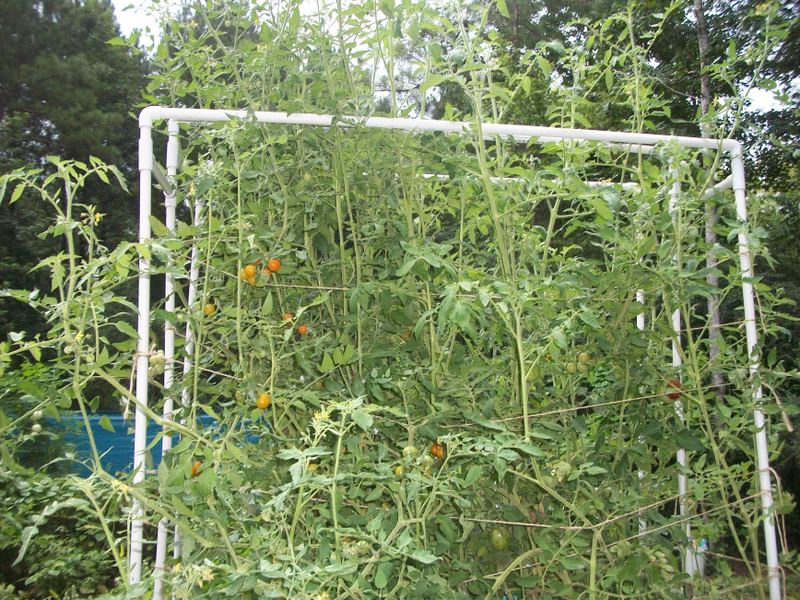 The trellis accesses 3 rows of 4 squares. I have 8 tomatoes and 4 peppers that will utilize it this year. The peppers are in front of the tomatoes. You cant see those in this picture because they arent all there yet.
This pic is this March '11 I need to take pics its been a bit since I did this and they are growing. I have other things planted now too.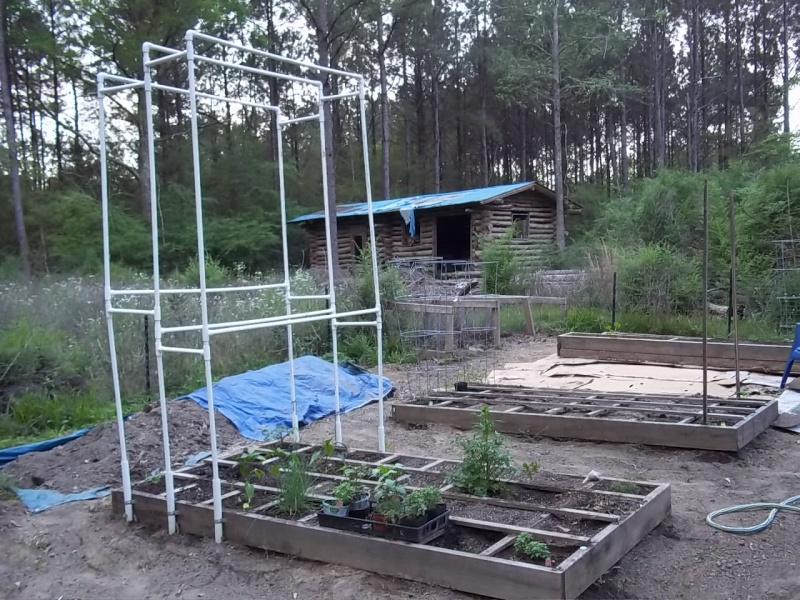 I will be taking more pics its time

Ha-v-v



Posts

: 1123


Join date

: 2010-03-12


Age

: 57


Location

: Southwest Ms. Zone 8A (I like to think I get a little bit of Zone 9 too )



I can't tell for sure, but did you grow two rows of tomatoes in your 4x8 box? If so, what direction is your box oriented? ie north/south or east/west?



Posts

: 54


Join date

: 2010-03-31


Location

: CA



I grew two rows of tomatoes there.. the trellis is on the west end of the box.



Posts

: 1123


Join date

: 2010-03-12


Age

: 57


Location

: Southwest Ms. Zone 8A (I like to think I get a little bit of Zone 9 too )



I went the cheaper and easier route for me.
I already had 7' fence posts in the 2 north corners of 6 of my 9 beds for peas and beans and tomatoes.
I wired narrow wooden posts on top of the fence posts and ran a wire along the bottom set of holes in the fence posts. They come with hooks and holes so its easy to wire.
Each time I planted a tomato plant, I ran a twine from top to the bottom wire, tauntly. As the tomato grew, I just twisted the vine a full circle around the twine. It grew straight and no problems. If you do this, be sure to double your twine for strength.
Here's my garden last April 17th after another snowfall. You can see the posts across the top easily with the snow on them.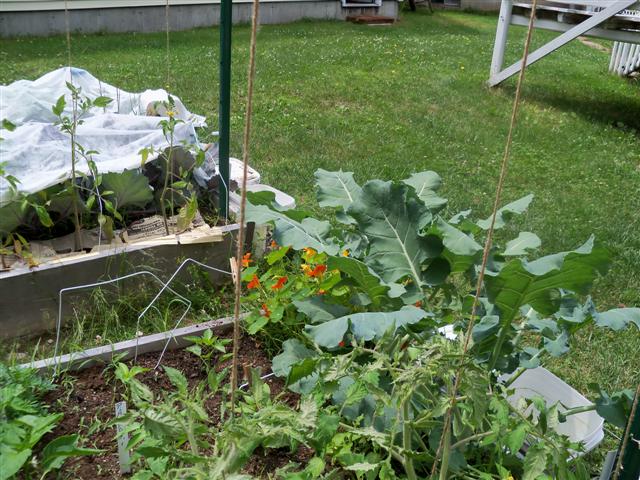 Here are some tomato twines early in the season. Its not a good photo, but it will give you the idea.
Unfortunately, this year I plan to plant more tomatoes but will have to use the peas squares this year and the peas will grow where toms grew last year.
That means I'll be staking several of my toms this year. I hope to get more fence posts for the rear 2 raised beds that don't house the A-frame.



Posts

: 4629


Join date

: 2010-03-21


Age

: 75


Location

: Southwestern Maine Zone 5A



Quiltbea I love yours!!! Its simple, when we were doing this last year (our first year) I think we had garden block !! lolol T posts would have been awesome to use and moveable. This year its again something new in the other bed, tomato cages and tomato stakes

Ha-v-v



Posts

: 1123


Join date

: 2010-03-12


Age

: 57


Location

: Southwest Ms. Zone 8A (I like to think I get a little bit of Zone 9 too )



We used the trellis described in All New Square-Food Gardening. It was about five feet tall, but the tomatoes (amish paste) out grew it and started to bend over. It didn't effect it much so I'm not planning on changing anything this year.

There seems to be a lot of great suggestions on here though.



Posts

: 58


Join date

: 2010-04-24


Age

: 21


Location

: Frederick, MD on the border of zone 6b and 7a



I'm using 16' cow panels. It makes an "arbor" over the walkways in the garden. We'll see how it goes!



Posts

: 283


Join date

: 2010-08-07


Age

: 36


Location

: Central Illinois (near Peoria) 5a



---
Permissions in this forum:
You
cannot
reply to topics in this forum