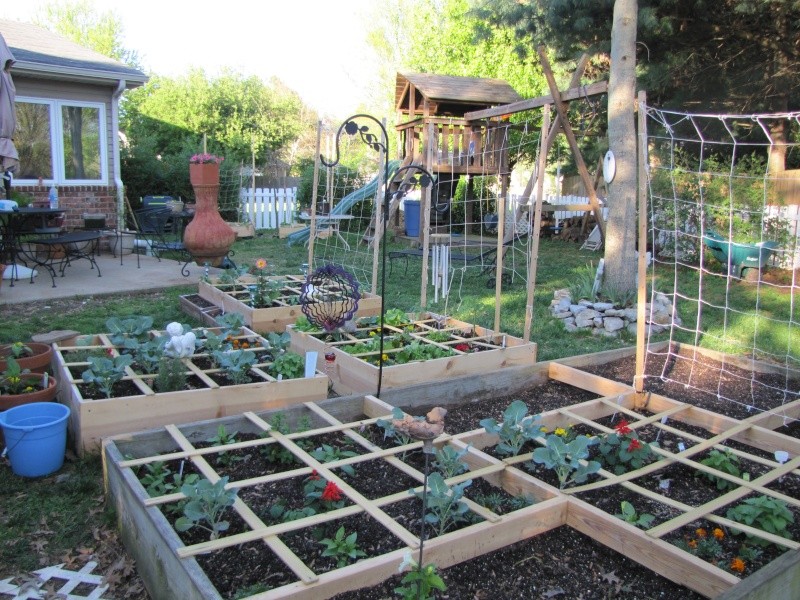 This This is my first year to try SFG, and I am new to this website as well. I've been studying and working hard on my gardens so far. I live in Franklin TN outside of Nashville. I live on about 1/3 of an acre with a small backyard with too much shade. So...I have worked hard to adapt and overcome by using the SFG technique (and hopefully finding someone to get one of my trees down at an affordable price). The above picture is my backyard from one of the gates.



Posts

: 16


Join date

: 2011-04-05


Location

: Franklin, TN



Very nice! I like the way that you have them set up. I'm just starting too and seem to have a lot of shade from a small hill behind our house. Can't cut the trees as they belong to the neighbor- and they would fall on our fence....



Posts

: 5


Join date

: 2011-04-01


Location

: Southern Tier of NY



Wow that is way better than the first year I did SFG, you are on it!



Posts

: 105


Join date

: 2011-03-22


Location

: Cincinnati, OH Zone 6b



Beautiful !! You have done a really nice job.

Ha-v-v



Posts

: 1123


Join date

: 2010-03-12


Age

: 57


Location

: Southwest Ms. Zone 8A (I like to think I get a little bit of Zone 9 too )



Stacie, you have done a really great job!! just think what your 2nd yr will be!, this is also my 1st yr at sfg, also we are neighbors, since I live in BeechGrove tn just south of murfreesboro.
Errol




Posts

: 22


Join date

: 2011-03-06


Age

: 75


Location

: middle tn., Beech Grove, z 7a



That looks great Stacie.

Be careful about cutting down trees just to get more sun on your garden my neighbor cut down all the trees in her yard which happened to be what shaded our house and it raised the temperature in our house and doubled our cooling bill.



Posts

: 305


Join date

: 2011-03-30


Location

: Salt Lake City, Ut



I agree that things look great. WOW! And, welcome aboard if I haven't said so. You are apparently a quick study.

If you are looking for flowers to color up the place, impatiens are the best "shade" lover I've ever known. They would do wonderfully here and there until you get those trees down. I wouldn't do more than 4 per square, and if yours are like mine, 1 per square would fit nicely by the end of the season.

Happy Gardening!



Posts

: 2727


Join date

: 2010-12-25


Age

: 43


Location

: St. Louis, MO



---
Permissions in this forum:
You
cannot
reply to topics in this forum