Latest topics
»
Tomato Tuesday 2016
by
countrynaturals
Today at 12:12 pm
»
Amaranth
by
countrynaturals
Today at 12:06 pm
»
Northern California & Coastal Valleys - What are you doing this month?
by
countrynaturals
Today at 12:03 pm
»
Garlic: Freeze, thaw, and heave
by
donnainzone5
Today at 11:14 am
»
Second Year SFG in Canada
by
trolleydriver
Today at 9:52 am
»
CANADIAN REGION: What are you doing December 2016
by
trolleydriver
Today at 9:45 am
»
Live and learn
by
jimmy cee
Today at 9:08 am
»
New England, December 2016
by
sanderson
Today at 4:09 am
»
1st Seed Catalog Arrived :)
by
Scorpio Rising
Yesterday at 10:42 pm
»
TrolleyDriver's Compost Thermometer
by
trolleydriver
Yesterday at 2:42 pm
»
AtlantaMarie's Garden
by
countrynaturals
Yesterday at 2:04 pm
»
N&C Midwest: December 2016
by
sanderson
Yesterday at 1:44 pm
»
Mychorrhizae Fungi
by
audrey.jeanne.roberts
Yesterday at 1:28 pm
»
December 2016 Avatar: Show your Winter Season Colors!
by
Scorpio Rising
12/3/2016, 11:17 pm
»
SFG not giving the results I expected
by
No_Such_Reality
12/3/2016, 7:21 pm
»
New Member
by
trolleydriver
12/3/2016, 4:14 pm
»
Mid-Atl - Dec 2016 - Seed Catalog ?
by
CapeCoddess
12/3/2016, 12:32 pm
»
First season SFG results / lessons learned
by
countrynaturals
12/3/2016, 10:36 am
»
Mid-South: December 2016
by
sanderson
12/3/2016, 3:39 am
»
Eat Broccoli Leaves? Brussels Sprouts? Cauliflower?
by
sanderson
12/3/2016, 2:55 am
»
Winter's Coming!
by
sanderson
12/3/2016, 2:53 am
»
Dry versus fresh spices to infuse vinegar
by
sanderson
12/3/2016, 2:50 am
»
2016 SFG in Brooks, Ga
by
sanderson
12/3/2016, 1:28 am
»
Holy snow Batman!
by
sanderson
12/2/2016, 5:46 pm
»
Senseless Banter...
by
MrBooker
12/2/2016, 5:17 pm
»
Blanching and Freezing Vegetables
by
sanderson
12/2/2016, 4:59 pm
»
Your Christmas wish list?
by
sanderson
12/2/2016, 4:29 pm
»
SFG Adventure of a first time gardener in ND
by
sanderson
12/2/2016, 4:14 pm
»
Fusion Life Brands Power XL pressure cooker
by
CapeCoddess
12/2/2016, 2:39 pm
»
Asia Region -Showcase of Gardens - Show Us Yours
by
sanderson
12/2/2016, 2:14 pm
Page 2 of 2 •

1, 2
True Val, and that is what I do, but I was wondering about the bigger cell to start my seeds in (rather than just cover them) without needing to move the seedling.

For tiny seeds that is pretty much what I already do in the divot and it seems to speed up the sprout time BUT I have not done a side by side. I'm selfishly hoping that NH will start more seed and try this than report back. I have neither the 3/4" blockers nor the insert for the 2". I'm about tapped out $$$ for this year. But if it works as I suspect than I'll put the attachment on my hardware list for next year.



Posts

: 2054


Join date

: 2010-03-03


Age

: 59


Location

: Everett, WA USA



I'm thinking about starting new seeds in verm. in the 2" square blocks that I already have. But I think I would have to commit to trashing the leggy seedlings I have now. What to do, what to do... I have to think about this.
But one thing also I think I did wrong, which I didn't know, was keeping the heat mat going 24 hrs. a day even after germination. I read online just now that not only lack of light, but also too warm of temps can cause spindly seedlings. Plus, too much fertilizer in the soil. And I'm looking suspiciously at the cheap bag of potting soil I bought at Christmas Tree Shops, actually for my teen who was growing beans for a science fair experiment...
So many variables, my head is exploding.
BUT - if I bury part of the spindly seedlings so they at least look short again, and lower the light, and turn off the heat mat - might I save them?
If not, I'm trying the verm. method, because I have nothing to lose.

@NHGardener

wrote:

BUT - if I bury part of the spindly seedlings so they at least look short again, and lower the light, and turn off the heat mat - might I save them?
I did this with my cabbage, kohlrabi and broccoli seedlings and they did much better. The stems got thicker and they are now itching to get out into the SFG.




Posts

: 710


Join date

: 2010-03-21


Age

: 43


Location

: Aurora, Ontario, Zone 5a



NHG.......
Seedlings outgrow the 2" blocks and need a larger venue in most cases. If I could afford it, I'd buy the 4" soil blocker but that baby is over $130 and I'd rather spend my money elsewhere.
I start them in the mini 3/4" blocks for germination, move to the midi 2" blocks and then into my air pruning pots of one size or another, depending on the plant.
Air-pruning pots are very good for not disturbing roots when planting outdoors because the roots are intact and not in tangles.
Starting with soil blocks means absolutely no root disturbance for the first two growth spurts. That can mean living and dying in a young seedling.
I also don't want to waste soil or pots if the tiny seedlings never germinate. There's always a percentage of loss.
I always cover my new seeds with vermiculite, even when sowing rows of seeds outdoors.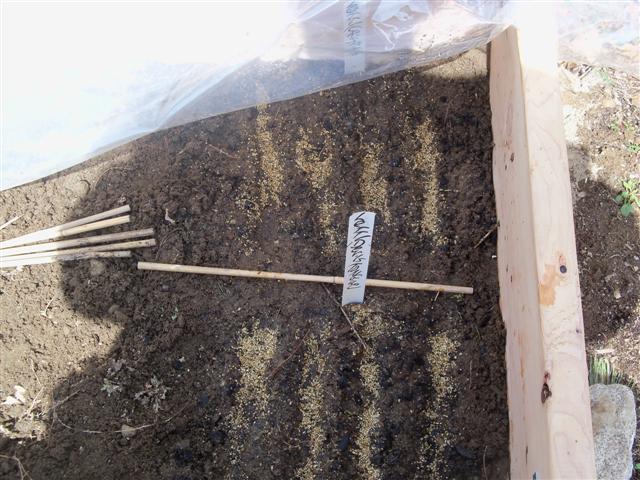 See my lettuce rows in the coldframe with their vermiculite coverings.
Gardening is not a precise science. You have to do what works for you in your area of the country, with what you have available. I'm just letting you know what has worked for me.
You can always restart your warm-weather crops because you have time before frost for them to gain growth. The cool-season crops should now be ready to transplant out into the garden outdoors so you are late for that.
Don't despair, tho, because you can start seeds in the summer right in the garden for cool-season crops and they will do well as a fall crop.
Most cool-season crops do better if buried a bit deeper when put outdoors so you could try to transplant your leggy ones a bit deeper and put them under lights 14-16 hrs a day and see if that helps. The worst that could happen is you lose them, but you were going to toss them anyway.
Good luck.
Guess who ordered the 2 inch block maker today?!

Reading this thread and a couple others sold me on the method and I just couldn't wait. I figure I can start some of my fall crop indoors that way. Plus I was able to tack on some of the sale $1 seeds I have been eyeing.

Didn't get the mini yet, I'm going to try starting right in the 2 inch until space becomes an issue. Now I'm going to be anxiously checking the front step each day until it arrives. Thanks for all the tips on how to use it, I'm sure they will come in handy when it comes time .



Posts

: 72


Join date

: 2011-03-26


Location

: OK



I have always used Mels mix or straight vermiculite in Dixie type cups all different sizes to start my seeds. If you use paper ones you can actually add them to the compost pile when done. The large plastic type work best with tomatoes, eggplant etc..since they are bigger plants. This is how i have doen it since 2006 used to use fancy pods and trays but after reading mels book back then I have tried to use whats around the house anyway we all have dixie cups in the bathroom and throwaway cups for the kids in summer. Just my 2 cents. Good luck from my garden to yours




Posts

: 11


Join date

: 2011-04-20


Age

: 53


Location

: Central NH



I think the 16-oz paper cups make good units in which to transplant smaller 2" soil blocks, and I use them if I run out of my 4"-5" air-pruning soda bottle pots. I can make them air-pruners simply by cutting 4 slits from bottom edge to about halfway up the cup. No drainage holes needed. The slits at the bottom drain away or pull up moisture since I happen to water mine from the bottom.

I like the soil blocks for these reasons:
1. The mini ones (3/4") for starting individual seeds. One seed per unit. No thinning needed. No waste. I only need to transplant the ones that germinate and I'm saving space on my heat mat. No root disturbance here. The mini fits into the midi perfectly.

2. The midi 2" soil blocks are fine as the final home before outdoor planting, for many small crops, like lettuce, some herbs, cabbages, and the like but also for those that only need a home for 1-2 weeks before transplanting outdoors. When they go in the garden, there is no PLASTIC to go in the landfill. The whole block gets planted without any root disturbance at all. I think my plants love me for that alone.

Those that need to be transplanted into 4" or bigger air-pruners, like peppers, eggplants, tomatoes, make the transition very well.

I'm the type of person who won't toss anything in a landfill if it can be recycled or reused in another way.

Like anything else in life, it takes all kinds of people with their own personal likes and not-so-likes. Using soil blocks works for me. For others, its a pain.

Find what works best for you and you'll be happier.
Someone told me over the weekend they saw where people were using the ends of paper towel and toilet paper rolls for seed planters. I thought that was creative. Then the cardboard just decomposes.
Has anyone here tried the paper towel cylinders?

I would think they would take an awfully long time to decompose. I know I had newspaper squares (about 4 layers each) under my dried grass mulch around my tomato plants last year and this year when cleaning up my beds for spring planting, much of those newspapers were still in my beds. They didn't compost too readily so I'm thinking lightweight cardboard may take even longer to decompose.

Just thinking out loud here. I don't have any experience with them myself. Maybe someone who does can chime in.
They might take a while to decompose BUT the bottoms are still open, so I guess they don't necessarily have to decompose in order for the plant to thrive.

Now, whether they're too small to hold the seedling until transplant time, I don't know.

I'm going to a sheet mulching session this weekend, and I believe they put down cardboard and then soil treatments on top of that, and I believe the cardboard decomposes fairly quickly. But I'll know better after this weekend.
Page 2 of 2 •

1, 2
---
Permissions in this forum:
You
cannot
reply to topics in this forum