Latest topics
»
Aerogrow by Miracle Grow
by
sanderson
Today at 2:09 am
»
Floating Away and New Seeds!
by
sanderson
Today at 2:06 am
»
Seed Organizing Ideas
by
sanderson
Today at 1:39 am
»
Areogardening
by
BeetlesPerSqFt
Yesterday at 9:54 pm
»
2018 SFG in Brooks, GA
by
Scorpio Rising
Yesterday at 9:39 pm
»
N&C Midwest: February 2018 !
by
Scorpio Rising
Yesterday at 9:31 pm
»
Your favorite blackberries or raspberries?
by
donnainzone5
Yesterday at 9:30 pm
»
Happy Birthday!!
by
sanderson
Yesterday at 1:38 pm
»
has55's R & D Journey
by
sanderson
Yesterday at 1:55 am
»
parsnips in square foot garden?
by
sanderson
Yesterday at 1:43 am
»
WANTED: Pictures of Compost Bins
by
bigdogrock
2/19/2018, 10:28 pm
»
A new SFG fan from Texas
by
BeetlesPerSqFt
2/19/2018, 10:27 pm
»
The New Square Foot Gardening Foundation page is now online!
by
sanderson
2/19/2018, 6:40 pm
»
February: What to plant in Northern California and Central Valley areas
by
sanderson
2/19/2018, 6:31 pm
»
How's the Weather Where You're At?
by
Scorpio Rising
2/19/2018, 6:24 pm
»
Invasive Tree Roots - Very important topic for newbies.
by
sanderson
2/19/2018, 6:23 pm
»
excited to be here!
by
Kate888
2/19/2018, 2:57 pm
»
Northern California & Coastal Valleys - What are you doing this month?
by
sanderson
2/18/2018, 2:58 pm
»
Butterfly Junction
by
sanderson
2/18/2018, 12:16 am
»
New England Feb 2018
by
sanderson
2/17/2018, 8:14 pm
»
Eggplant - (Japanese) Millionaire
by
Scorpio Rising
2/17/2018, 11:42 am
»
TrolleyDriver's Compost Thermometer
by
has55
2/17/2018, 8:17 am
»
SUGA 2018
by
SQWIB
2/16/2018, 3:15 pm
»
LED grow lights......any advice?
by
sanderson
2/15/2018, 12:08 pm
»
Mystery plant - need ID please
by
yolos
2/14/2018, 8:44 pm
»
new to the site from Arkansas
by
Scorpio Rising
2/14/2018, 8:36 pm
»
Hiya from Massachussets
by
Scorpio Rising
2/14/2018, 8:31 pm
»
What I learned this year
by
Scorpio Rising
2/14/2018, 8:21 pm
»
Happy Valentine's Day!
by
Scorpio Rising
2/14/2018, 8:19 pm
»
Jicama
by
countrynaturals
2/14/2018, 3:29 pm

Hi Everyone,

I live on 10 acres half way between the Gold Coast & Brisbane with my husband and various furry & feathered friends. My parents are retired and they have moved into a small cottage that was the original house on the property. So between family & friends there are plenty of mouths to feed.

I have always wanted to make a potager garden. I stumbled across The New Sq. Ft. Gardening book quite by accident and I thought the idea was brilliant. It really fits in nicely with my idea of a potager. My retired Dad made my first 3 square boxes for my birthday which was excellant. I firstly dismantled an old veggie patch, measured the area and then did some sketches on graph paper. I worked out I could set up a system with 20 3 x 3 boxes, with an area in the middle for a garden feature and flowers. I will post some photos later if anyone is interested.

My first 3 boxes are started and Dad & I are now in the process of getting my next 3 boxes finished. It's all happening!
First
Wow you are starting big. I love it when we speak the same langue but I still don't understand. What is a potager garden?



Posts

: 1697


Join date

: 2011-04-01


Location

: zone 9a St.Johns county FL



Welcome Matildagirl11! Glad you found the Forum. It sounds like you're off to a great start. Are you able to find the ingredients for Mel's Mix in your area?

Shannon1 - I just came back from 3 years in Berlin. It's quite an international city. I had friends from England & South Africa and we all agreed that we needed to come up with an English-to-English-to-English dictionary. Especially after dealing with the sweeper/vacuum/Hoover issue (mild) and having the Brit say "knock me up in the morning" (Hhhmmm we're both women I don't know how we'll manage THAT, oh you want me to knock on your door and wake you up early . . . THAT I can handle.).






____________________________


I have seen women looking at jewelry ads with a misty eye and one hand resting on the heart, and I only know what they're feeling because that's how I read the seed catalogs in January - Barbara Kingsolver - Animal, Vegetable, Miracle




Certified SFG Instructor




Posts

: 1978


Join date

: 2010-09-30


Age

: 59


Location

: Glen Burnie, MD



to the forum, and we love pictures so please post and share when you can. I've always wanted to visit Australia, I have a couple of cake decorating friends over there. I live in TX and I'm told TX and Australia are a lot alike, I would love to see for myself. I also just aquired some goats, the doe I named Matilda, I kinda like to sing the song "Waltzing Matilda" while working with them-heeheehee. I call her Tildy for short. We await on the edge of our seats to see pictures of your Pottage Garden.
Shannon1 I looked Pottage Garden up, it's the marriage of the English Kitchen Garden and the French Style Garden, perfect marriage if you ask me. Kinda what we would call a Cottage Garden. I'm going back to look at more pictures.



Posts

: 1611


Join date

: 2011-01-29


Age

: 51


Location

: NE Texas, 75501, Zone 8a



@ GKC
and I love your sig.



Posts

: 1697


Join date

: 2011-04-01


Location

: zone 9a St.Johns county FL



Hello everyone,
I can't believe so much time has passed since I last posted. I've been too busy building my garden

Yes a potager is just a fancy (French) name for a kitchen garden that is usually based on a geometric design. Hmmm... like a square perhaps????
So hopefully, when I have finished, I will have something that is functional as well as attractive. Can't ask for much more can I?
Language...yes that is so funny. To the American ladies who may read this: Remember....the word 'fanny' has a VERY different meaning here in Australia.

I forget to say Shannon that the avatar photo is of the eye of my merle border collie - half brown, half blue. Love her to bits.
Here is a photo of my potager in the making taken
a few months back
(clearly after a very windy day by the looks of all the leaves on the ground). Things have progressed a bit more since then. The cement mixer is now full of trailing succlents and petunias. The large bed is full of colourful vegetables, floweres and herbs.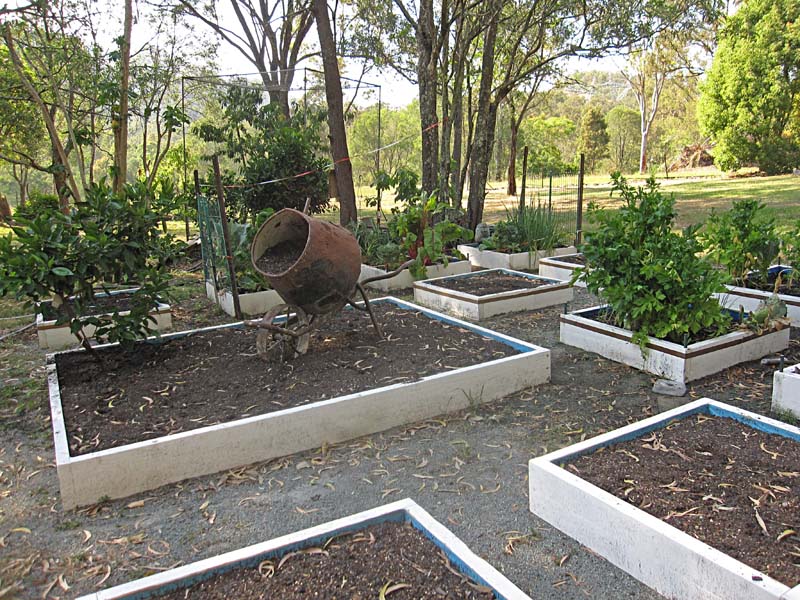 That was a bit scary...putting that image in. I've never had to do it that way before on a forum. Seems to be there on preview. Here's hoping!!!

Anyway you can get the gist of where I am going with the potager.
Wow! That is gorgeous! We definitely want to see more pictures of that! It sounds lovely. Don't you have a fence? No pests? Or can I not see it?
Welcome back, BTW. I'm pretty new here myself.
janezee



Posts

: 242


Join date

: 2011-09-21


Age

: 111


Location

: Away



Matildagirl
What a wonderful garden. Seems you did very well posting your first picture.

Love the arrangement. It is amazing how interesting your garden can be with just a few squares and rectangles.
Please post more pictures as you progress, especially since you are going into your growing season and so many of us have months to wait before we can work outside again.



Posts

: 3141


Join date

: 2010-06-10


Age

: 71


Location

: Coastal Oregon, Zone 9a, Heat Zone 2 :(




---
Permissions in this forum:
You
cannot
reply to topics in this forum