Howdy Folks:

Our home and us are OK. No damage and no lost power.

Real bad weather hit our area last night. Tornado missed us by about 3
miles and some now have no home or church. See Deltaville, VA on
Google. Two miles south of where I work Page Middle School was
destroyed. School buses were crunched up so bad you could not tell what
they were from the road. A number of homes behind the school are no
longer there. The area behind Brent and Becky's Bulbs hit hard. Many
folks lost homes. If you do not live in area you cannot get past the
police lines. Most volunteers are being kept out as well as those who
only want to look.

Our garden got plenty of rain and some wind but we did not even loose any limbs in the orchard. Somewhat awed by it all.

God Bless, Ward and Mary.

Certified SFG Instructor




Posts

: 935


Join date

: 2010-02-26


Age

: 67


Location

: Wake, VA



Really glad to hear it Ward....I'm thankful for you.






Posts

: 2260


Join date

: 2010-04-24


Age

: 39


Location

: Post Falls Idaho and LOVING it



Just in case some folks remember that Ward and I live close together, We road the storm out fine. Ward was wonderful and checked in with me this morning and I replied. Please keep the North Carolina folks in your thoughts. I think I read 62 tornadoes touched down. Happy gardening.

Patty in Yorktown



Posts

: 350


Join date

: 2010-03-05


Location

: Yorktown, Virginia



Tornado hit about 3 blocks from where my son and I were in Raleigh. Trying to get out of town without knowing the roads, we wound up going all over because of closed roads. On the way home we passed this on I-40.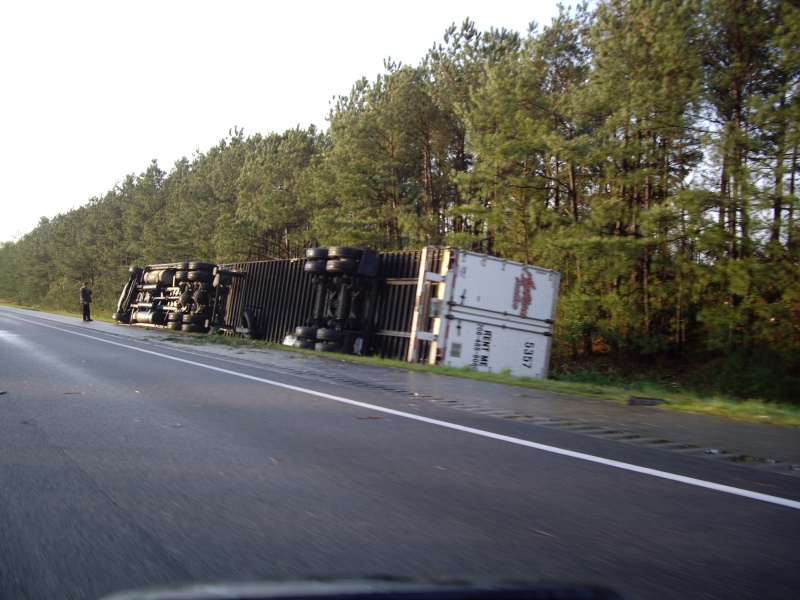 We could see from the broken trees on the other side where the storm had cut right across the highway.
____________________________
A WEED IS A FLOWER GROWING IN THE WRONG PLACE
Elizabeth City, NC
Click for weather forecast

Certified SFG Instructor




Posts

: 4354


Join date

: 2010-10-17


Age

: 74


Location

: wilmington, nc zone 8



What a powerful picture. So glad everyone is okay! It's amazing how many of us across the country were affected by the storms this week.



Posts

: 72


Join date

: 2011-03-26


Location

: OK



Thank goodness you'all are OK very sad for the others.



Posts

: 1697


Join date

: 2011-03-31


Location

: zone 9a St.Johns county FL



So glad you are all okay, I read last night that right now the count for the 3 day system was 200 tornados, that should drop when the "officials" show up and decide if it was just wind or not. Keep an eye on your local forcasts more storms are on the way.



Posts

: 1611


Join date

: 2011-01-29


Age

: 50


Location

: NE Texas, 75501, Zone 8a



We were very lucky. Others in Raleigh were not so fortunate. I am home today because my office has no power. It is in a hard-hit area near downtown. My heart goes out to those who lost everything, but particularly to the families of 3 local children who were killed when a tree fell on their home. I am counting my blessings.



Posts

: 21


Join date

: 2011-04-03


Location

: Raleigh NC



It is good to hear that you are all okay. How very sad for those who lost homes but particularly sad for those who lost loved ones. Again, living where I do, I have no concept of what you have experienced. so glad you are all safe.

Gwynn
Regional Hosts




Posts

: 1156


Join date

: 2010-08-11


Age

: 66


Location

: Canada 3b



Gosh! My glad you all are ok.

Now I'm gettign a bit more worries about our new member, buttaflie. She's in Raleigh too...



Posts

: 668


Join date

: 2011-01-26


Location

: WNC 6b



---
Permissions in this forum:
You
cannot
reply to topics in this forum