Page 2 of 2 •

1, 2
Furbalsmom wrote: I did not make chicken wire cages for my beds. I was able to use two PVC pipes (10 feet long $1.50 @ to create a dome and covered it with tulle (bridal veil material 108inches wide and on sale al JoAnnes fabrics for about $1.50 a yard) as this would provide both critter and insect protection
@Homekeeper

wrote:

This sounds very interesting! I'm assuming you are talking about the pvc pipe domes that was pictured in the book. So this tulle would also keep out insects? Would I need to take it off at all or leave it on at all times?

Hubby brought to my attention that the beds we are using, the chicken wire cage in the book will not not work with them as they have corner posts higher than the side boards. So I have to come up with a new idea now. I posted the cedar bed we got from Home Depot in another post but here it is to show you how the chicken wire cage from the book won't fit it, it will have gaps:
I have to admit that I stole part of this idea from Walshevak. I used hoops with deer netting last year (see the high hoops over the big raised bed garden in the background of my photo)and it was effective keeping the deer, cats and raccoons out of the garden. But, my garden was annihalated by cabbage worms. Those things are nasty, it is awful to find green wiggly things when you are getting ready to eat fresh broccoli.
Walshevak is using the tulle on hoops similar to a covered wagon
TULLE COVERS
<< She did a much better job of securing the tulle. I believe, though I could not locate the post where she discussed moving the hoops on one end to allow her to connect the tulle to the grid and still leave one row of crops on trellises exposed for pollination. I am sure she could give you a better explaination than I am doing.
This particular table top has no crops that require pollination, so I don't have to remove or loosen the netting except to nurture or harvest my crops.
Tulle over a dome.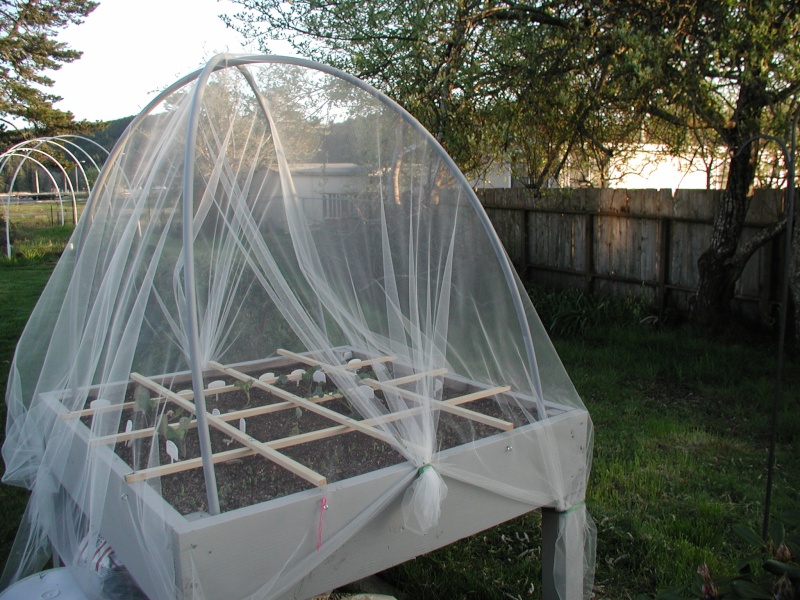 Of course you could make a chicken wire cage that was big enough to go over the beds, example 4 ft 8 in by 4 ft 8 in. Then you would need to stick your fingers under the frame in order to lift it high enough to work inside the box.



Posts

: 3141


Join date

: 2010-06-10


Age

: 70


Location

: Coastal Oregon, Zone 9a, Heat Zone 2 :(



So awesome furbalsmom. I'm not sure yet what I'm going to do about my trellis opening. I sure don't like bugs, and if they're thinking about eating my babies, it's gon' get rough for them, believe that!



Posts

: 309


Join date

: 2011-03-20


Age

: 42


Location

: Fort Mill, SC



Thought I'd pop in on the tulle issue. I'm securing the tulle with jumbo binder clips from Staples. They just fit the 1/2' pvc pipes. When I added the trellis for the peas, I moved the hoop up one square and just stuck it into the MM, but I need to secure it better. BTW, this is one instance when I wish I had the wooden grid. But I pulled the tulle tight to my grid and clipped it down. I think I'll get some pipe clamps and screw into the inside of the box to hold the pvc. It held up while I was gone but is not as sturdy as I would like.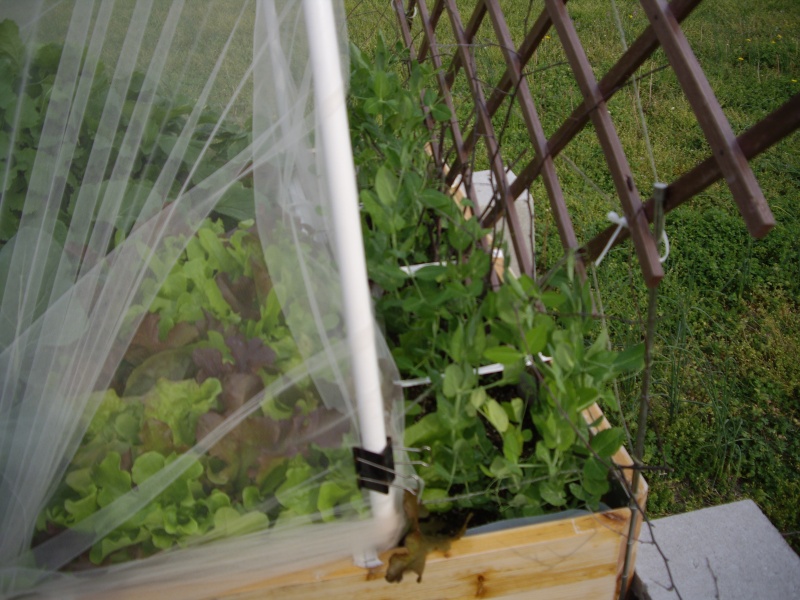 Here is an overview before I adjusted the trellis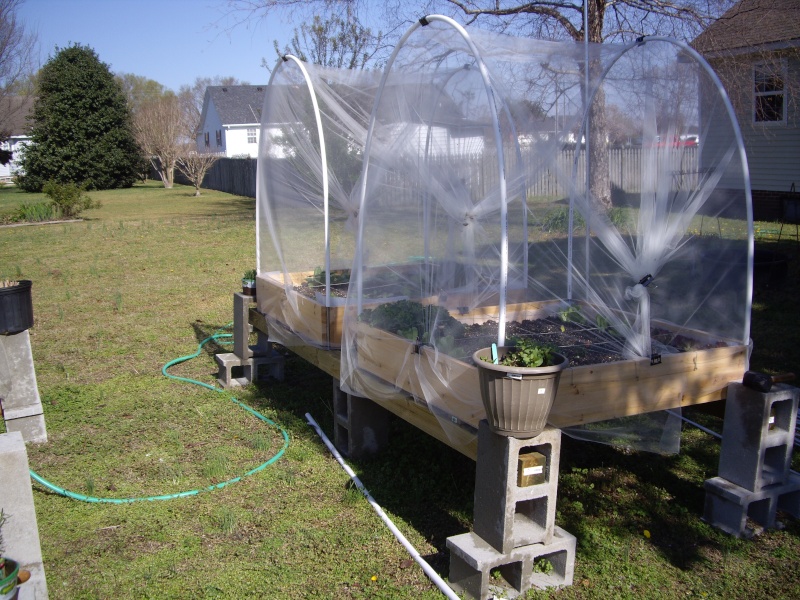 This is by no means a sealed system, especially since moving the hoop, but I'm hoping it will prevent a lot of problems. So far so good, but the real buggy season is yet to come.
Kay
____________________________
A WEED IS A FLOWER GROWING IN THE WRONG PLACE
Elizabeth City, NC
Click for weather forecast

Certified SFG Instructor




Posts

: 4352


Join date

: 2010-10-17


Age

: 74


Location

: wilmington, nc zone 8



Hi,
We started a SFG this year also, we went with a deeper bed but your costs sound about right. Had a hard time finding Vermiculite in bulk and it was expensive where we live. So far our results seem to be decent, everything we sowed in mid April has germinated except for our carrots which should be coming out soon. The MM is very loose and easy to work, and I expect it to be very easy to weed and replant as well.
Good luck!
@Homekeeper

wrote:I'm new to Mel's SQF Gardening and so far have spent $180 and that is just on 2 beds and the supplies/soil. Is this normal? We didn't expect such a large cost and we haven't even bought seeds or plants yet. I called around and only one place sold the large bags of coarse grade vermiclite and it was 3.5 cu ft for $34.99 plus tax. Here is what everything costs:

Soil - Mel's Mix

Compressed bale of Peat Moss 2.2 cu ft - $10

Certified Coarse Grade Vermiculite 3.5 cu ft - $40

2 Mushroom Compost - $9

2 Organic Compost - $9

2 Composted Chicken Manure - $9

After spending $180, I have yet to buy what we need for:

- 2 chicken wire cages (we have rabbits that come in our yard)

- Vertical garden supplies

- seeds and transplants

Is it always this expensive to start up?



Posts

: 12


Join date

: 2011-03-07


Location

: Westchester county, New York - Zone 6



@walshevak

wrote:Thought I'd pop in on the tulle issue....

Kay
Thanks Kay. I am wondering if black tulle would be a problem. Thoughts?



Posts

: 309


Join date

: 2011-03-20


Age

: 42


Location

: Fort Mill, SC



@jazzymaddy

wrote:

@walshevak

wrote:Thought I'd pop in on the tulle issue....

Kay

Thanks Kay. I am wondering if black tulle would be a problem. Thoughts?
I would think the black would limit the light coming through to the plants and absorb too much heat for your plants to remain healthy. Tulle is on sale right now at my local Joann Fabrics. I assume it would be nationally as well. But it is dangerous to assume anything.


Forum Moderator Certified SFG Teacher




Posts

: 14165


Join date

: 2010-03-06


Age

: 54


Location

: Keene, NH, USA ~ Zone 5a



OLD FASHIONED garden.......Tilling (Gas and time), adding all kinds of chem. and other matter to the garden every year (chem. For weeds, manure, fertilizer etc..), weeding, weeding, weeding (ouch my back and all the time), planting 90% of seeds ahead of time, watering, watering, watering and more weeding. Waiting and waiting and thinning and weeding(man what a back ache and waste of my time), wasting seeds (money), watering (boy am i glad i'm not on city water $$) feeding animals all my veggies (I don't see them eating the weeds). Did I mention weeding and watering?


SFG.........BUY supplies for PERFECT SOIL ONCE, no weeding, very little watering (thank you peat moss and vermiculite), no wasting seeds, no tilling, very little starting seedlings (unless you want veggies quick or want to get 2 crops in one season do that in a reg. garden) animal control (you can actually cover a SFG) No throwing lettuce away (cut what you need right off the plant) , No weeding, no weeding, no weeding. You can sell that tiller for more than you spent on the start up. No back pain (but don't tell my wife I enjoy the back rubs without the pain). Did i mention no weeding. SFG.....PRICELESS!! Go to the store today and buy some veggies for the week multiply that by about 20 (everyone has about 20 weeks of growing minimum) SFG is pretty cheap when you figure how many veggies you get in one season....I eat alot more veggies out of my garden than I do during the winter when I'm not growing veggies. Health.........Priceless.



Posts

: 11


Join date

: 2011-04-20


Age

: 54


Location

: Central NH



Thank you Dawj,
That really helps to put those costs into perspective.



Posts

: 3141


Join date

: 2010-06-10


Age

: 70


Location

: Coastal Oregon, Zone 9a, Heat Zone 2 :(



Page 2 of 2 •

1, 2
---
Permissions in this forum:
You
cannot
reply to topics in this forum