I did not really know what I was doing when I got started this year. I kind of just decided all of a sudden I want a garden and did some research and came across the SFG website. I told my husband this is what we are doing and just kind of did it. I knew taller things needed to be on the north side of the garden and then realized it doesn't matter where things are planted in my garden really because it gets constant sun light no matter what. There are a couple places that tend to be more shady. The squares with the okra and pepper (TAM jalepeno tend to be shaded from my box but just late in the afternoon. I also have just kind of planted things and now know I need to think about where things go a little more.
Any advice on the layout would be great so I can adjust for next year, I plan on doing a fall garden and I am trying to start thinking about what that will look like as well.
The radishes will be coming up soon so any ideas on what I could put in those squares would be great too!
I am reading the ANSFG book now and learning a lot. I know I have to make some changes before I plant in the fall. I may add more squares in the fall (like a 2x8 box for tomatoes and something else (peppers maybe or cucumber).
The help I have received here has been awesome and has made me really want to stick with my garden even though it can be overwhelming when I really feel I have no clue what I am doing.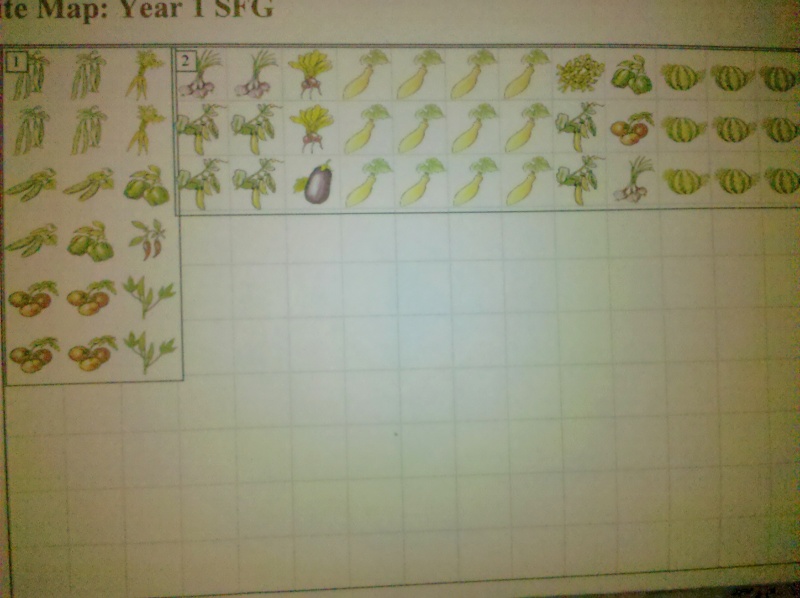 The garden is in an L shape. From the bottom of the L and around is
sweet yellow pear tomato, Husky Red Cherry Tomato, Okra,
(up one row from left to right) Celebrity tomato, Patio Cherry Tomato, Okra,
(up one row) Cucumber, Green Bell Pepper, TAM Jalepeno,
(next row up first long row) Cucumber, Cucumber, Orange Bell Pepper, Peas, Peas, Eggplant, Summer Squash, Summer Squash, Summer Squash, Summer squash, Peas, onions, Melon, Melon, Melon
(next row up middle long row) Bush Beans, Bush Beans, Carrots, Peas, Peas, Radish, Squash, Squash, Squash, Squash, Peas, Grape Tomato, Melon, Melon, Melon
(next row up top long row) Bush Beans, Bush Beans, Carrots, super sweet onion, sweet onion, radish, summer squash, summer squash, summer squash, summer squash, cilantro, sweet banana pepper, melon, melon, melon.



Posts

: 127


Join date

: 2011-03-27


Age

: 31


Location

: Richmond, TX - Zone 8/9



Which way is north? That is going to affect the advice I can give you.

Also, you might want to check out a companion planting guide. Here is a good one: http://www.ghorganics.com/page2.html#ALFALFA:

You might want to move your onions away from your beans. They don't like to be near each other.

Also, where are you going to put your trellises for your vining crops like tomatoes, cucumbers, melons, and squash?



Posts

: 668


Join date

: 2011-01-26


Location

: WNC 6b



Is your garden against a fence or will you be able to reach the middle row from both sides? If not you may want to break the garden up with some walkways in between beds.



Posts

: 38


Join date

: 2011-03-28


Location

: Sandy, Utah



North is at the left corner of the small 3x3 of the L. The long side faces eastish/more south east. The garden sort of sits diagonally between north and south.

Is it to late to pull up my onions and move them? They have been in the ground just over a month, I used sets. They have just started to perk up and look healthy.

I did not even think about trellises when I planted so I am at a loss on that one. Can I use cages or stakes for the time being and then when planting for the fall insert some trellises? I am thinking the small 3x3 area is the place where taller things should go (or a trellis) because it will shade the least amount of the garden when things are tall.

I can walk all the way around the garden and reach in from both sides. Between the garden and my daughters swing set my yard maybe has room for another 3x3. I have a tiny back yard. I had to smush it together like that to get the most out of my space. There are tons of utility lines running through the yard so we were limited on space. I think I may put a raised 2x8 bed on my patio and build it out with some brick we have sitting in the garage.






Posts

: 127


Join date

: 2011-03-27


Age

: 31


Location

: Richmond, TX - Zone 8/9



---
Permissions in this forum:
You
cannot
reply to topics in this forum