Latest topics
»
Fourth Year SFG in Canada
by
sanderson
Today at 4:54 pm
»
New England April 2018
by
yolos
Today at 4:24 pm
»
What are you eating from your garden today?
by
yolos
Today at 4:24 pm
»
who has chickens
by
countrynaturals
Today at 1:54 pm
»
Chickens and Composting
by
countrynaturals
Today at 1:44 pm
»
Senseless Banter...
by
donnainzone5
Today at 11:51 am
»
How's the Weather Where You're At?
by
RJARPCGP
Today at 9:43 am
»
Salvia
by
Judy McConnell
Today at 8:55 am
»
N&C Midwest - April 2018–Snuck up on me!
by
Goosegirl
Today at 7:15 am
»
CANADIAN REGION:what are you doing in April 2018?
by
Kelejan
Yesterday at 10:50 pm
»
Tomato Tuesday 2018
by
farmersgranddaughter
Yesterday at 5:27 pm
»
Hi from Buffalo
by
Nikko
Yesterday at 4:24 pm
»
Bird baths with solar powered pump
by
sanderson
Yesterday at 2:30 pm
»
Garlic Growing Lovers
by
CapeCoddess
Yesterday at 1:40 pm
»
Turan in the Western Mountains
by
sanderson
Yesterday at 2:27 am
»
Jimmys new SFG beds in development.
by
jimmy cee
4/21/2018, 11:32 pm
»
Adding Soil to Mel's Mix
by
jimmy cee
4/21/2018, 11:24 pm
»
Vermiculite on the out in Ontario?
by
jimmy cee
4/21/2018, 11:12 pm
»
I am still in Zone 5a
by
RJARPCGP
4/21/2018, 7:30 pm
»
Northern California & Coastal Valleys - What are you doing this month?
by
countrynaturals
4/21/2018, 3:35 pm
»
Happy Birthday!!
by
sanderson
4/21/2018, 1:29 pm
»
2018 SFG in Brooks, GA
by
sanderson
4/21/2018, 1:25 pm
»
6 or 12 inch box for growing cherry tomatoes?
by
AtlantaMarie
4/21/2018, 11:39 am
»
April Avatar: Spring is HERE!
by
sanderson
4/20/2018, 4:18 pm
»
Best drip system and timer?
by
No_Such_Reality
4/20/2018, 12:59 pm
»
Recommended store bought compost - Photos of composts
by
jimmy cee
4/20/2018, 12:05 am
»
Our Raised Garden Beds
by
jimmy cee
4/19/2018, 11:53 pm
»
anyone use fulvic acid before?
by
sanderson
4/19/2018, 10:51 pm
»
hantavirus
by
RJARPCGP
4/19/2018, 7:42 pm
»
Hello From Vermont
by
RJARPCGP
4/19/2018, 6:09 pm

I've been outside covering the seedlings I've transplanted in the garden the last couple of days. I have several old sheets and towels for the purpose. I'm afraid my heavy row cover protects down to 28* but tonite they tell us it'll drop to 25* so I dug out the heavy stuff. Luckily I don't have too many plants started (about a dozen) so I just made it with the coverings I have and they are all cool-season crops except for the basil.

The A-frame is closed up tight with the hardening off seedlings inside and the coldframe is closed for the night.

Thank goodness the days forward look warmer, both day and nite so I won't have to do this again soon.

Good luck to all my New England friends. I hope your nite isn't as cold.
Hang in there Bea. I have not felt this cranky about the weather since January when I shoveled the roof 5 times.

Forum Moderator Certified SFG Teacher




Posts

: 14167


Join date

: 2010-03-06


Age

: 55


Location

: Keene, NH, USA ~ Zone 5a



Fingers crossed for you.

Was it sunny today by chance? If so, you can really trap some heat from the soil in tonight and possibly make it fine. If you have any 2Liter bottles roaming around, I would cut the bottoms off, make a cloche, and cover the plants I can as a double layer of protection.

Good luck. Let us know how things turned out.



Posts

: 2727


Join date

: 2010-12-25


Age

: 44


Location

: St. Louis, MO



I have cut-off milk bottles but its so windy I didn't dare use them tonite.
I'll take pics of the results of towels and sheets tomorrow.
I covered my plants with folded sheets or towels last nite against the cold. The water in the birdbath was frozen when I went outside at 8 this morning.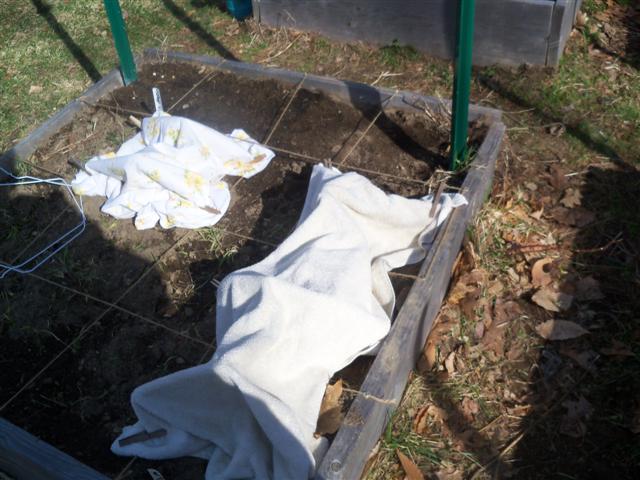 Here's a few of the blocks covered.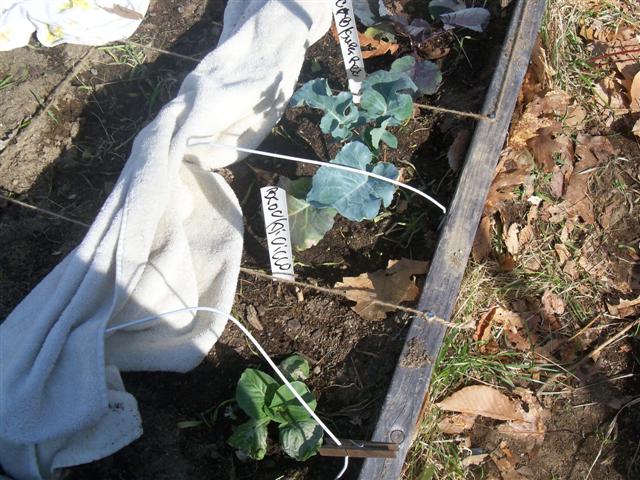 When I removed the covers, only the Parel cabbage in the front showed some damage on 2 leaves. I think I didn't tuck it in well enough to prevent the cold seeping under. All the other dozen or so plants are just fine. Even the tiny Basil seedling came thru like a trooper, under two small towels.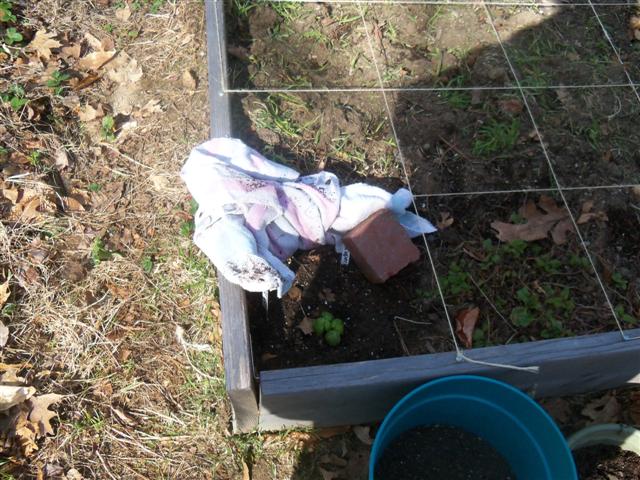 That's the basil front left.
With another cold nite forecasted, and all my old towels and sheets in use, I only planted in containers today so I could bring them inside; thyme, rosemary, head lettuce, and even Calendula seeds in one of the pots and arugula seeds in another. Calendula blossoms are edible so I'll be trying them in salads this year along with the pansies I haven't yet transplanted because its too cold.
I think, fellow New Englanders, on Sunday and beyond the nites will be well above freezing. Isn't that wonderful! Happy Easter!
Hooray! they look pretty darn good! It's supposed to get to 30ish and then rain tomorrow... meh.

Forum Moderator Certified SFG Teacher




Posts

: 14167


Join date

: 2010-03-06


Age

: 55


Location

: Keene, NH, USA ~ Zone 5a



I got the last of my "composts" today, from Agway - seaweed mulch (I hope that's okay to use), and 2 other types I can't remember off hand. Altogether I think that brings the count to about 6 or 7 different kinds of soil amendment products, just to be sure enough is getting in there. I also got vinyl sheet fencing from Lowe's today because that has to be up before the soil goes in, to prevent the chickens from dust bathing in it and scattering the dirt everywhere. They would love that. I got the wrong size posts tho (forgot that a 3' post is really only 2' tall, once you pound it into the ground), so it will be back to Lowes tomorrow.

At Lowes I saw the tomato plants they have advertised for .50 each. Wow, those things are huge. A lot bigger than my wimpy seedlings. But I wonder what you would do with such big tomato plants so early? Plant them under a cold frame?

Once the fencing is up, I have to fill the gaps in my staked beds with I think styrofoam I have lying around, to keep the MM from falling out the bottom of the boxes. Then I'll put cardboard on the ground, I think maybe my unfinished compost material on the cardboard (there's not that much), and then fill the boxes with MM, tie the grids, and voila. And then put the netting on the trellises.

Here's hoping all the potential rain in the forecast this next week will mean the rest of the summer will be hot & sunny! Things have a way of balancing out.

Wouldn't it be nice to have a greenhouse?



Posts

: 2298


Join date

: 2011-02-25


Age

: 57


Location

: Southern New Hampshire



There was a reason for my procrastination hehehe.....Well other than being REALLY busy....next week is supposed to be really nice so I think I can actually get some thing in the ground. I know I HAVE to get my corn going or else a couple sisters are going to be very upset with me (beans and squash)!



Posts

: 136


Join date

: 2010-03-19


Age

: 45


Location

: Providence RI Zone 6a




---
Permissions in this forum:
You
cannot
reply to topics in this forum