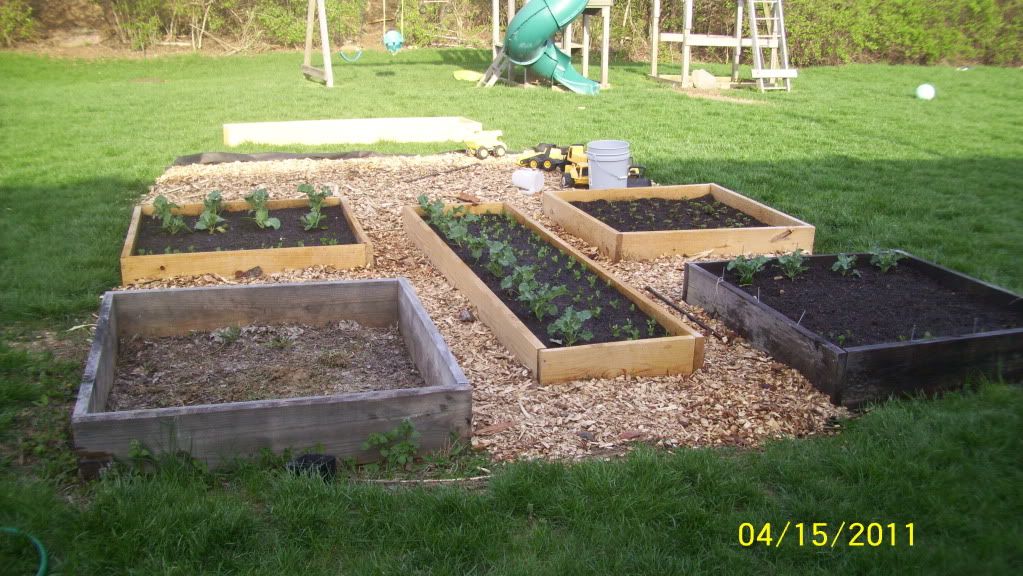 What you are looking at:
upper right box: 3 varieties of strawberries
lower right box: broccoli, peas ( you can't see the spinach/lettuce- they just sprouted)
center: broccoli, peas
upper left box: broccoli, cabbage, carrots, peas
left lower box/ far box in the picture: empty right now due to didn't have MM ready for sping but I now have the ingredients and will mix for summer crop.
I found a tree service working in the neighborhood and got them to deliver for a small price, They are so worth it! I'm already thinking about 2012 ( i expanded the wood chips 7 ft out farther to add 2 more boxes next year) I realize the pathways are narrow around the center box but I can move just fine in there. I'll be making some trellis's as soon as the 7 days of rain is over for the peas.
Anywho, I hope you like! I love seeing everyone's pics and the GREAT advice I've received!
Happy Gardening,
Kim



Posts

: 567


Join date

: 2011-01-26


Age

: 47


Location

: zone 6, North of Cincinnati



Kim, that is so neat, you used your head and asked about the chips!! Lovely SFG.



Posts

: 1611


Join date

: 2011-01-29


Age

: 50


Location

: NE Texas, 75501, Zone 8a



What a pretty garden set-up, and the plants are doing well from what I can see.
You've got a nice garden. Thanks for sharing.

Keep the pictures coming as your garden progresses.

Good Luck, and welcome city slicker.



Posts

: 4646


Join date

: 2010-03-21


Age

: 75


Location

: Southwestern Maine Zone 5A



Nice job Kim.

Great to see those little green things. It makes you feel so good.

Love the planning for next year, we are always thinking about what else we can do to make our gardens bigger and better.



Posts

: 3141


Join date

: 2010-06-10


Age

: 70


Location

: Coastal Oregon, Zone 9a, Heat Zone 2 :(



Kim your garden looks so pretty, I love the wood chips.



Posts

: 1697


Join date

: 2011-04-01


Location

: zone 9a St.Johns county FL



Your garden is lovely. I have done that with the wood chips too. It bothers me that they just throw them away!!

My son in law is an arborist and he says they have a hard time getting people interested in the wood chips. People would rather go to Home Depot or wherever and buy them. :scratch:
Gwynn
Regional Hosts




Posts

: 1156


Join date

: 2010-08-12


Age

: 66


Location

: Canada 3b



The last city I lived in had a waiting list for the city's wood chips. They were free, but so many people wanted them that you had to get on the waiting list, and sometimes it would be months before your name came up - and if you weren't available to take them when the city was ready - or have a place clearly marked where they could just dump them for you to deal with later - you missed your chance and would have to go back to the end of the list!

TC
Last edited by Goosegirl on 4/24/2011, 10:18 am; edited 1 time in total (Reason for editing : Spelling, it is before noon!)



Posts

: 3411


Join date

: 2011-02-16


Age

: 52


Location

: Zone 4A - NE SD



Great news to report:
1) my parents found about 10 blooms on the strawberries and 1 berry.

2) after my dad assessed my set up ( garden, vermicompost set up, starter plants, etc) He said " Why didn't you do this when I had my garden (referring to our garden when i was a kid)? My response was: " I was too busy being a kid and this gardening thing I most likely my mid-life crisis! "
I think I may be in the beginnings of converting him!



Posts

: 567


Join date

: 2011-01-26


Age

: 47


Location

: zone 6, North of Cincinnati



---
Permissions in this forum:
You
cannot
reply to topics in this forum