Latest topics
»
Only a gardener
by
johnp
Today at 6:00 pm
»
New Member in Minnesota
by
sanderson
Today at 5:51 pm
»
SE Virginia Garden Pics
by
sanderson
Today at 5:28 pm
»
Supports for plants in and out of beds
by
sanderson
Today at 5:26 pm
»
EU to ban heirloom seeds
by
camprn
Today at 5:25 pm
»
Share your winningest slow cooker recipes! (please)
by
Nonna.PapaVino
Today at 5:04 pm
»
New seeds
by
sanderson
Today at 3:32 pm
»
New Seed Catalog !!
by
Turan
Today at 1:13 pm
»
Senseless Banter...
by
llama momma
Today at 11:02 am
»
instructions on seed packages?
by
jimmy cee
Today at 9:35 am
»
How long do wood SFG boxes last?
by
camprn
Today at 8:49 am
»
New England Dec 2014
by
camprn
Today at 8:31 am
»
December 2014, Three Word Story
by
AtlantaMarie
Today at 8:11 am
»
PNW: December 2014
by
Marc Iverson
Today at 3:47 am
»
Vertical Garden beyond a Trellis
by
sanderson
Today at 3:14 am
»
Come on Guests! Please sign up!
by
walshevak
Yesterday at 9:46 pm
»
Northern California & Coastal Valleys - What are you doing this month?
by
Marc Iverson
Yesterday at 4:16 pm
»
Happy Birthday!!
by
sanderson
Yesterday at 3:13 pm
»
Share your winningest Pressure Cooker recipes!
by
plantoid
Yesterday at 1:55 pm
»
Native Indian Corn Grinder
by
jimmy cee
Yesterday at 10:34 am
»
Matching Gardeners to Community Food Pantries - Amazing!!
by
Cajun Cappy
Yesterday at 10:11 am
»
Growing Mushrooms in the garden, on purpose!
by
Marc Iverson
Thu Dec 18, 2014 7:52 pm
»
Winter Storms 2014-2015
by
slimbolen99
Wed Dec 17, 2014 10:08 pm
»
2014 SFG in Brooks, GA
by
sanderson
Wed Dec 17, 2014 6:51 pm
»
First year pics?
by
sanderson
Wed Dec 17, 2014 6:25 pm
»
Chicago community gardens
by
jarity
Wed Dec 17, 2014 2:19 pm
»
Squash harvest
by
Cajun Cappy
Wed Dec 17, 2014 12:49 pm
»
then ( 15 years ago )....now ( today )
by
jimmy cee
Tue Dec 16, 2014 8:37 pm
»
Winter Travel
by
CapeCoddess
Tue Dec 16, 2014 2:57 pm
»
A Christmas song
by
martha
Tue Dec 16, 2014 12:50 pm
This will be my 4th year of SFG, and I just today finally bought the PVC to do the cover support like in the SFG book. It's only $1.47/10' of PVC! Why didn't I do this sooner? For the plastic sheeting I bought 6mil sheeting in the paint department, like for drop cloth. I hope that will be tough enough for hail season.
I can't decide between the Covered Wagon look and the criss-cross look. Is one stronger than the other do you think? We have STRONG sustained wind regularly with gusts in the low hurricane range often. We don't have a few scattered hail storms, we have a month or two of almost daily hail storms. (Can you tell I'm not from here? the locals think this is "normal."

)
Ooh, and on the Home Page of squarefoot.org there was a "send Mel a Get well card" link. I don't come on here often enough. What's up with Mel

?
Thanks everyone!




Posts

: 126


Join date

: 2010-04-26


Location

: Fort Worth, TX



I just use arches like with the "covered wagon" type and no PVC going across the top. It works fine here and we get some mighty winds. You could always add the top bar if nessiary.



Posts

: 1697


Join date

: 2011-04-01


Location

: zone 9a St.Johns county FL



Peggy

The 6 mil should handle most hail, but I remember Omaha weather, with HUGE hailstones and horrendous winds. If you get biggie hailstones?????

I have both the covered wagon style and the dome hoop support style.

Covered wagon give you a little more room height wise over the whole length of the bed. The crossbar to strengthen the covered wagon, especially in your area, seems to me to be a good addition. Personally, I use the crossbar on the windy Coast of Oregon.

The dome support is pretty darn stable as long as you secure the two hoops together at the top. I used zip-ties.

My suggestion is that either method, don't just set the PVC hoops inside your garden and use the tension created by your frame to secure the hoops. With your wind, you need to either use rebar in the ground with the pvc pipes set over the rebar, or secure the pvc to your frame using conduit straps, or even both.

Good luck, which ever way you go.

BTW, Mel had a bad fall and has had surgery on his hip. He is now in a rehab center. Click on the scroller to get more info and a link for sending Get Well wishes



Posts

: 3141


Join date

: 2010-06-10


Age

: 67


Location

: Coastal Oregon, Zone 9a, Heat Zone 2 :(



I can't argue with the above statements about hoop strength. You have some experience talking at you there.

I haven't had hail on my 6mil bigger than pea-sized yet. However, I can tell you that anything over 2" diameter hail is going through that plastic. There's just no way any plastic sheeting is strong enough for egg-sized, even ping pong ball sized, hail stones. And, obviously, anything that punches through car windows will make quick work of any plastic.

I can't imagine a world where that is considered "normal." But, if I could, my imagination would definitely picture western OK, KS, NE, etc. I've heard hail can kill a chicken out there.



Posts

: 2727


Join date

: 2010-12-25


Age

: 40


Location

: St. Louis, MO



Hey! Another Nebraskan! Thanks, PeggyC. I was wondering this same thing.
I haven't ventured into the hoop house world yet as I figured they would blow away in our lovely Nebraska wind (yep, it's windy here pretty much every day - I remember laughing when I read the SFG book the first time and it said to mix MM on a calm day and thinking, "well this method won't work - we don't have calm days here.")
Furbalsmom, thanks for the advice on the rebar. I'm thinking I may attempt this to extend further into Fall on at least one of my beds.
BBG, I don't know about killing chickens, but it can take out an airplane. I used to travel 3+ weeks a month and was supposed to go to FL leaving on Mother's day a few years ago. We got one of our lovely NE hailstorms the night before and it took out every single plane that had been parked overnight at the Omaha airport. Needless to say, I got to go home and spend the day with my Mom which was the silver lining.




Posts

: 105


Join date

: 2011-02-18


Location

: Omaha, NE, Zone 5



My beds are 5X10 I have 4 PVC hoops and a piece of conduit accross the top. It held up well all winter. Mid March, however, we had incredible winds one day. I have the plastic held on with giant clips. They all held but the end PVC pipe pulled out of the rebar. When I got home it was blowing like a kite. I tried to put it back but the wind was blowing to hard. I had to wait until the next day to put it back together.
I purchased the large roll of plastic and cut it to size for each of the beds. I was actually able to double it over. (I did rip it but it was my fault, I got it caught on something and just pulled instead of taking my time). It held up great and the lettuce I planted at the end of the season grew (slowly but it grew) all winter. We had 2 heads for easter.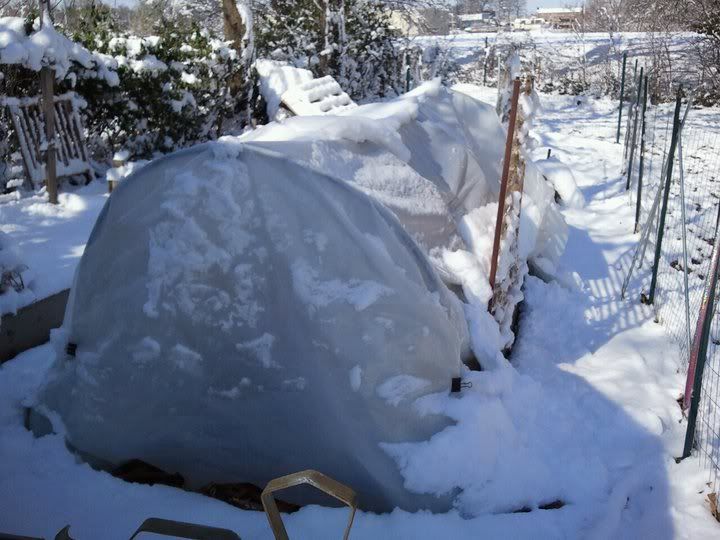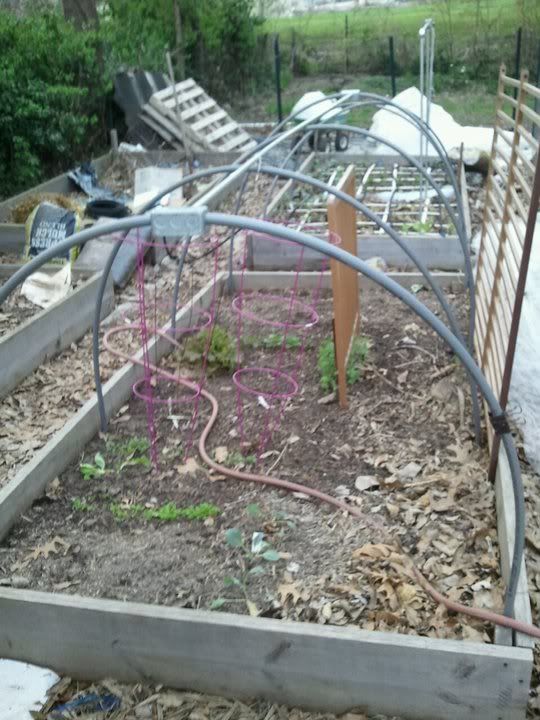 Posts

: 80


Join date

: 2010-05-26


Age

: 50


Location

: Saint Louis, MO



---
Permissions in this forum:
You
cannot
reply to topics in this forum