I started everything from seed this year, and grew them in my kitchen window. They got really leggy, but I got them in the ground anyway yesterday, after mixing in a ton of compost and then exchanging my bubbler heads for individual drip lines (awwww, the plants have their own private little drinking fountains now!).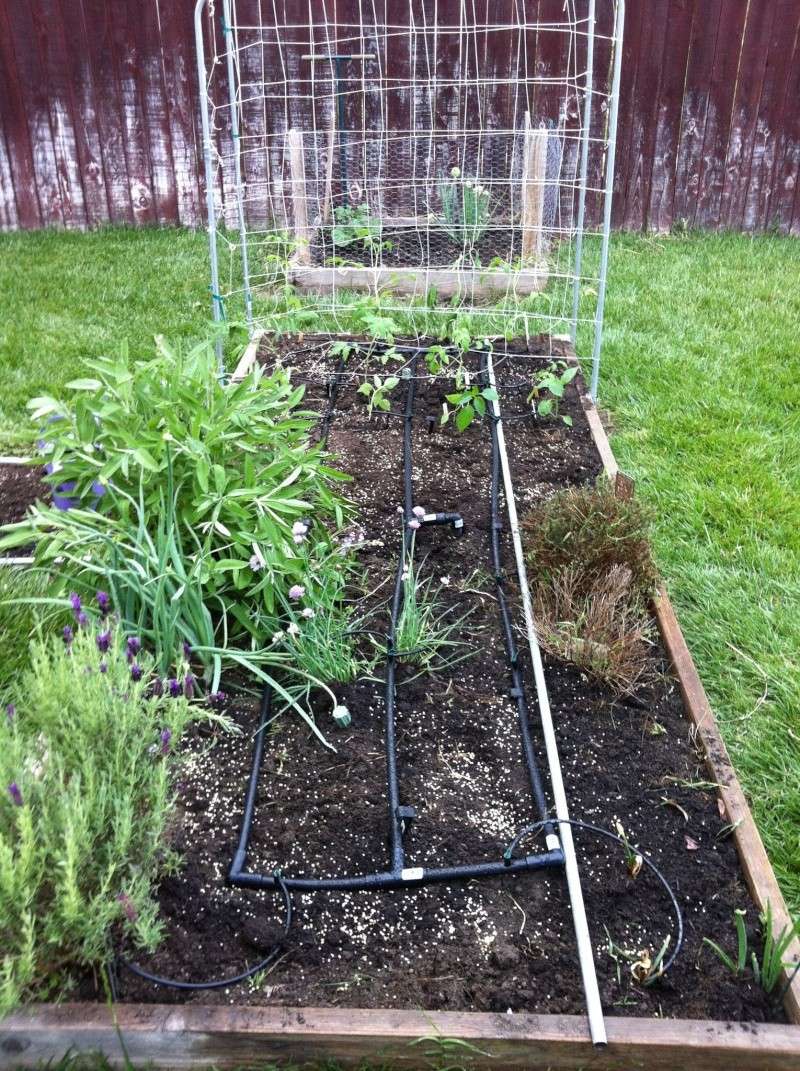 In the foreground are the herbs that overwintered (sage, lavender, marjoram, some chives that won't die) and up against the trellis is a row of sweet peppers, and then 2 rows of tomatoes.
I about had a heart attack watching them go into shock from transplant (nice overcast mild day, so I don't know what their problem was!) but all recovered just fine.



Posts

: 31


Join date

: 2010-03-02


Location

: CA



ML they all look right happy now. Love the drip system a great time and water saver. I can tell by looking they still get quality face time too.



Posts

: 1697


Join date

: 2011-04-01


Location

: zone 9a St.Johns county FL



MyerLemon, what a nice looking SFG and now so easy to maintain with those drip lines.

Even though your seedlings started out leggy, they will sturdy up being outside.

Have fun!



Posts

: 3141


Join date

: 2010-06-10


Age

: 70


Location

: Coastal Oregon, Zone 9a, Heat Zone 2 :(



I put out 7 tomatos and 4 hot peppers yesterday. Only a week early. Spaces haven't freed up for the sweet peppers yet. And I still have 6 tomatos and 4 hot peppers left. I will try to keep the seedlings going until the first week in May. My son is graduating from college, his birthday, and mother's day all the same weekend. But he still has the materials and MM for one more pond box, so will see what we can do.

Kay
____________________________
A WEED IS A FLOWER GROWING IN THE WRONG PLACE
Elizabeth City, NC
Click for weather forecast

Certified SFG Instructor




Posts

: 4354


Join date

: 2010-10-17


Age

: 74


Location

: wilmington, nc zone 8



Thanks everyone!
walshevak be careful, I make sure and put them out on that mild cloudy day we had, but the weather turned hot so fast this week they got a little sunburned. I grabbed a roll of shade cloth from Home Depot yesterday and now they have a little canopy

thank goodness for SFGs and how easy they are to cover.
I have backup starters in my window still, just in case, but I'm thinking they will pull through fine, even though the leaves got a little crispy.



Posts

: 31


Join date

: 2010-03-02


Location

: CA



---
Permissions in this forum:
You
cannot
reply to topics in this forum