Page 2 of 2 •

1, 2
Family Gardening,

Congratulations! Your peppers look a huge success. Good for you.



Posts

: 4682


Join date

: 2010-03-21


Age

: 75


Location

: Southwestern Maine Zone 5A



thanks
quiltbea.....
i think it also helped that they are filled with MM

i need to get some more fresh dill and cilantro (sp?) as i did not plant enough this year.....next year i plan on doing a lot more herbs that i found that i love to can with......i want to can some more pickle peppers but this time add those fresh herbs in there

the first set we just open we made with garlic and one tiny slice of a hot pepper....and they are soooo yummy!....i really want to taste them pickled with the dill and then with the cilantro....i heard they taste great

hugs
rose



Posts

: 2424


Join date

: 2011-05-10


Location

: Western WA



wanted to share something pretty cool that is growing from one of our Topsy Turvy planters......its a VOLUNTEER Sunflower.....how it got in there??...not sure...but it sure is cool looking

 we planted two patti pan squashs to keep it company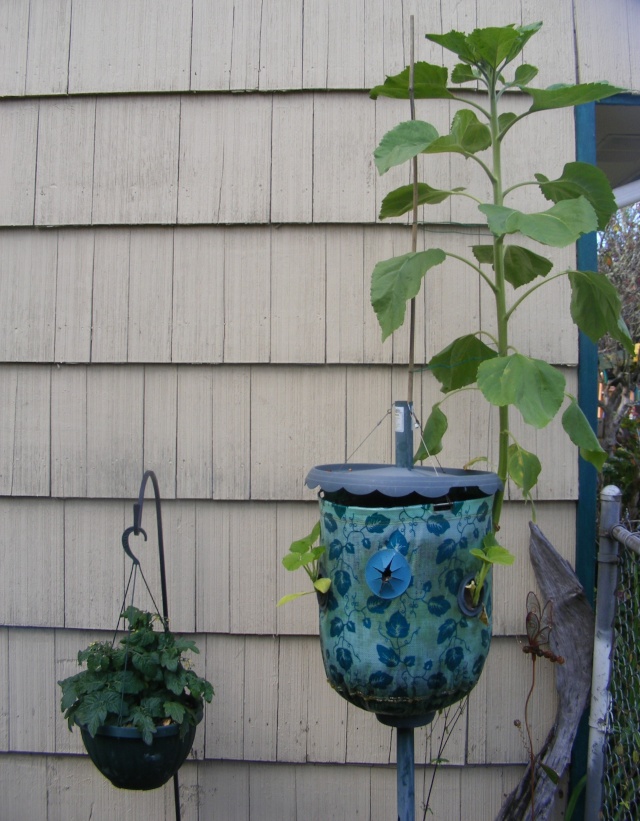 happy gardening
rose



Posts

: 2424


Join date

: 2011-05-10


Location

: Western WA



I ran into someone the other day who is using topsy turvey to grow tomatoes, peppers, and several other things, and he said his plants are going CRAZY. He said they turn upwards but eventually grow back downwards because of the weight. He also said the stems are HUGE, probably also due to the weight ( I suppose).



Posts

: 596


Join date

: 2013-03-12


Location

: Savannah, GA



I heard that TTs are fair to ok, with the occasional screaming success. Apparently, the real winner is smaller, multiple fruiting stuff; like the peppers, as evidenced above, and also cherry/small type tomatoes.

The smaller fruit put much less stress on the plant structure, or something.

Better/more even weight distribution maybe!




Posts

: 463


Join date

: 2013-02-26


Age

: 41


Location

: Las Vegas, NV



@acara

wrote:However, I have used the newer incarnations of the product for hybrid cherry varieties like Juliet and Sprite before.
Juliet is a hybrid?  Acch, thanks for telling me.  It is doing well for me, so it's disappointing to know I won't be able to save the seeds.



Posts

: 3638


Join date

: 2013-07-05


Age

: 56


Location

: SW Oregon



Wow FamilyGardening you have some good growing with your Topsy Turveys! Beautiful job!



Posts

: 1628


Join date

: 2010-06-04


Age

: 62


Location

: Northern Utah



Page 2 of 2 •

1, 2
---
Permissions in this forum:
You
cannot
reply to topics in this forum