Latest topics
»
N&C Midwest—January 2018!!!
by
Scorpio Rising
Today at 8:47 pm
»
1st Seed Catalog Arrived :)
by
Scorpio Rising
Today at 8:45 pm
»
My first Attempt
by
Scorpio Rising
Today at 8:43 pm
»
What is this? Plant identification?
by
BeetlesPerSqFt
Today at 8:42 pm
»
January 2018 Avatar: Surprise Us
by
CapeCoddess
Today at 4:38 pm
»
Anyone have rabbits on purpose?
by
Ginger Blue
Today at 2:56 pm
»
The Winter Journey and greenhouse plastic
by
sanderson
Today at 2:18 pm
»
Too Many Red Wiggler Worms in Raised Beds??
by
sanderson
Today at 1:59 pm
»
Meat Lover's Recipes by SQWIB
by
sanderson
Today at 1:50 pm
»
Biochar?
by
countrynaturals
Today at 12:24 pm
»
has55's R & D Journey
by
has55
Today at 9:17 am
»
Newspapers vs Weed Cloth
by
Saazhops
Today at 8:48 am
»
Weight Watchers Turkey, Bean and Vegetable Chili
by
sanderson
Yesterday at 11:30 pm
»
Appetizer Recipes by SQWIB
by
sanderson
Yesterday at 11:19 pm
»
SUGA 2017
by
SQWIB
Yesterday at 4:55 pm
»
Senseless Banter...
by
sanderson
Yesterday at 3:19 pm
»
Spring Fever Anyone?
by
sanderson
Yesterday at 2:37 pm
»
CANADIAN REGION: What are you doing in January 2018
by
Kelejan
Yesterday at 2:36 pm
»
2018 - First Annual Seed Exchange Week - January 20-28 (Edited)
by
sanderson
Yesterday at 2:23 pm
»
Is there ever enough compost?
by
Kelejan
Yesterday at 1:15 pm
»
Areogardening
by
sanderson
Yesterday at 2:38 am
»
My Shreveport Garden 2018
by
sanderson
1/21/2018, 4:47 pm
»
Are vegetables hurt by too much light?
by
BeetlesPerSqFt
1/20/2018, 8:38 am
»
Seed Starting!!
by
brianj555
1/19/2018, 9:14 pm
»
How's the Weather Where You're At?
by
sanderson
1/19/2018, 2:56 pm
»
Sow True Seeds
by
AtlantaMarie
1/19/2018, 8:00 am
»
Colored Mulch
by
No_Such_Reality
1/18/2018, 7:12 pm
»
Taking on 4 Season Gardening
by
Roseinarosecity
1/18/2018, 5:19 pm
»
Fourth Year SFG in Canada
by
trolleydriver
1/18/2018, 3:53 pm
»
Butternut squash, turkey Italian sausage, cannelini bean soup
by
yolos
1/17/2018, 9:25 pm
Wow... excited to have found this forum today! I'm a brand new SFG gardener. Not new to gardening, just this method. This is my first spring in our home (moved in too late last year to do any gardening with everything else we had to do). I spent the winter reading (ok, drooling) over my ANSFG book. I have my seeds. I have one SFG kit ready to assemble. I have located vermiculite and peat. I'm still on my quest for a variety of compost. I know where my SFG will be located. Life is good.

Only question I haven't found an answer for... what's best time to plant?? I live in the Augusta area. Any suggestions?

Oh... and yes, I will probably do at least one more garden. It's just the two of us now. Trying to keep things SIMPLE.

TIA,

Tril
Greetings fellow New Englander!
to the SFG Forum! Congrats on your new home and garden. It is time to plant! early stuff like peas and spinach and beets and chard and radishes. Here is a good link for planting info
Old Farmer's Almanac planting times
<~~~Click
Here is another from your neighbor!
Johnny's Seed starting dates
There is a ton of info on the forum and the search feature is helpful. If you have questions do not hesitate to ask.
Cheers!


Forum Moderator Certified SFG Teacher




Posts

: 14165


Join date

: 2010-03-06


Age

: 55


Location

: Keene, NH, USA ~ Zone 5a



Thanks... I just put my zip code into the search and it said this:

50% probability of frost free after May 8

The only April dates for seed in the ground are things I don't plan to grow. So at least I'm not behind. YET.

TY for the link. I've saved it!

Tril
Welcome!
I am just to the east of you in Warren and I planted my first box with cold crop transplants last night.

Here's hoping for great weather.



Posts

: 40


Join date

: 2011-03-06


Age

: 47


Location

: Maine






____________________________


I have seen women looking at jewelry ads with a misty eye and one hand resting on the heart, and I only know what they're feeling because that's how I read the seed catalogs in January - Barbara Kingsolver - Animal, Vegetable, Miracle




Certified SFG Instructor




Posts

: 1974


Join date

: 2010-09-30


Age

: 59


Location

: Glen Burnie, MD



Thanks for the warm welcome, everyone!
Tril
Glad to have you join us. This is a great bunch of people who try to be helpful. I hope you will enjoy being with us.
It is good to feel you are not behind

Once you get your Mel's Mix in, you are ready to go. Keep us posted on your progress and please share pictures, we love them.
Again, Welcome!



Posts

: 3141


Join date

: 2010-06-10


Age

: 70


Location

: Coastal Oregon, Zone 9a, Heat Zone 2 :(



Welcome Tril,
I'm in Raymond in Zone 5a and our last frost free date is around May 15th. That doesn't mean we won't get a frosty nite, so whatever you plant, be sure to have some old towels and sheets handy to cover your seedlings when 32* or lower is expected.
I've got broccoli, cabbage and cauliflower seedlings planted in my beds. I also have sown seeds for carrots, lettuce, radishes, spinach, turnip, parsnip, and even Swiss chard and sugar snap peas. If I expect a cold nite, I just cover those I think will need it.
When to plant depends on what you plan to put in your garden bed. Cold-resistant crops like those I mentioned above, are OK to go in now because you want them to mature before hot weather arrives. Warm-weather crops like eggplant, peppers, tomatoes, beans, and melons shouldn't go in until after your last frost date.
Good luck and if you have questions, just ask.
I hope you can post pictures as you get on. We all love to see pictures.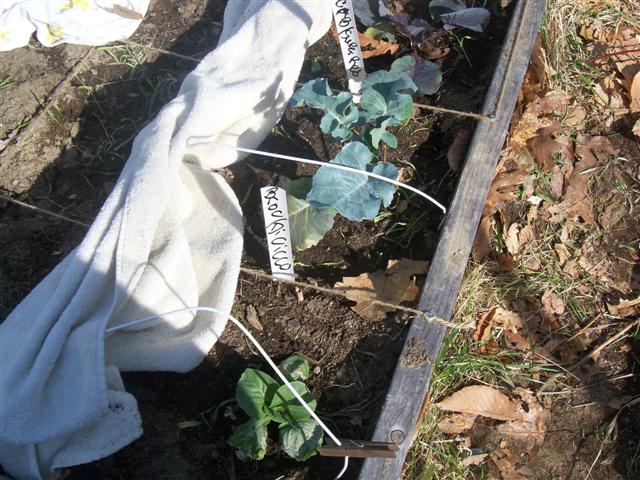 Here's a few broccoli and cabbage the morning of April 22nd that did just fine under cover after we had a below-freezing nite.
I hope to see pics of your Maine garden soon. Good luck.



Posts

: 4700


Join date

: 2010-03-21


Age

: 75


Location

: Southwestern Maine Zone 5A



---
Permissions in this forum:
You
cannot
reply to topics in this forum