Starting SFG Year 2 with tweaked fencing. Here's a pic from year one: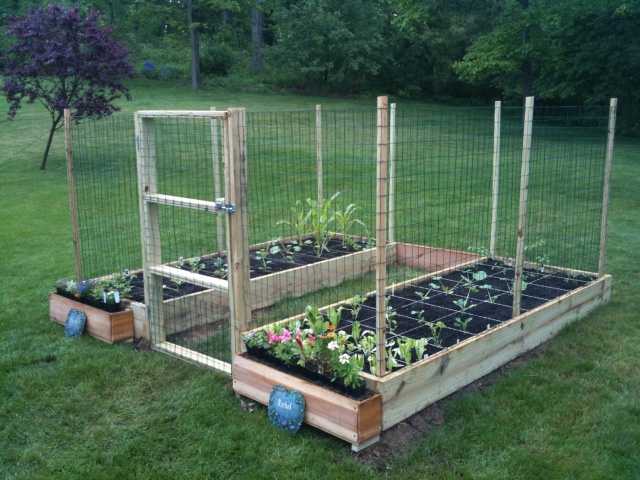 Backing up on woods, we play host to all kinds of hungry wildlife. For space and existing supports, I built the fence into the boxes. Some in the neighborhood recommended a 7 or 8ft fence for deer, but the 5 ft did its job. Other than squirrel's stealing corn (which I will likely never grow again), we had no unwanted intruders to the garden.
One problem that did arise was having 3 x 9 boxes and getting to the outer squares. Mel advises to have access to 2 squares at all times, which makes the 4 x 4 grid ideal. I am on the tall side and figured reaching to the third square from a center aisle would be fine... wrong! It was literally a pain in the... um... back.
Problem solved with converting the 9ft sides to swinging gates:
To keep the gates from swinging closed, bungie cords provide the right amount of tension: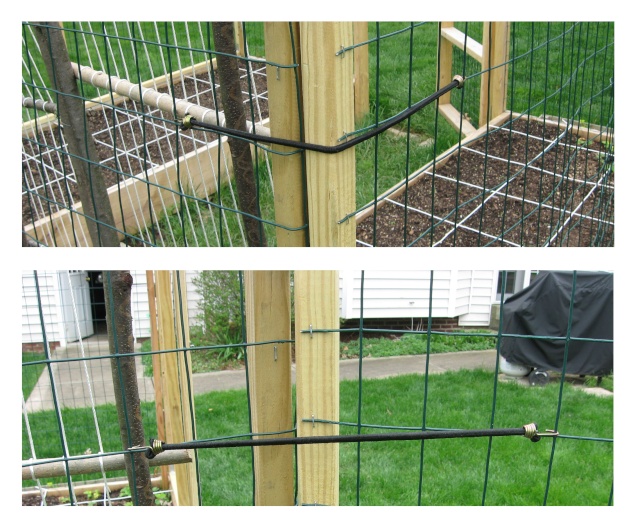 Latch bolt holds it closed at the middle and screws at the bottom are raised just high enough to keep them in place but also lift up and over for opening: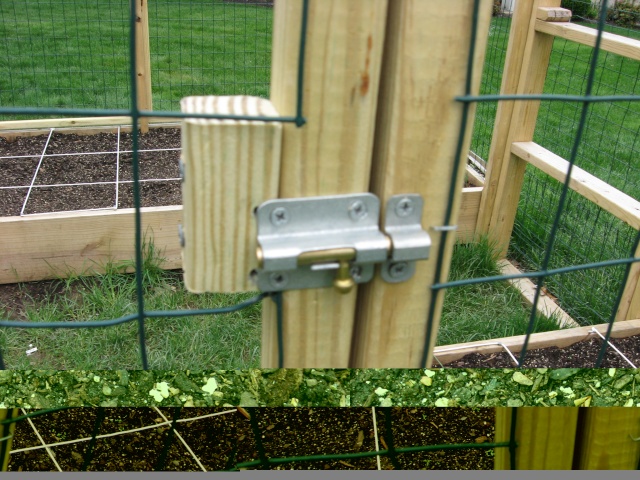 Doors all open: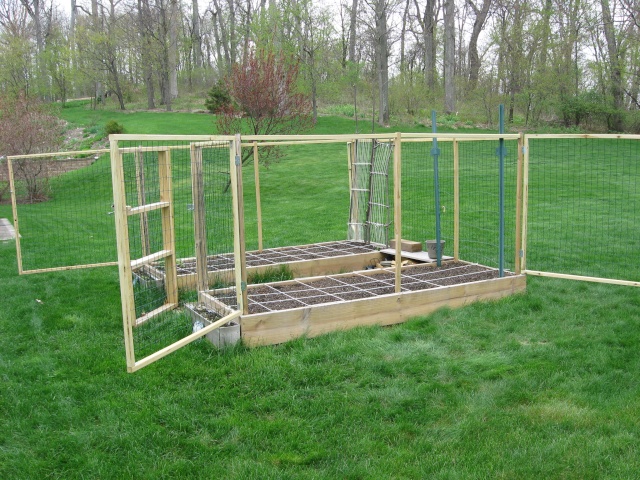 Put in some cold-weather veggie seeds (lettuce, spinach, peas) along with onion sets last week and having full access to the outer squares was a joy. Looking forward to mid-May to put tomatoes, zuccs, and squash in the ground. Strawberries are greening up now from their winter slumber. They did not produce much last year so I'm curious to see how they do in year 2.
I'm going to experiment with watermelon this year in two squares. Anyone have success with a small variety of watermelon in their SFG? How many melons did you produce per square by the end of the season?
Following a cold winter and wet spring, it's great to be back outside growing again! Hope your gardens are starting well!



Posts

: 90


Join date

: 2010-06-02


Location

: Pittsburgh, Zone 6a



What a wonderful way to protect your garden. I applaud you.
Great job.



Posts

: 4674


Join date

: 2010-03-21


Age

: 75


Location

: Southwestern Maine Zone 5A



Marc
The swinging gates on the 9 ft side are a great way to access your garden. It looks good

and I am sure is very efficient.
Easy access is one of the best features of SFG.
Good luck with this season's garden.



Posts

: 3141


Join date

: 2010-06-10


Age

: 70


Location

: Coastal Oregon, Zone 9a, Heat Zone 2 :(



Brilliant!!!!



Posts

: 24


Join date

: 2011-04-18


Age

: 54


Location

: Rising Sun, Indiana



---
Permissions in this forum:
You
cannot
reply to topics in this forum