Whoa! 2 days in a row of nice weather? Did spring finally find it's way to the PNW?!? Oh wait, the weather forecast says rain tomorrow and tuesday. Well, someone has to water those plants so it's a good thing it won't have to be me

Radishes are kicking butt! Peas are coming up strong, the rhubarb is holding on. Transplanted the herbs so they all look nice and pretty. Not too bad! I'll get some photos up later.



Posts

: 2054


Join date

: 2010-03-03


Age

: 60


Location

: Everett, WA USA



I checked the five-day forecast before I left work today, and it looks like we get another couple of spring-ish days Monday and Tuesday. Actual 60-degree temps!




Posts

: 25


Join date

: 2011-04-07


Location

: Seattle (zone 7b)



Here in Minnesota it has been the same way....cold and rainy. Now it's warm and rainy, though we did have a few days of clouds with no rain and the sun actually peeked out here and there. At least we haven't had frost in a few days!



Posts

: 86


Join date

: 2010-04-26


Age

: 48


Location

: Southeast MN, USA, zone 4



@MCard

wrote:..snip...it looks like we get another couple of spring-ish days Monday and Tuesday. Actual 60-degree temps!
\o/\o/ (adding my small voice to yours)
My kitchen window has gone from looking cute with a tray of tomatoes happily waiting for the day time temp to get high enough to go outside, to a forest of healthy tomatoes that have taken over everything. My habits have changed a bit. Instead of anxiously watching accuweather.com to see if it is going to be warm enough to put them out, I watch the nighttime temps hoping it will get warm enough to set them in the closet and leave them out. The good news is that this old woman is getting her walks in as well as deep squats just getting all those toddlers (they are not really babies anymore) in and out.



Posts

: 2054


Join date

: 2010-03-03


Age

: 60


Location

: Everett, WA USA



So...do potatoes have to be thinned too? I have a few with 2 or 3 shoots (growths?) poking out of the ground. I was too impatient and stuck the tomatoes out there already. Goes along with my "survival of the fittest" gardening approach. We'll see if they can make it in the rough PNW spring. The rhubarb is holding on and rebounding.
And here's a few photos from the garden! I pulled out 5 radishes today. Could have probably let them grow more but the tiny one was still quite tasty!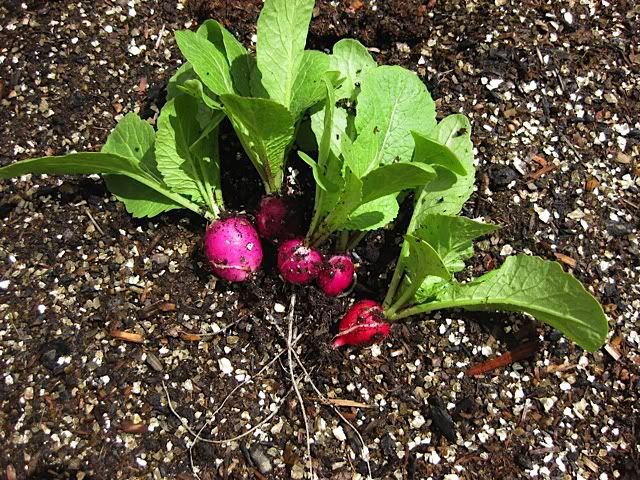 The remaining radishes continue to kick the other plants' butts. Here's the newest seedlings: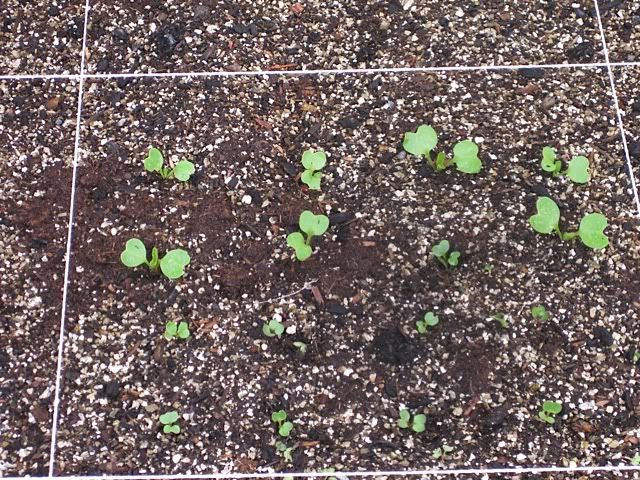 Potatoes:
Box 1: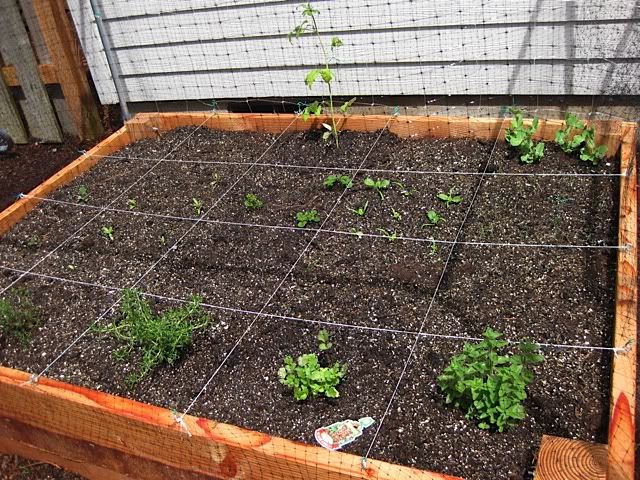 Box 2:
Harvesting Chives: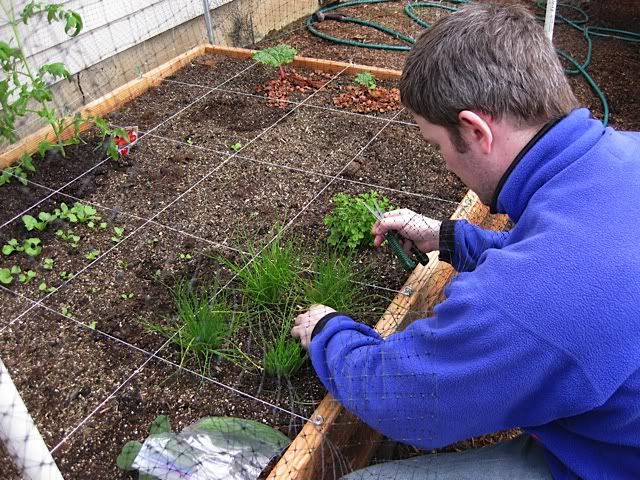 The "instruction manual" and work station: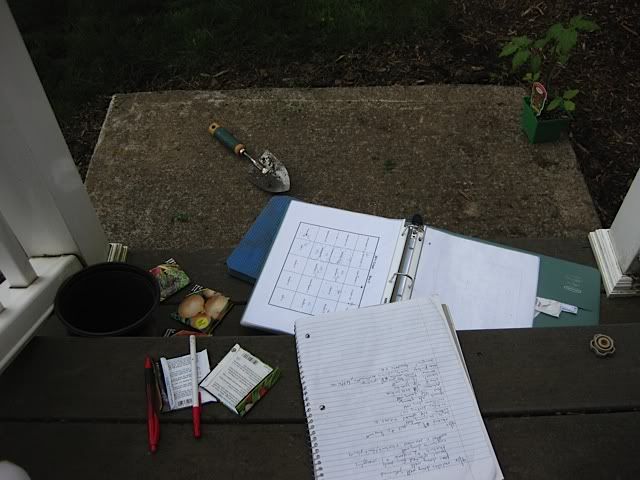 Earthworm! Scared the you know what out of me when it first crawled out of the ground.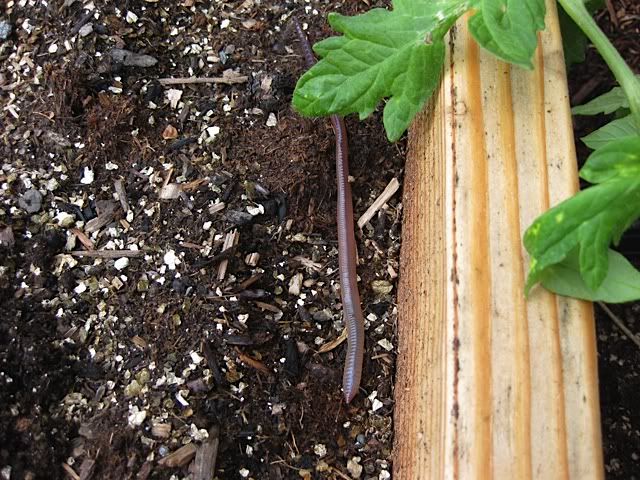 Sugar Snap Peas:
And our new gliding deck bench from Costco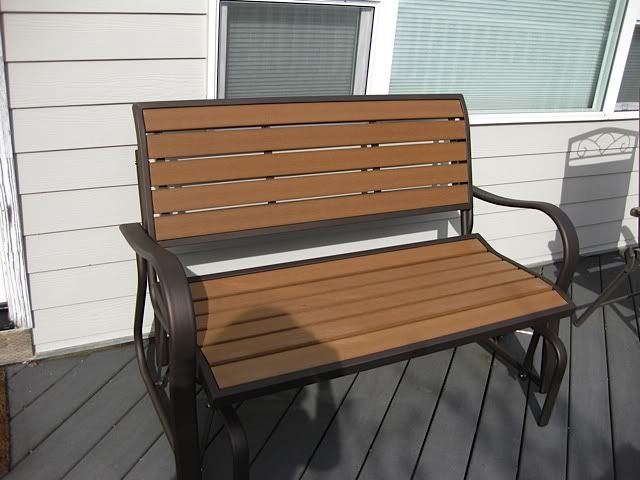 Oh yeah and is it safe to eat radish leaves? We just read "Wicked Plants" so a little leery to eat things out of the garden that I don't know the safety about!
Dr. Bigfoot, we have a couple of threads on uses for radishes and their leaves.
Check these out, because they sound very good.
SPRING OMELETTE
WHAT TO DO WITH ALL THOSE RADISHES
ps My outdoor workstation is similar to yours!
As to the potatoes, no reason to thin them if they are planted four to a square. Sometimes two eyes sprout on one seed potato, but that is not a problem.
Forgot to ask, how is the copper flashing working to keep slugs out of your gorgeous garden.



Posts

: 3141


Join date

: 2010-06-10


Age

: 70


Location

: Coastal Oregon, Zone 9a, Heat Zone 2 :(



so far I haven't seen any slugs so either they're not showing their faces yet or it's actually working! Thanks for the links to the radish recipes!
I hope my Puget Sound-area colleagues all enjoyed a bit of sun here and there over the weekend. It's amazing what a different just a couple of hours of sunshine made in the SFG beds. Friday I had very few little plantlets daring to poke their first leaves above ground. And today -- the squares are a-poppin'! Just a few squares that don't yet show any activity. Interestingly, two of them are the carrots. I think they have performance anxiety in light of the 'carrot all' challenge going on in the forums.

Enjoy your week, everyone!



Posts

: 25


Join date

: 2011-04-07


Location

: Seattle (zone 7b)



---
Permissions in this forum:
You
cannot
reply to topics in this forum