Im adding new boxes on the north side of the garden. I had trellises on the north side of the old beds for years and they were great. My question is..., should I put the new trellis one foot in from the outside of the new boxes? My thought was maybe I could grow more things that could share the trellis. I usually plant peas early and stagger the tomatoes between them. By the time the pea are done my tomatoes have well taken over. If I could plant on both sides of the trellis, would this work?
Would something like this work for you? I found these pictures while looking for trellis options based on the suggestion of looking into "arched cattle panels":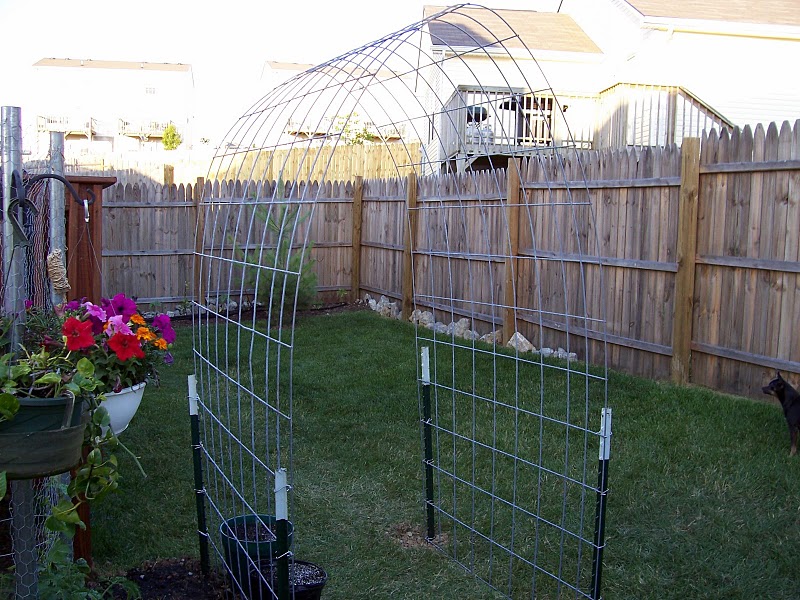 Posts

: 284


Join date

: 2010-03-17


Location

: Mason, OH



jsavolt, I certainly would try putting the trellis in one foot and grow peas and tomatoes one on each side of the same trellis. You are absolutely right, those peas will be gone before your tomatoes take over.
That was my intent, to place the trellis in one foot, but my trellis did not fit right

and would not straddle the Table Top, so I just kept it on the end.



Posts

: 3141


Join date

: 2010-06-10


Age

: 69


Location

: Coastal Oregon, Zone 9a, Heat Zone 2 :(



MasonGarden:
Thanks, I love that trellis and am planning on it for another area. I hope I can find the material here. I saw it listed as "Hog fencing" on another post. I'm off to Fleet Farm soon to see if they have it. I want to put a sitting area under the arch so I can sit and enjoy the garden. Last year I don't remember ever sitting down.
Furbalsmom...I thought it would work, just couldn't figure out why more people don't do that. I hope to get building the trellis soon so just wanted feedback. Appreciate yours!

---
Permissions in this forum:
You
cannot
reply to topics in this forum