According to the book I can put tomatos in my SFG, but I don't have room for any more. I was thinking of using rubbermaid type boxes but am not sure what size they need to be. Somewhere I read that they should be at least 5 gal and 10 gal would be better. Do I have to fill the whole thing with soil mix? That could end up being even more expensive than doing my 3 boxes. I have read that toms need a lot of room for root growth, so I am confused on how they will even work well for SFG. Help please!!

Jennie



Posts

: 232


Join date

: 2011-03-25


Location

: St Louis MO Zone 6a



I grew fine tomatoes in 5 gallon buckets a few years ago; the buckets were 4/5th full of soil with some drain holes in the bottom of the bucket. It worked great!


Forum Moderator Certified SFG Teacher




Posts

: 14165


Join date

: 2010-03-06


Age

: 54


Location

: Keene, NH, USA ~ Zone 5a



I've grown indeterminate cherry tomatoes in 10" pots last year and staked them and they did well.
If you have any determinate tomatoes, the ones that only grow 2 1/2 to 3' tall, they will do well in 10" pots. The cheap tomato cages work well for those in pots. You can get them at dollar stores or Family Dollar for around $2 or $3 each.
Here's a White Cherry staked in a 10" pot early in the season. The stake held up thru the whole season.
I used garden soil and organic potting soil, about half and half in my pots.
This year I plan to try determinates in 12" pots caged and hope for the best. I have an overload of tomato seedlings started and some I've never tried before so I have to experiment and find out what toms I love best.
The cheap cages did well for my Oregon Spring determinates last year.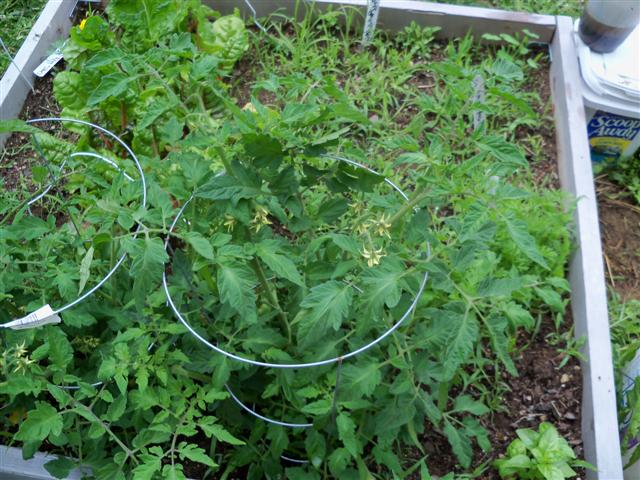 Here they are in my raised beds last year. These determinates did well all summer thru fall.
So try potting them. You have nothing to lose and if they grow to harvest, you'll have lots more tomatoes.
Good luck.
I went hunting for the pic of the concrete reinforcing wire cage.
These are really sturdy but I only made up 4 and they are used for my cucumbers. Really strong. Form into a circle and wire them closed.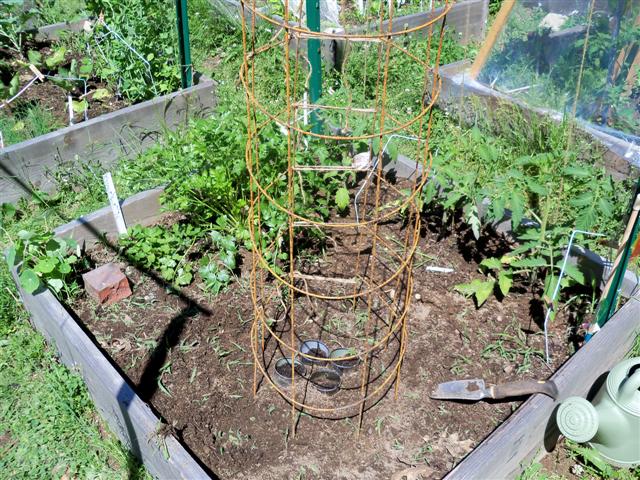 My prefererence is twining which you can see in the same picture. My tomatoes are twisted gently around a piece of twine attached to the pole at the top I have wired from fence post to fence post and a wire strung from the bottom of the same poles.
I just thought I'd toss in a couple of other methods that might work for you.
So how shallow can my containers be? Can I use a container that would be only about 7" high? Or can I use a container that is much taller and just fill it half way with soil? Should there be sand or rock in the bottom in addition to the soil? I am planning on using a soil that does drain well but not necessarily MM. The containers will be in a place where they get full sun all day long. I am thinking that if they were not all the way up to the top of the box they would quickly grow up to that point.



Posts

: 232


Join date

: 2011-03-25


Location

: St Louis MO Zone 6a



Jymarino, this pot measures 9" deep top to bottom and 10" across and I filled it to about an inch of the top with garden soil and organic potting soil. This White (actually yellow in color) Cherry tomato had a home here all season staked and did well for me. I fed it compost tea during the season and kept moving it to a sunny spot since my part of the yard is nowhere near the raised beds behind the house and is mostly shady until late afternoon.
---
Permissions in this forum:
You
cannot
reply to topics in this forum