My lettuce sprouted and now I have what appears to be a hundred little lettuce plants. There are only supposed to be four per square. What do I do?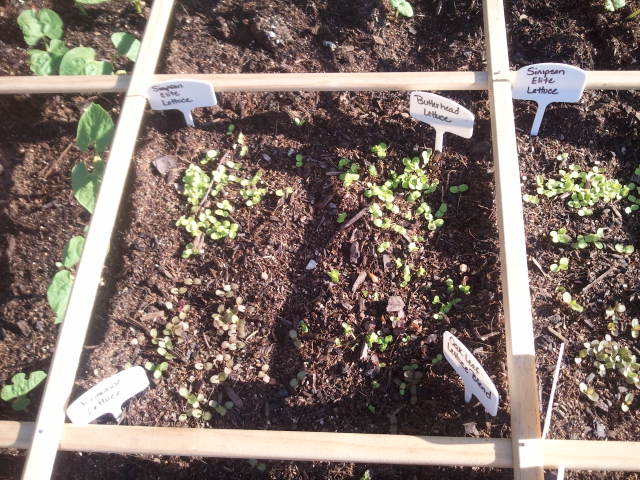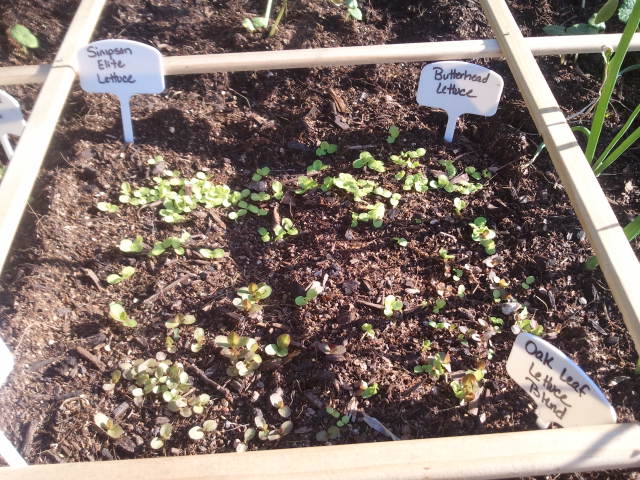 Posts

: 356


Join date

: 2011-04-07


Location

: Raleigh, NC - EST



I did things a little different this year. I got the scissors out and snipped all but 16 of the lettuce plants. I let that grow until I had baby leaf size, then I snipped the whole plant on 8 of them and ate in a salad. When these 8 got a little bigger, I snipped to 6 per square. These 6 I have been used to harvest the side leaves and letting the middle of the plant continue growing. I plan to continure harvesting the side leaves until they start sending up some seed stalks. Those plants I can dig up and since I actually like bitter greens, I will add to some sweet lettuce for salad.

Kay
____________________________
A WEED IS A FLOWER GROWING IN THE WRONG PLACE
Elizabeth City, NC
Click for weather forecast

Certified SFG Instructor




Posts

: 4349


Join date

: 2010-10-17


Age

: 74


Location

: wilmington, nc zone 8



If they are leaf variety, then I would not do anything but let them grow. I am not sure why the SFG book makes a claim to only have 4, but when mine sprout like that, I just let them grow, then start giving the whole square a haircut for huge salads. You can give the square a haircut three or four times before summer and the leaves turn bitter. The more you trim them back, the more they will grow. I now plant all my lettuce leaf like that, just scattering seeds in the square and waiting till they get a descent size and bam! salad time!



Posts

: 105


Join date

: 2011-03-22


Location

: Cincinnati, OH Zone 6b



Thanks. I planted four different varieties in two boxes. I read that two many plants could stunt the growth of the plants because they have a shallow root system. I just pray the heat doesn't come and they bolt. Its a little late in the season for lettuce for me, but I thought I would give it a try with some heat resistant varieties. I planted simpson elite (heat resistant), miniature butterhead, oak leaf, and romaine.
Last edited by buttaflie143 on 5/8/2011, 9:47 pm; edited 1 time in total (Reason for editing : left out the lettuce varieties)



Posts

: 356


Join date

: 2011-04-07


Location

: Raleigh, NC - EST



If you're racing the heat to get a harvest, I would definitely go with the "haircut" method. That way you'll get the most out of the plants in the shortest amount of time.



Posts

: 842


Join date

: 2010-04-09


Age

: 41


Location

: southern tip of Texas zone 9



---
Permissions in this forum:
You
cannot
reply to topics in this forum