Greeting everyone!
I opened my trash can compost bin this past weekend, dumped it out and there was plenty of moist, dark, black matter in there. It looked pretty good. Except... there are still some small pieces of identifiable plant matter, mainly pine needles. Maybe it is just that I know what I put in there

I started the bin in early January I believe and rolled it around the yard every week or so.
Although there are small identifiable pieces of plant matter, the vast majority of the compost is again moist, black and unidentifiable. Does this seem ready to use? There doesn't seem to be any heat being generated outside of the matter being in a black garbage can in warm Florida. Actually, the compost looks a little better than some that I have purchased as far as identifiable plant matter goes.
Thanks everyone!
Gary



Posts

: 86


Join date

: 2010-12-14


Age

: 54


Location

: Gainesville Florida, Coastal and Tropical South, zone 8-9



I'm wondering about mine as well. That is old coir pot lines on top.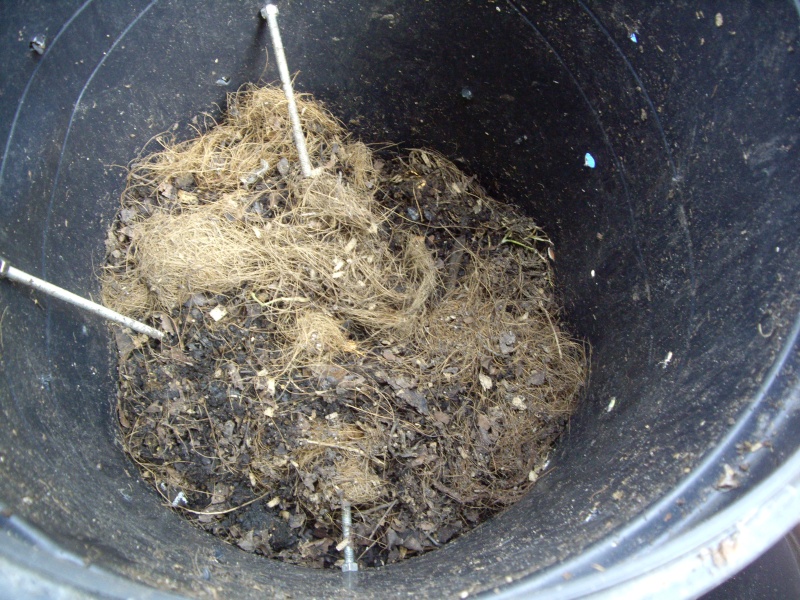 Kay
____________________________
A WEED IS A FLOWER GROWING IN THE WRONG PLACE
Elizabeth City, NC
Click for weather forecast

Certified SFG Instructor




Posts

: 4349


Join date

: 2010-10-17


Age

: 74


Location

: wilmington, nc zone 8



If you are conserned about the plant matter you can screen it by building a 2x4 frame and stapling 1/4" hardware cloth on it and pouring the compost on the screen over a wheel burrow or contanier and moving the compost around with a trowle or your hand. The good stuff will fall through into the container and the unfinished stuff will stay on the screen. Just put the unfinished stuff back in and continue to compost.



Posts

: 34


Join date

: 2010-04-08


Location

: Crowley TX



Thanks KillJug,

I should have mentioned that I did screen it the way you described. All the material I am talking about came through the screen.

Gary



Posts

: 86


Join date

: 2010-12-14


Age

: 54


Location

: Gainesville Florida, Coastal and Tropical South, zone 8-9



If it came thru 1/4 inch screen, the compost should be done.
CONGRATULATIONS



Posts

: 3141


Join date

: 2010-06-10


Age

: 70


Location

: Coastal Oregon, Zone 9a, Heat Zone 2 :(



I have often wondered the same thing. When does it change from a pile of gunk to compost? Now we know!
I also wonder the same about chicken stock. When does it stop being chicken flavored water? I have to call my mom on that one quite a bit!



Posts

: 283


Join date

: 2010-08-07


Age

: 36


Location

: Central Illinois (near Peoria) 5a



Thanks everyone!

I should have plenty of compost for my summer and fall plantings. My spring crops are doing well and are providing a nice after work snack as I tend to to the garden each afternoon.

Blessings,

Gary



Posts

: 86


Join date

: 2010-12-14


Age

: 54


Location

: Gainesville Florida, Coastal and Tropical South, zone 8-9



---
Permissions in this forum:
You
cannot
reply to topics in this forum