Latest topics
»
Hi Everyone
by
farmersgranddaughter
Today at 12:58 pm
»
hanging grow light suggestions
by
aliceingardenland
Today at 12:28 pm
»
N&C Midwest: When are your starting seeds?
by
Scorpio Rising
Today at 12:13 pm
»
N&C Midwest: February 2018 !
by
Scorpio Rising
Today at 12:09 pm
»
How's the Weather Where You're At?
by
farmersgranddaughter
Today at 11:32 am
»
Horsetail weed
by
Kate888
Today at 10:47 am
»
Northern California & Coastal Valleys - What are you doing this month?
by
sanderson
Today at 10:37 am
»
CANADIAN REGION: What are you doing in February 2018?
by
Kelejan
Today at 9:31 am
»
MD Home & Garden Ticket Drawing (until 2/24/18)
by
sanderson
Today at 2:55 am
»
Path Width
by
donnainzone5
Yesterday at 11:20 pm
»
parsnips in square foot garden?
by
Turan
Yesterday at 8:38 pm
»
A new SFG fan from Texas
by
sanderson
Yesterday at 6:02 pm
»
Your favorite blackberries or raspberries?
by
Mikesgardn
Yesterday at 5:51 pm
»
SUGA 2018
by
SQWIB
Yesterday at 2:02 pm
»
Happy Birthday!!
by
AtlantaMarie
Yesterday at 4:16 am
»
Mid-Atl - Feb 2018 - Anyone starting seed indoors yet?
by
BeetlesPerSqFt
Yesterday at 12:22 am
»
Hello from Northern Ontario Eh!
by
skidmoca
2/22/2018, 9:04 pm
»
Eggplant - (Japanese) Millionaire
by
Scorpio Rising
2/22/2018, 8:57 pm
»
Floating Away and New Seeds!
by
Scorpio Rising
2/22/2018, 8:55 pm
»
ahoy mateys from Arkansas
by
Scorpio Rising
2/22/2018, 8:45 pm
»
Sowing Experiment! Anyone Tried This?
by
Scorpio Rising
2/21/2018, 8:49 pm
»
Fourth Year SFG in Canada
by
trolleydriver
2/21/2018, 5:13 pm
»
Aerogrow by Miracle Grow
by
AtlantaMarie
2/21/2018, 7:05 am
»
Seed Organizing Ideas
by
AtlantaMarie
2/21/2018, 7:04 am
»
Areogardening
by
BeetlesPerSqFt
2/20/2018, 9:54 pm
»
2018 SFG in Brooks, GA
by
Scorpio Rising
2/20/2018, 9:39 pm
»
has55's R & D Journey
by
sanderson
2/20/2018, 1:55 am
»
WANTED: Pictures of Compost Bins
by
bigdogrock
2/19/2018, 10:28 pm
»
The New Square Foot Gardening Foundation page is now online!
by
sanderson
2/19/2018, 6:40 pm
»
February: What to plant in Northern California and Central Valley areas
by
sanderson
2/19/2018, 6:31 pm

Hi my name is Mendi, and I'm already a SFG addict.

I live in Spring just to the north of Houston. I've been lurking for a long time, just finally got around to introducing myself. I've been inspired by all of your ideas, installed a worm tube like Josh's, prayed and crossed my fingers for Acara and his wife and baby, and experienced SFG box lust over jazzymaddy's boxes.
Here are pictures of my current gardens. Many thanks to Boffer for the How To tutorials. I never would've tried posting without their help.
The first is a bookshelf that was going out with the trash until I retasked it. I drilled holes in the back (now the bottom) for drainage.
Guess it probably wasn't the greatest idea, since as you can see the paint is peeling and the top bowed out before I applied some corner braces from a big box store. Not before it screwed up my grid. Better luck next time. Guess I should have at least lined it with plastic or something. It has my green onions, 1015 onions, some cauliflower, and the last of my lettuce.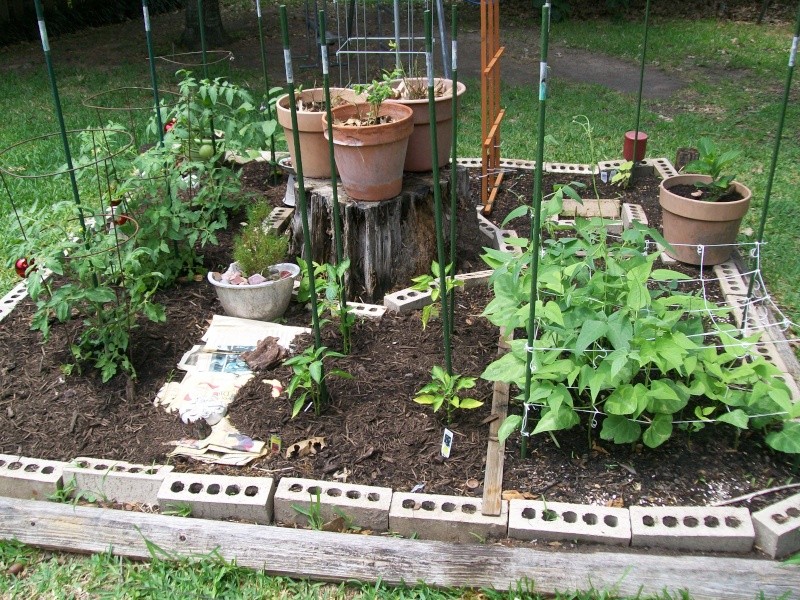 Obviously this one isn't a true SFG, but I would like to convert it sometime. It is 8' x 8' with a tree stump in the middle. It is reinforced by brick, because the timbers are old and rotting and I wasn't entirely sure how they were going to hold up for the season. My choice was plant here or miss out on planting for the spring season. The latter wasn't really an option in my book. Sorry about the exposed newspaper - I forgot I hadn't finished mulching in this picture.

This bed has eggplant, tomatoes, peppers, bush limas, some herbs, milkweed for butterflies, cucumber, and watermelon.
I have most of the stuff for a new 8 x 4. You guys have renewed my determination to search out at least 5 different types of compost. Thanks for all the inspiration!
YAY! Glad to have you here!






Posts

: 2260


Join date

: 2010-04-25


Age

: 40


Location

: Post Falls Idaho and LOVING it



Mendi,

I think the idea of repurposing a book case is a great one. It is too bad this one needed a little more support.

With all the effort you have put into beginning, I am sure you will get your 4X8 SFG up and running with Mel's Mix before too long.

Keep us posted.



Posts

: 3141


Join date

: 2010-06-10


Age

: 71


Location

: Coastal Oregon, Zone 9a, Heat Zone 2 :(



I love your resourcefulness, I too have a book shelf I am eyeballing, but hubby wants it. I also love the stump in the middle of your other garden, it gives it character!!! We absolutely love pictures, thank you for sharing! Please keep us posted on your progress.



Posts

: 1611


Join date

: 2011-01-29


Age

: 51


Location

: NE Texas, 75501, Zone 8a



Welcome Mendi! How are things in my old stomping grounds? I used to work in Humble, just down 1960 from you. Great idea with book case. Hmm.... I have been selling some books and may have an extra before too long...

Great pics and welcome!!



Posts

: 520


Join date

: 2011-02-17


Age

: 49


Location

: Frisco, TX zone 8a



Thanks so much everyone! This is such a neat group to become a part of.
Ashort, I travel 1960 to Humble often! We are all praying and doing rain dances, rather hot and dry at the moment. It gives me a very good excuse to visit my garden often. The weather forecasters say it's been our driest spring on record. A friend from Humble got rain this morning though, and it has looked promising so here's hoping. At least the plants are getting a little break from the hot sun.
I think I failed to mention that the pots sitting on the stump are container blueberries. I got them late in the season last year, so we'll see how they are settling in. I'll be excited if they do anything. Last summer they lost all their leaves, so I wasn't sure if something was eating them or if they just do that when recovering from shipping stress.
I love the idea of repurposing bookshelves! I have three or four from my early grad school days that are too craptacular even to give away. (Is craptacular OK to say? I heard it on The Simpsons.) It would be wonderful to use them instead of sending them to landfill.

What I wonder is how to protect my MM from what must be treated wood. Line them with heavy duty landscape fabric? Are there any food-safe lacquers available?

Giving credit where credit is due, of course, I may end up asking this in another forum thread. Thanks so much for the food for thought!



Posts

: 3


Join date

: 2011-05-10


Location

: Straddling Zones 5b and 6a



Thanks for the new word HoosierPlanter! Craptacular. Personally I like it.

You posed a good question. After it was too late to do anything about it, I wished I had done something to protect my MM and veggies from the treated and/or painted wood. I wonder if using something like a pool liner would have worked? But I would have needed to poke holes in it for drainage, and would something like that leech unwanted chemicals into the MM as much as treated wood would? For future reference, anyone who knows please chime in and enlighten us.
I made a couple of boxes from bookcase shelves last year. But they were the el cheapo kind (particle board?) and fell apart in under a year.



Posts

: 842


Join date

: 2010-04-09


Age

: 42


Location

: southern tip of Texas zone 9




---
Permissions in this forum:
You
cannot
reply to topics in this forum