Hi, I'm a newbie. DH and I just started with our first two 4x4 boxes. One vegie and the other strawberry. DH made two 2x2 boxes for berry plants. We wanted to make one for blackberries and the other raspberries. How may bushes would you suggest we put in a 2x2 box? The tag says they can get 6-8 ft tall and 5 ft wide. Will there size be smaller since they are in a box? We are also wondering if we should plant them next the deck or over by the side of the yard. Both places get plenty of sun. Thanks for your help.
Niko2bfree
Certainly glad to have you as a new member. How wonderful to already have some beds started.
Unfortunately, I have no experience with raspberries or blackberries except those wild things that try to take over the world here in Oregon.
Perhaps some of our members that grow these berries can give you some assistance.
Again, Welcome and please keep us posted on your progress. Just so you know, we absolutely

pictures, will you share yours?



Posts

: 3141


Join date

: 2010-06-10


Age

: 70


Location

: Coastal Oregon, Zone 9a, Heat Zone 2 :(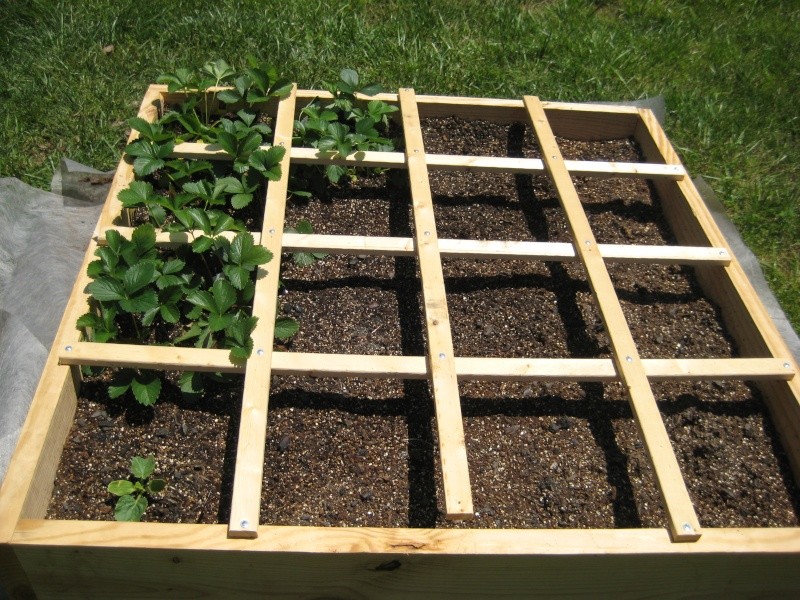 I had one plant too many for the other box so we put the one cantaloupe in this one. Next we plan to make more boxes.
I don't do my Raspberries in a SFG. I just put in a good sized patch of them and just put them straight into the ground. I did mix a little compost in the dirt first.



Posts

: 283


Join date

: 2010-08-07


Age

: 36


Location

: Central Illinois (near Peoria) 5a



Most blackberries/raspberries are quite hardy and do not really need MM to perform well. I just have mine in the ground. If you want to do raised beds for containment purposes, then that's a different story. However, they spread underground, so if you want to prevent spreading, you'll have to bury some sort of a barrier.

Depending on the varieties you have (I'd do a google search for your variety and see what you can find out about them), they may need some sort of support like a trellis or fence. We have ours on an 8' split rail fence section.

They're not really the most beautiful of plants, and they tend to take over, especially if you don't prune regularly. This might affect your choice of location and where they might be seen most often. If it were me, I don't think I'd put them right next to a deck. Aside from their aggressive growing habits, bees like them quite well, so you'd be swatting them away all the time.



Posts

: 68


Join date

: 2011-03-29


Location

: Lafayette, IN 5b



Thanks for the great advice. I hadn't thought about the bees. We plan to get some blueberry bushes this weekend. Another reason we want to use the raised beds is because we have a septic tank and our lower back yard is the drain field.
---
Permissions in this forum:
You
cannot
reply to topics in this forum