I know many of us are growing several varieties of tomato for the first time this year. Right now I am in the exciting phase of having the first ripe tomato of a new variety every few days. I thought it would be fun to share a short phrase describing what you thought as you tasted each new (or old) variety. That way we could compare and get ideas for what ELSE we want to grow

I know not too many have ripe tomatoes yet, but the weeks will fly by before you know it!
Matt's Wild Cherry:
tiny, tart, earliest
Riesentraube:
big tomato taste in a small package, most proflic
Orange Fleshed Purple Smudge:
creamy and smooth
Tropic VFN:
sweet
Green Zebra:
zingy, fun taste



Posts

: 842


Join date

: 2010-04-09


Age

: 41


Location

: southern tip of Texas zone 9



I planted Riesentraube, too! Mine will be going to the big "playground" this weekend if I can get the bed ready. The tomatoes are all ready! I also have Ananas Noir, Basrawya, and Gold Medal. I'll let you know in a month or so how we like them.




Posts

: 595


Join date

: 2010-03-16


Location

: Cincinnati, Ohio (6a)



I don't normally like cherry tomatoes, but Matt's Wild Cherry tastes like a real tomato to me rather than like a cherry. I grow it to have something to munch on when working in the garden, after the sugar snap peas are gone.

My fave is Brandywine - been growing it annually for 10 years. I freaking LOVE that tomato.



Posts

: 117


Join date

: 2012-01-18


Location

: zone 6b



I agree Matt's Wild Cherry has a great flavor and is among the earliest. Its small and easy to pop in your mouth while working out in the garden.
Others I really like for eating flavor: Moskvich, Siberian Skorospelyi, Yellow Centiflor which grows in tresses of about 50 per branch, Black Cherry, Green Zebra, Cherokee Purple and orange Valencia.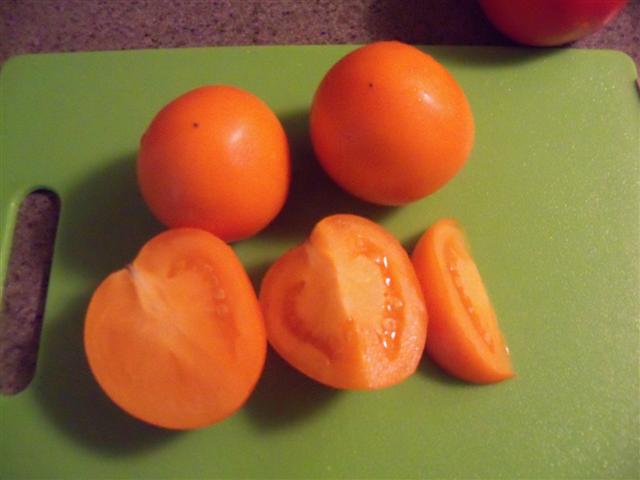 Above: Meaty and tasty Valencia is a truly orange tomato.



Posts

: 4687


Join date

: 2010-03-21


Age

: 75


Location

: Southwestern Maine Zone 5A



I am going to order some seeds from Wintersown.org http://www.wintersown.org/wseo1/YourChoiceTomatoSASE.html
There are so many tomatoes, I don't know what to choose. Any suggestions? I'm in zone 6a and mainly use tomatoes for salsa, sandwiches, salads, and fresh chunky marinara. May venture into other spaghetti sauces as well this year.



Posts

: 361


Join date

: 2010-03-04


Age

: 36


Location

: Lebanon, Ohio (near Cincinnati)



---
Permissions in this forum:
You
cannot
reply to topics in this forum