Hello all, hope to learn much from this forum!

Well, I am a first time gardener so I expect I may make a few mistakes. I'm trying to minimize those by reading/listening though. Since I am on a rented property, I cannot keep the traditional garden I'd like and am hesitant to place any semi-permanent raised beds. This has left me to use Global Buckets and Geopots/Geoplanter (it's a double thick landscape fabric for aeration). I have a few 3 and 5 gal fabric pots dedicated to tomatoes and peppers, several (free) 5gal buckets for squashes and such, and a 3x3ft by 10" fabric planter box for sqft.
My main question (so far) is, what to do with the planter?! It's May and I can get all the aged horse manure I want, but I haven't started it yet!
Is it to late to start? What are good Summer crops for Central OK? Oh, and I just mowed for the first time, bagged it, and am composting.

Cheers all!
ds....I hear you about not being able to make permanent beds.
You can still have raised beds, on a differenct scale.
I have raised 4 x 4 beds at home but in our community garden, we can't have raised lumbered beds. The garden is tilled and manured each spring and then again in fall before its shut down for the winter.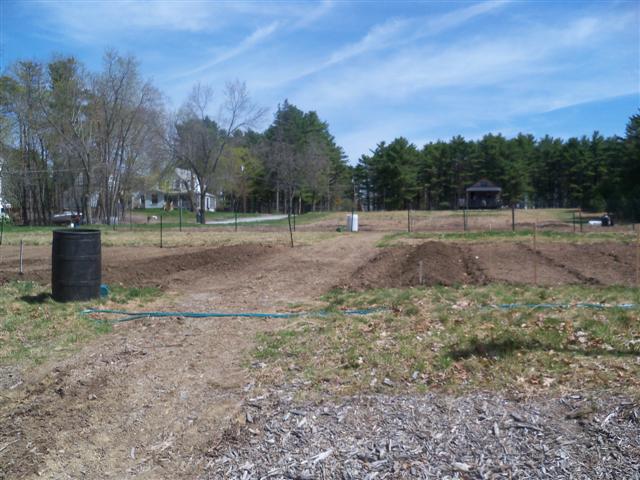 I raised my beds by pulling the soil up on either side so it forms a hill or berm. You can see them clearly on both sides of the tractor lane in this photo taken 2 wks ago. Our community garden just began last year. This is our 2nd year and I found today that others have used the same idea of 'raising' their beds.
So if you have some space, you, too, can have 'raised' beds, just a bit differently.



Posts

: 4674


Join date

: 2010-03-21


Age

: 75


Location

: Southwestern Maine Zone 5A



That's brilliant! I'd like to get a community garden started here on some vacant land. That may take some petitioning though as I'm urban. I like the idea of just using the existing soil to raise the landscape, seems like it would be an all around advantage, no added material, better drainage and water absorption.

I just dug a small plot for sunflowers, and I have nothing but hard packed clay. Sounds like I'll need some sand to break it up.
I have Mel's classic videos from way back. When he started he never even raised his beds, just marked them with boards so he could walk around them on the boards and NOT on the soil.



Posts

: 4674


Join date

: 2010-03-21


Age

: 75


Location

: Southwestern Maine Zone 5A



I too am a renter and plan on taking my TT SFG garden with me if/when I move.




Posts

: 1697


Join date

: 2011-04-01


Location

: zone 9a St.Johns county FL



Same here, my planter box is a fabric and pvc contraption so it's easy! 'cept for the soil that is.
---
Permissions in this forum:
You
cannot
reply to topics in this forum