Hello all! I am new to SFG, but my mom has been an avid gardener for years, even though the traditional way, so I've been around plants and vegetable gardens since childhood. I just recently moved to the Mid-Atlantic, so its my first spring here. My beds are made and I have the PVC pipe cover and garden-quilt fabric ready and waiting...I know I can put in my lettuce, broccoli, cabbage, onions, etc now, but what I really want to know is how early I can put in my tomatoes, peppers, cucumbers, eggplants...Like I said, I have the frost fabric, I have been collecting 2 lt coke bottles for a while now to put them over the plants as well...I read in the book that the covers extend the season, I read online the same thing, but nowhere does it say how many weeks earlier I can put my plants out..,Does anybody have advice for me?



Posts

: 5


Join date

: 2010-03-25



Good question! I'm not sure how much the bottles will extend your growing season. The bottles will make a little hot house for your warm weather loving plants - the tomatoes and cucumbers, for sure. Personally I plan to use these to accellerate early growth, but keep my start dates the same. They'll also protect your plants from frost to a certain extent. It depends on how cold it gets. You might check in the regional subforum for the Mid-Atlantic and see what people who live in your area are doing now.



Posts

: 23


Join date

: 2010-03-22


Age

: 33


Location

: Bismarck, ND (Zone 4a)



So glad to see this - was just logging on this morning to ask the same thing.

I have milk jugs that I've been collecting from people (we don't drink a lot of milk and just have the small cardboard cartons) and have a nice stash built up. I was considering starting some seeds next week under them which would be about 2 weeks early. Also thinking of picking up a tomato plant at the nursery and putting under there as an experiment to see if it makes it.

Would love any feedback/opinions.
The nursery had Roma and beefsteak tomatoes, anaheim peppers, and bell peppers so I grabbed some and put them in today with the milk jugs over them. Put a couple squash seeds in also just to see if they'd pop up under there.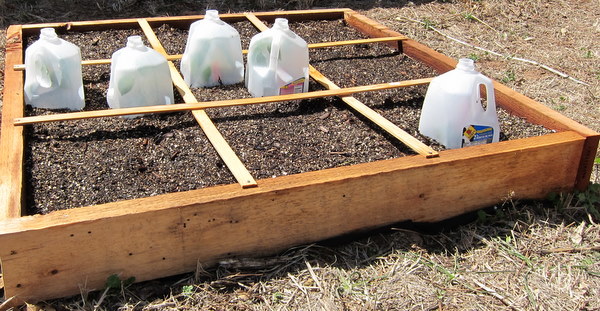 The earliest I've ever put tomatoes out (by mistake, as a rookie) was 2 weeks before the last frost date in my area. I had them covered with milk jugs and they did okay, but as I recall they didn't really grow that much until it warmed up. Maybe they were establishing their roots during that time but I honestly don't remember them getting taller while the temps were down.

Certified SFG Instructor




Posts

: 778


Join date

: 2010-03-02


Location

: Frisco, Texas



Here is a link showing a study done with plastic jugs, hotcaps, and water filled tubes:

http://www.ianrpubs.unl.edu/epublic/pages/publicationD.jsp?publicationId=238

Water filled tubes did the best but obviously they are more expensive than the other 2 options.



Posts

: 122


Join date

: 2010-03-10


Age

: 45


Location

: Nebraska (Zone 5a)



Wow that's a very interesting study. Makes me think that I should just leave the jugs off and cover them if there's a frost forecasted.
Hmmm, interesting study indeed...I am doing the row cover as well though...we'll see how it works...I wanted to plant yesterday, but it started raining..so I guess it will have to wait for next weekend...I will do the same as jjphoto...i will uncover during the day and cover at night...



Posts

: 5


Join date

: 2010-03-25



Thanks a million for posting this link, Titans01. Very interesting. Guess I won't ask the neighbors to save milk jugs for me after all.
Sandy



Posts

: 56


Join date

: 2010-03-25


Age

: 58


Location

: Indianapolis, US



Looking at my forecast for this week... the temps are fine but the wind is supposed to blow 35-40 mph each day after today. I'll probably keep the milk jugs on around the clock just for wind protection more than anything else.
---
Permissions in this forum:
You
cannot
reply to topics in this forum