I discovered this little fellow on a tomato plant today.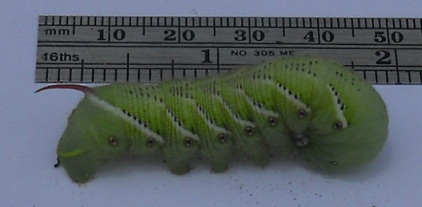 So, I think that this is a tobaco hornworm, and that it's time to apply some BT. I'm looking for advice on how to proceed.
What strength is recommended, what time of day to spray, should the ground be saturated, how often repeated, and so on?
Any and all advice would be appreciated.
Hank
BT gets sprayed on the leaves..both upper and lower surface. Just follow directions on the bottle, it works great !! Doesn't matter when you spray. Within a day of spraying you will find the hornworms hanging on the leaves. They will turn black,die, and drop off. Bt is a good product because it will kill anything chewing on your leaves and fruit but will not kill the bees or you !!



Posts

: 383


Join date

: 2010-04-08


Location

: Florida Panhandle



I

BT, if you have not already gotten some when you go shopping for it be sure to get BT that has not been combined with another pesticide pyrethrum for example it is natural and can be organic but it kills benifical insects like bees.




Posts

: 1697


Join date

: 2011-04-01


Location

: zone 9a St.Johns county FL



Thanks for your help. I sprayed BT at dusk yesterday. There were dead worms already this morning.
While doing some serious looking in the garden, I found a cucumber with a bore hole and frass. Turned out to be a pickleworm. The remedy - BT. It looks like I will be spraying BT weekly.
Now, I too, am a fan of BT

Hank



Posts

: 8


Join date

: 2011-05-14


Location

: Las Cruces, NM, southern NM






Posts

: 808


Join date

: 2010-03-04


Location

: WV -- Zone 6a



BT or Bacillus thuringiensis is a bacteria that has a harmful effect on many types of caterpillars. I don't know all the details, only what I've read on the internet regarding plant problems and solutions.

For way too much information on the subject try:

http://en.wikipedia.org/wiki/Bacillus_thuringiensis
Thanks for your post pattipan. What a great story - I think the author did a super job of capturing the emotion of dealing with a hornworm. Whew!
---
Permissions in this forum:
You
cannot
reply to topics in this forum