This weekend we assembled a small trellis for two squares - one of cucumbers, one of snap peas. When it came to putting the nylon net on the trellis, some debate arose between my husband and me regarding the tension (or lack thereof) of the net. One opinion: no tension, just have a net. The other: net must be tight.

Could any experienced trellis-er share their thoughts? I suspect answers could vary, based on the crops being grown and the width of the trellis (four feet of pumpkins versus two feet of peas are very different scenarios!).

Many thanks!



Posts

: 25


Join date

: 2011-04-07


Location

: Seattle (zone 7b)



When I ordered my nylon net, in the shipment was a big red card warning to have the net taut in all directions, or birds may get tangled up in the net. We're using Mel's conduit frame style trellis, so we did not have anything at the bottom to pull it tight, but it is tight at the top and sides (with about 30 zip ties). So I have no experience as to whether it matters for the veggies, but it may matter to the birds...



Posts

: 24


Join date

: 2011-05-13


Location

: Springfield, OH



I figured tension would be better to support the weight of the vines and not bend the frame. To get the tension, I simply hammered in some small nails all the way across and close to the bottom of my boxes, then pulled the trellis underneath. Instant tension.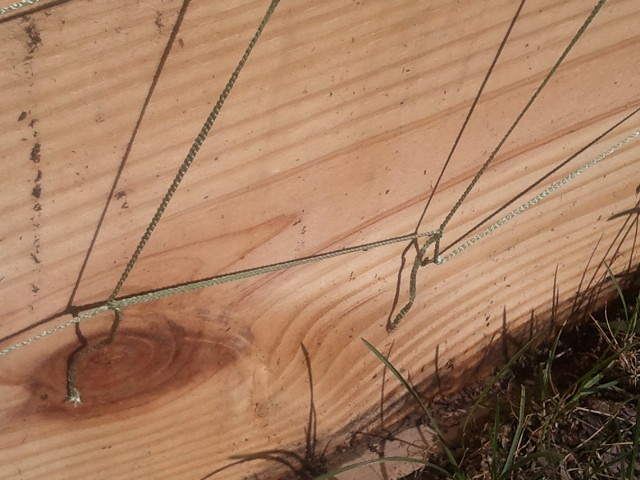 Also, if you look closely at the pics in the book (pg. 70-73). The bottom of the trellis does not appear to have any slack. I hope this helps.
Neat way to handle the tension, Buttaflie....great job.



Posts

: 2727


Join date

: 2010-12-25


Age

: 43


Location

: St. Louis, MO



Page 155 on the bottom right side it reads, "Tie the netting tight...
I stuck a staple in a few different spots along the bottom to get it nice and tight.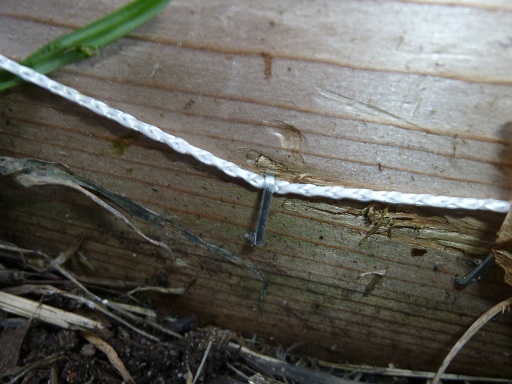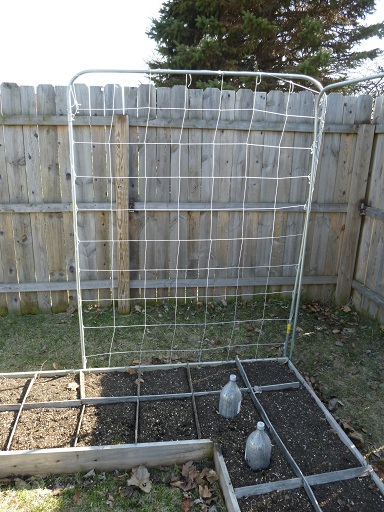 Posts

: 76


Join date

: 2011-03-28


Age

: 37


Location

: Tip of the Thumb of Michigan, Zone 5B



Thanks BBG. I plan to take the trellis off during the winter and hang it in my garage. Since the netting is just pulled under the nails, it will be easy to get it off and the nails will be there for the next season.
In the past couple years, I've had a net trellis with my 2 earthboxes. Pretty loose too, though my tomatoes and cucumbers didn't seem to notice. Wasn't so loose that it was a threat to birds though. (I think that would have to be VERY loose.)

With my 1st SFG, I made the netting taut, just because I think it looks better. The bottom is unsecured and thus not taut, but I really don't think it matters, so I leave it.



Posts

: 31


Join date

: 2011-02-14


Location

: Maryland



Very helpful -- all of you! My dad was by this weekend, and was curious about Mel's Mix. So he left with my book in hand! I appreciate the page reference, especially since I'm temporarily without my resource.

Thank you!



Posts

: 25


Join date

: 2011-04-07


Location

: Seattle (zone 7b)



I pulled mine pretty taut, figuring less slack = less wild swaying in the wind that could damage vines.




Posts

: 343


Join date

: 2011-03-08


Location

: Zone 8b, Coastal & Tropical South



---
Permissions in this forum:
You
cannot
reply to topics in this forum