Page 4 of 4 •

1, 2, 3, 4
Anyone else have tomatoes just standing there?

I have two better boys, one Mr Stripey and one Sweet Million. Basically they are just standing there ~12" doing nothing. We had that heat wave a couple of weeks ago and I tried to water as often as possible and give them grace until the heat subsided. The Mr Stripey, in the last two days, has started to have branches to turn yellow and curl the leaves--I assume it is dying and plan to replace it (see below). One of the Better Boys has been standing without change for a couple of weeks--I think he is about to be replaced as well.

Two theories: too shadey (using a new spot and it is less sunny than last year's spot) and I tried to be diligent about pruning so they could grow on a trellis. Could I have overdone it?

Today, went to the garden center and bought Rutger's and Long Storage (basically only varieties they had left) to try again in an open spot that is sunnier. I figure at this point I'm only out $4 if it's too late and may yet get some tomatoes.






Posts

: 5


Join date

: 2012-02-28


Location

: 6b-VA



5/6 of our tomatoes in Mel's Mix are standing there, the one is doing quite well. Our tomato plant out front in "regular" soil is growing about 6-12" a day! it's probably about 7 feet long with suckers all over. It is totally taking over the planter. I need to cut it back I guess! weird........



Posts

: 1887


Join date

: 2011-06-21


Age

: 36


Location

: california, zone 10a



Generally, tomatoes like hot weather. But, if night temps don't drop below 75 degrees, they won't set fruit (blossoms can drop). They don't seem to grow much either. Keep watering, and they will pickup if the temps drop a bit.

In my area, we had drought conditions three years ago (like this year, just not as much heat). I watered religiously, and at summer's end I had many more tomatoes than in spring. One plant had 40 lbs of green tomatoes I picked last day before frost. Hang in there...



Posts

: 440


Join date

: 2010-05-25


Location

: Beaver Dam, Kentucky, zone 6a



I remember picking 3 paper grocery sacks full (2 of cherry maters) one evening before the frost that night. Made pickles out of most of the cherries and wrapped the others in newspaper to ripen in the house.
Dang, I just calculated when that was and it was over 40 years ago. No wonder I was so energetic.

Kay
____________________________
A WEED IS A FLOWER GROWING IN THE WRONG PLACE
Elizabeth City, NC
Click for weather forecast

Certified SFG Instructor




Posts

: 4354


Join date

: 2010-10-17


Age

: 74


Location

: wilmington, nc zone 8



With this we made 8 quarts of marinara sauce over the weekend. You can see some of the indigo rose (black topped) tomatoes. They are a paste type tomato. The other small ones are Heinz. The big sandwich tomatoes include hillbilly, black krim, dixie's sweet and brandywine.
One of those yellow tomatoes is sitting on my desk and waiting patiently for lunch to roll around.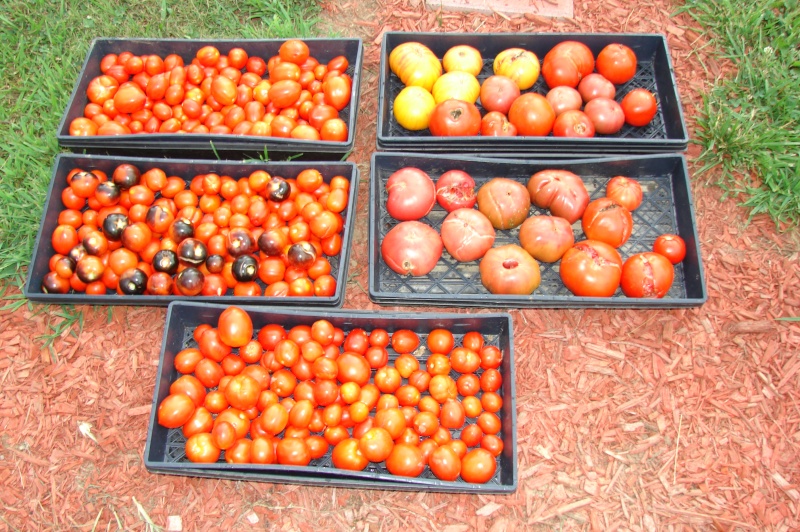 Posts

: 440


Join date

: 2010-05-25


Location

: Beaver Dam, Kentucky, zone 6a



Page 4 of 4 •

1, 2, 3, 4
---
Permissions in this forum:
You
cannot
reply to topics in this forum