I have the dreaded "crust" that some have commented having in their MM. I think mine is due to a certain box stores idea of compost that I ammended my boxes with this year.

It looked great in the bag all moist but dried out really crusty. Underneath the crust it looks great. So the problem now comes in with seed germination of my carrots-which is about 9 squares worth and a few other seeds. Not so good. I would have expected my seeds to start to germinate by now a little better than they are. I think it is because the seeds are continually drying out in the top crust. Starting yesterday I have been using a misting hose and thoroughly wetting the soil every morning and night since it has been breezy. I debated covering with plastic but I am afraid I would fry the seeds now that it is warm out. Any suggestions?



Posts

: 420


Join date

: 2010-03-18


Location

: MN Zone 4



Stick with it. They'll show. If Mother Nature can't destroy seeds with this spring's weather, you certainly can't. I bet they poke up in a few days. Just keep keeping them moist.

Happy Gardening!



Posts

: 2727


Join date

: 2010-12-25


Age

: 43


Location

: St. Louis, MO



How long have you had your seeds in? Some of them take a while. Since you're having trouble with crusting, what you're doing with the misting is very good. They'll continue to need that until the roots get down under there.
Finding a good compost that you know for sure has no peat moss in it, and mixing it into each square as you can (or the whole bed once you've pulled everything out of it), will help break up the crust. The crust is likely caused by peat moss that was added to the peat moss you bought.
Depending how much peat moss was in that compost, you may have a nutrient deficiency. Until you are able to add more compost throughout, you may need to side-dress with worm castings or fish emulsion, or supplement with compost tea or possibly fertilizer.
Just watch the growth of your plants. You'll probably know if they need it.




Posts

: 343


Join date

: 2011-03-08


Location

: Zone 8b, Coastal & Tropical South



heres a pic of my bush green beans i started from seed on the 7th today is the 19th as you can see they are slowly breaking thru the mm's "crust" not sure what the germanation date for them is. i'm jus happy they came up.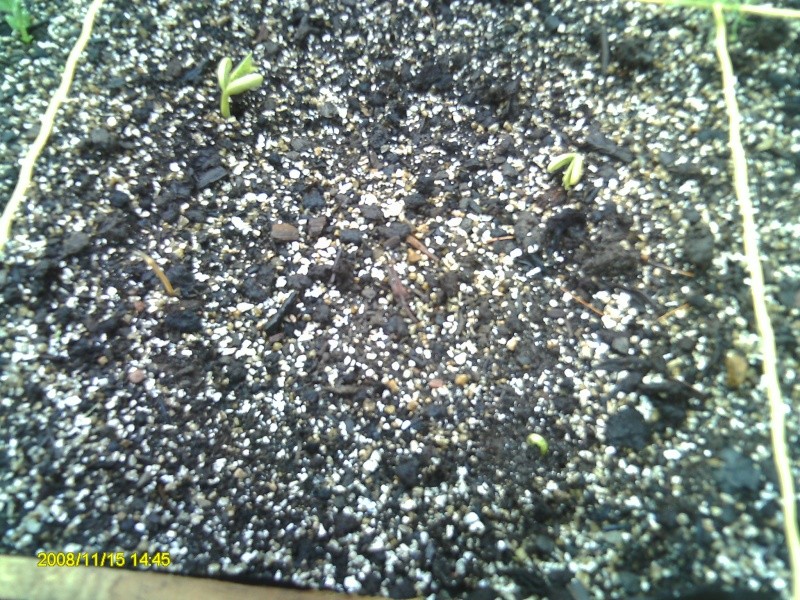 heres one of the peas they came up a couple days ago.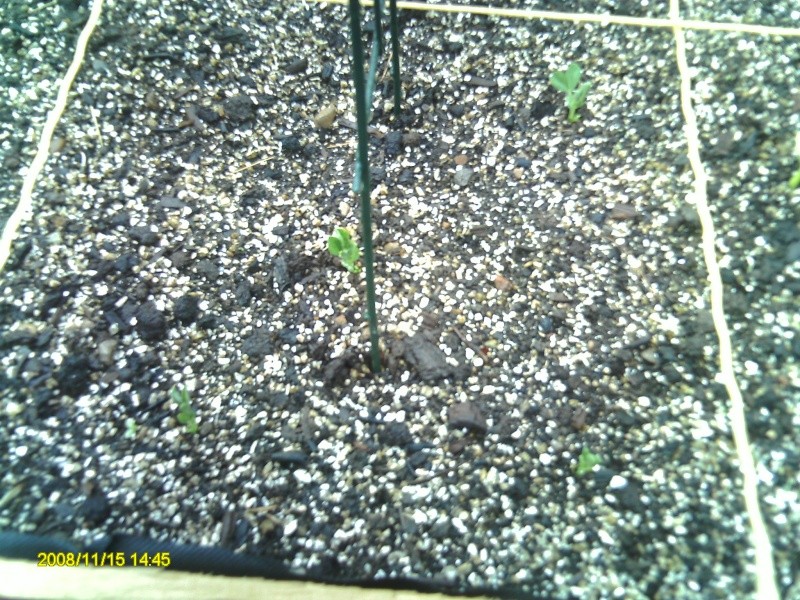 now in comparison heres a pic of my carrots witch were put in on the 30th of april "not all that" as they say but its still early maybe once the rain stops an the sun shines for a few days they may grow like gang busters hav ta wait an see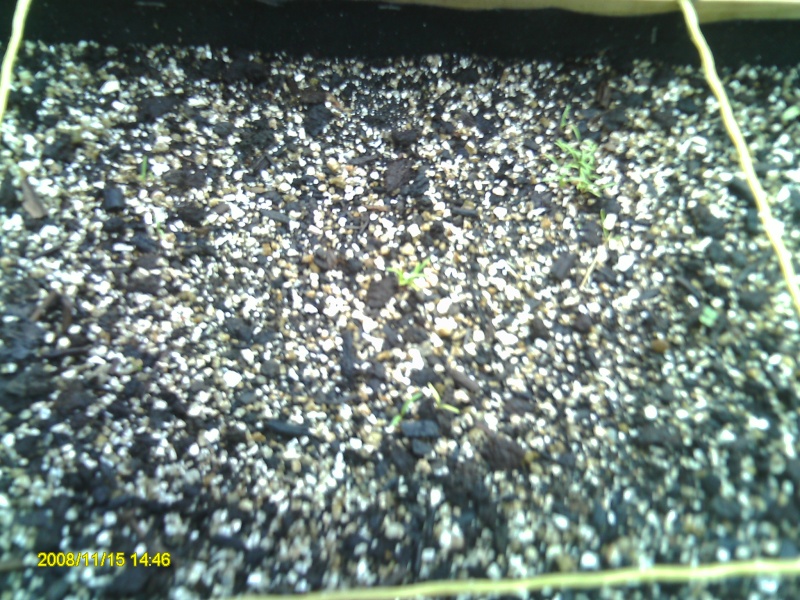 Posts

: 260


Join date

: 2010-09-01


Age

: 60


Location

: jackson,mi



Your germination times sound pretty normal to me, especially since it's not that warm right now in Michigan. Even down here, my first round of carrots took a while. Not quite that long, but we had a warm end to winter.




Posts

: 343


Join date

: 2011-03-08


Location

: Zone 8b, Coastal & Tropical South



I was talking to a neighbor about the crust the other day. He explained that beans will sometimes "break their necks" when they try to pop out. He suggested planting radishes in-between or along side. They will sprout earlier, and make cracks in the crust so the carrots (beans) can pop out normally.



Posts

: 440


Join date

: 2010-05-25


Location

: Beaver Dam, Kentucky, zone 6a



---
Permissions in this forum:
You
cannot
reply to topics in this forum