Can anyone suggest what I might be able to do to save my Old German tomato? It's actually growing alright, but the coloring doesn't look good at all to me. It's a transplant from the nursery down the street from me. The better boy in the square next door looks just fine and has good coloring. I did a soil test and I was a little low in a few areas but not alarmingly low anywhere. Should I try some fertilizer or does this look like some other sort of problem? Thanks for any advice you can offer.[img]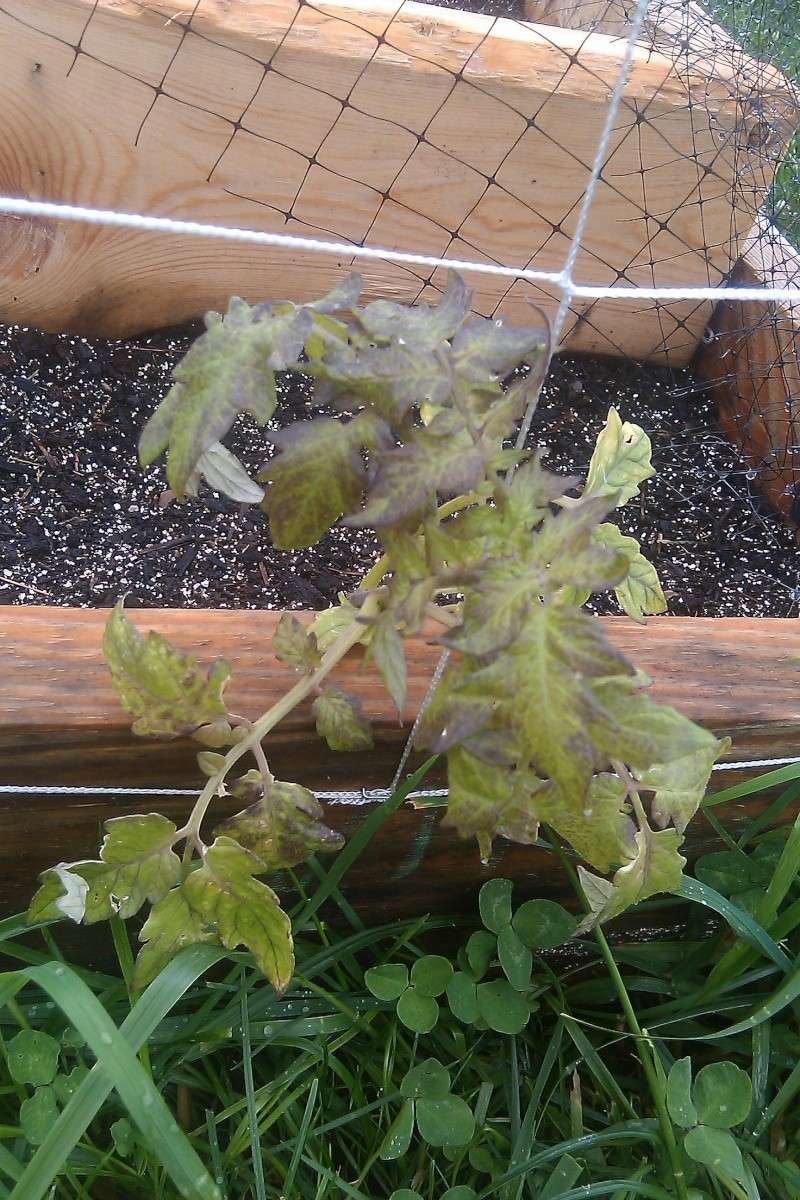 [/img]



Posts

: 96


Join date

: 2011-03-20


Age

: 32


Location

: Delaware, Ohio



Someone posted this the other day, maybe it can be of help..

http://www.progressivegardens.com/growers_guide/plantnut.html



Posts

: 40


Join date

: 2010-11-12


Location

: Westchester County, NY



Dianamarie

Lack of phosphorous is one reason the leaves may turn purplish. Phosphorus is difficult for the plant to absorb if the soil is too cool.

Bone Meal is high in phosphorus.
A heat cap (wall-o-water, mini greenhouse made of 1 gallon milk jug) may help if the plant or soil are too cool.



Posts

: 3141


Join date

: 2010-06-10


Age

: 70


Location

: Coastal Oregon, Zone 9a, Heat Zone 2 :(



Thanks for the suggestions. I put a jug over it last night, it has been pretty cool here lately. I will also pick up some fertilizer and give that a try.



Posts

: 96


Join date

: 2011-03-20


Age

: 32


Location

: Delaware, Ohio



I don't know about the cold weather, but I found that my tomatoes have responded really well to Alaska Fish Emulsion fertilizer. I bought it at Home Depot but it took some looking to locate it. It comes in a white bottle about the size of a 1L bottle of soda. Smells mildly fishy, but really no big deal. I use it 2x per week on my tomatoes and they are looking good. I used it much less last year and had paltry tomatoes. Maybe that will help. Good luck.




Posts

: 78


Join date

: 2010-03-29


Age

: 47


Location

: Clarksburg, Maryland (Monkey County)



---
Permissions in this forum:
You
cannot
reply to topics in this forum