Latest topics
»
N&C Midwest: December 2016
by
Scorpio Rising
Today at 10:28 pm
»
New England, December 2016
by
Scorpio Rising
Today at 10:19 pm
»
Anyone out there tried crosne tubers?
by
GardenGal
Today at 8:35 pm
»
Mid-South: December 2016
by
yolos
Today at 5:57 pm
»
TrolleyDriver's Compost Thermometer
by
trolleydriver
Today at 5:21 pm
»
CANADIAN REGION: What are you doing December 2016
by
trolleydriver
Today at 5:12 pm
»
Tomato Tuesday 2016
by
AtlantaMarie
Today at 4:41 pm
»
Happy Birthday!!
by
PVPind
Today at 12:13 pm
»
Holy snow Batman!
by
donnainzone5
Today at 12:13 pm
»
Butterfly Junction
by
countrynaturals
Today at 11:44 am
»
Garlic: Freeze, thaw, and heave
by
camprn
Today at 7:05 am
»
Garbanzo (Chickpeas, Cicer arietinum) and Kidney Beans
by
BeetlesPerSqFt
Yesterday at 11:28 pm
»
Northern California & Coastal Valleys - What are you doing this month?
by
countrynaturals
Yesterday at 10:43 pm
»
What are you eating from your garden today?
by
Scorpio Rising
Yesterday at 9:43 pm
»
Second Year SFG in Canada
by
trolleydriver
Yesterday at 9:41 pm
»
CHALLENGE - Smallest possible footprint
by
Kelejan
Yesterday at 5:19 pm
»
GF Collard Greens, Kale Recipes
by
BeetlesPerSqFt
Yesterday at 12:49 pm
»
2016 SFG in Brooks, Ga
by
sanderson
Yesterday at 11:48 am
»
Bon fires on the Levee
by
Cajun Cappy
12/6/2016, 12:17 pm
»
Mid-Atl - Dec 2016 - Seed Catalog ?
by
Scorpio Rising
12/5/2016, 10:24 pm
»
Gardening in Central Pennsylvania
by
Scorpio Rising
12/5/2016, 10:21 pm
»
1st Seed Catalog Arrived :)
by
Scorpio Rising
12/5/2016, 10:15 pm
»
Amaranth
by
countrynaturals
12/5/2016, 12:06 pm
»
Live and learn
by
jimmy cee
12/5/2016, 9:08 am
»
AtlantaMarie's Garden
by
countrynaturals
12/4/2016, 2:04 pm
»
Mychorrhizae Fungi
by
audrey.jeanne.roberts
12/4/2016, 1:28 pm
»
December 2016 Avatar: Show your Winter Season Colors!
by
Scorpio Rising
12/3/2016, 11:17 pm
»
SFG not giving the results I expected
by
No_Such_Reality
12/3/2016, 7:21 pm
»
New Member
by
trolleydriver
12/3/2016, 4:14 pm
»
First season SFG results / lessons learned
by
countrynaturals
12/3/2016, 10:36 am
I have a big black tumbler and all thru the winter I wasn't able to reach it thru the 3 ft of snow so it never got tumbled nor new stuff added.
In the spring I added some kitchen scraps and just forked it around a bit because I couldn't tumble it by hand. It was too heavy for me.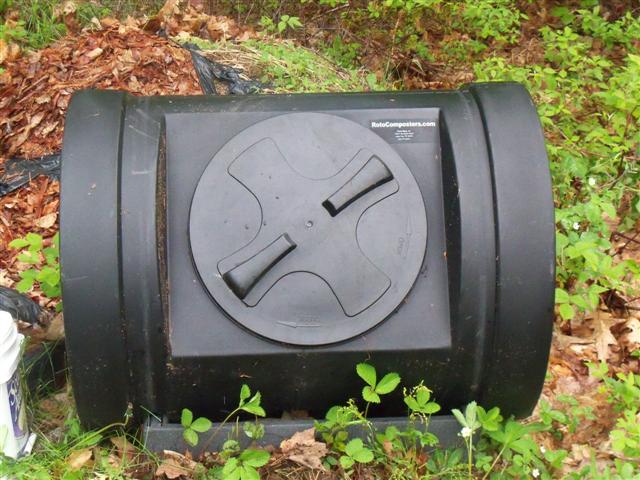 This is the black monster.
Today I was scooping out the tumbler to put the residue in the green one with a crank that I recently acquired from a friend. I was happily surprised because at the bottom on that pile was nice, rich compost. Mother Nature made it herself without any help from me thru the winter.
I used my wheelbarrow for the task.
Thanks you Josh for the photo of you sifting with a veggie stacker. I happened to have one as well so I confiscated it for duty as my permanent sifter. It does a great job.
I shook the compost around until I got to this thicker stuff and then....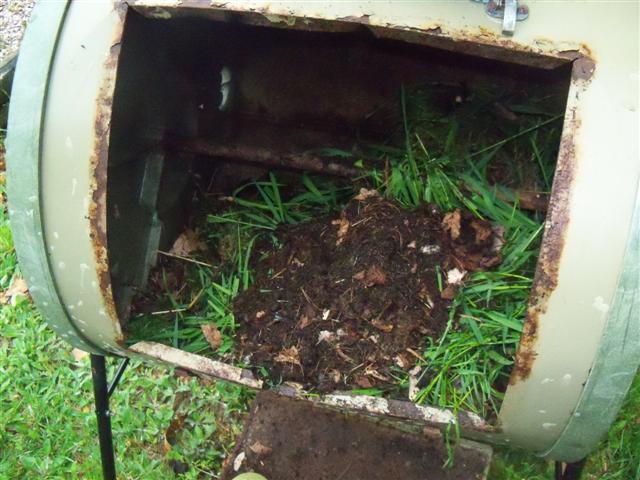 emptied it into the green monster.
To the old stuff I also add some fresh cut green grasses from around the veggie beds. I've cranked it a few times already. Its so easy to do when I stop by the garden. I plan to fill it to about half full, then stop and just crank, crank, crank til compost is done. While that's being made, I'll put stuff in the old black monster to hold til its needed in the green cranker.
With this and the worm compost from my worm condo, I'm a happy gardener.
Thanks again Josh for the sifter tip. I love it.
quiltbea,
I have had my eye on the same composter as you call the "old black monster," then my husband surprised me with one of the smaller kind. So, with what you say, maybe I'm glad I didn't get the one I was thinking I wanted.
Would you say that you wouldn't, if you had it to do all over again, purchase the big black barrel composter because it gets too heavy to tumble?
I've been adding shredded newpaper, shredded cardboard, veggie peels and kitchen leavings, peanut shells, etc and plan to go add some leaves that I piled up last summer. I think the leaves are pretty well composted already, but might take a weed whacker to them in a garbage can before adding them to try to speed the process if needed.
I'm excited about making my own compost - just not very impressed with the bagged kind after reading of so many folks having trouble with it. Congrats on your finished compost!




Posts

: 850


Join date

: 2011-04-03


Age

: 64


Location

: Mississippi Gulf Coast Zone 8B



I will be off shopping this afternoon to get myself a veggie stacker, it will be so much lighter than the wired rectangle I made. I have also discovered that big is not better when it comes to tools. What is OK for a 6'ft guy is not always suitable for a 5' girl.

Just love this forum where I can get so many good tips that I never would have thought of by myself.

Hey, this reminds me of anthropolgy (I think that is the 'ology) where knowledge is handed down by example and word of mouth. Perhaps that is what is missing from our society, where kids have no idea that milk comes from cows and veggies come from the earth, and think they come from the supermarket already packaged.



Posts

: 4499


Join date

: 2011-04-24


Age

: 81


Location

: Castlegar, British Columbia



Could the black monster be rolled around the yard using your foot?



Posts

: 26


Join date

: 2010-03-03


Location

: Rossmoor, (Los Alamitos) CALIFORNIA Zone 10a



Yes, I would get the black monster if that was all I could afford. If I didn't fill it too much, maybe only haflway, I could handle the turning by hand.

I got great compost the first year because I didn't fill it too much. Last year I filled it too much and it was too hard to turn so it just sat quietly all winter, not getting turned at all. If anyone gets the big black monster, and it works well but takes muscle, I recommend not filling beyond halfway and then don't add any more, just turn it to tumble the contents. Stack any additional compostables nearby so when your tumbler's thru making compost, you have a new batch ready to be shoveled inside.

No, you can't tumble it around the yard. It has a solid flat base so you can turn it while its stationary. Its not completely round.

As for the veggie stacker, I love it. Its a good size for me and I just grab it on both sides and sort of bounce it like you do contents in a fry pan when you want to turn them over. Until I saw Josh's stacker, I was planning on buying the wood and screening and making my own but it would have been larger and harder to sift, I'm sure. I'm not as strong as I was even ten years ago.

Again, I thank Josh for posting his picture. That young man knows lots about gardening, even simplifying.
I went to ou rlocal Canadian Tire to get a veffie stacker but the only ones they had were more solid with only a few holes/slots. I already have a couple of these at home and they wil not do. Must go elsewhere now, maybe Home Hardware. the trouble with a small town, not so much variety.



Posts

: 4499


Join date

: 2011-04-24


Age

: 81


Location

: Castlegar, British Columbia



I got mine in kitchenwares at Walmart a few years ago.
Try the dollar stores as well. They sometimes have them. They are to store potatoes and onions in your pantry.
---
Permissions in this forum:
You
cannot
reply to topics in this forum