Tuesday is supposed to be worse for OK and KS. And, Wednesday will be the worst for most of our region.

I would watch out if I lived in Wichita or OKC tomorrow. The air patterns and dynamics set up favorably for this week to be another doozy. MO and IL will suffer the brunt of Wednesday....maybe some IN.
Forecast for Tuesday, May 24


AR north - 4 to 5
CT - 2 to 3
DE - 2 to 3
IA southwest - 2 to 3
IL central - 4
IL south - 3
IN central - 3 to 4
IN south - 3
KS south-central - 7
KS west - 2 to 3
KS north-central - 4 to 5
KS southeast - 6
KS northeast - 4 to 5
KY - 2 to 3
MA - 2 to 3
MD - 2 to 3
MO - 5
NE - 2 to 3
NJ - 2 to 3
NY south - 2 to 3
OH central and south - 2 to 3
OK north-central - 7
OK south-central - 6
OK northeast - 5 to 6
PA south and east - 2 to 3
RI - 2 to 3
TN - 2 to 3
TX north-central - 6
TX south-central - 4
VA - 2 to 3
WV - 2 to 3
other areas - less than 2

Forecast for Wednesday, May 25


AR northeast - 6
AR rest - 5 to 6
IA extreme south - 2 to 3
IL central and south - 4
IN central and south - 3 to 4
KS east - 4
KY - 3 to 4
LA northwest - 5
MO central and south - 6
MO north - 4
OH central and south - 3
OK extreme east - 3 to 4
PA extreme southwest - 3
TN west - 6
TX northeast as far southwest as Beeville - 6
VA - 2 to 3
WV - 2
other areas - less than 2



Posts

: 2727


Join date

: 2010-12-25


Age

: 44


Location

: St. Louis, MO



by the looks of things we're gettin rain rain and more rain the next 5 days this spring weather bites



Posts

: 260


Join date

: 2010-09-01


Age

: 61


Location

: jackson,mi



My thoughts and prayers go out to those in the most turbulent areas of the country!
Those of us in the Cincinnati-area had to deal with severe storms and tornado watches/warnings this evening, and also are looking at more rain and severe weather for the better part of this week.
Given the pictures that Fiddleman posted earlier, and the fact that I just planted my warm weather crop seedlings and seeds on Saturday, I decided to "batten down the hatches" and cover my 4x4 beds with the covers that came with my kits. We had torrential rain yesterday, and I didn't want everything to get too soaked, and I wanted some protection from hail if it came. I was able to get these up (leaving the vents open) about 30 minutes before the severe weather rolled in, and then ran back out and zipped them all closed just before the storm hit. Whew!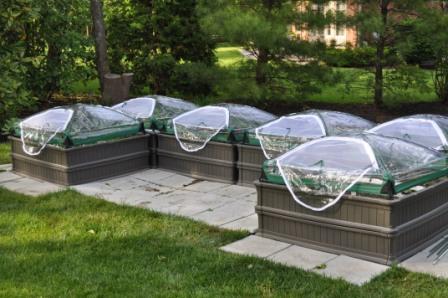 Young strawberries and spinach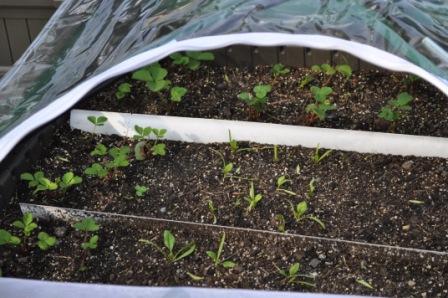 I'll take the covers off tomorrow so that I don't bake the seedlings, and put them back on Wednesday when severe weather will roll through again. I appreciate that Mother Nature is blessing us with "free" water, but too much of a good thing is never good!
This has got to be one of the wettest springs on record!



Posts

: 284


Join date

: 2010-03-17


Location

: Mason, OH



I see my area's bad day is tomorrow, I knew that, and we got some rain yesterday and again at about 5 AM this morning. Thing is the high today is supposed to be 91, YUCK. All that wet, and we have humidity anyway, factor in rain on the way with temps in the 90's and I am hoping everthing does not get steamed today.



Posts

: 1611


Join date

: 2011-01-29


Age

: 51


Location

: NE Texas, 75501, Zone 8a



I just checked and scmelik and I are in TOR-CON 7 for today!

Last edited by Goosegirl on Mon 30 May 2011 - 15:15; edited 1 time in total (Reason for editing : SP)



Posts

: 3412


Join date

: 2011-02-16


Age

: 52


Location

: Zone 4A - NE SD



Glad you guys are watching. I had a busy weekend and never checked. I feel so out of touch. And, based on last night, I'm glad most of you knew it was coming.....I didn't. I looked at our forecast down here an we are just going to be hot as Hades. But, it looks like that is changing. Storms may roll through in the afternoons.

Stay vigilant, guys. And, that cover looks outstanding!



Posts

: 2727


Join date

: 2010-12-25


Age

: 44


Location

: St. Louis, MO



---
Permissions in this forum:
You
cannot
reply to topics in this forum