Latest topics
»
New from OK City
by
countrynaturals
Today at 1:56 pm
»
Ground Cherries
by
countrynaturals
Today at 12:34 pm
»
CANADIAN REGION: What are you doing in March 2017
by
CapeCoddess
Today at 12:32 pm
»
Butterfly Junction
by
countrynaturals
Today at 11:56 am
»
What are you eating from your garden today?
by
countrynaturals
Today at 11:42 am
»
New England March 2017
by
CapeCoddess
Today at 11:26 am
»
Squares under siege... by grass!
by
has55
Today at 7:38 am
»
Tomato Mystery Mix
by
Avinash
Today at 12:06 am
»
How's the Weather Where You're At?
by
TCgardening
Yesterday at 9:46 pm
»
New to SFG!
by
TCgardening
Yesterday at 9:39 pm
»
N & C Midwest: March 2017 Brink of Spring
by
CitizenKate
Yesterday at 9:12 pm
»
North Texas - Square Foot Garden
by
Scorpio Rising
Yesterday at 8:34 pm
»
How can we save this tree?
by
countrynaturals
Yesterday at 2:30 pm
»
Terrible News: Bumblebees In Trouble
by
countrynaturals
Yesterday at 1:18 pm
»
Ontario - trying out SFG
by
Kelejan
Yesterday at 12:39 pm
»
List of Forum Members with Blogs
by
Cajun Cappy
Yesterday at 12:31 pm
»
SUGA 2017
by
SQWIB
Yesterday at 9:26 am
»
Happy Birthday!!
by
AtlantaMarie
Yesterday at 8:42 am
»
who has chickens
by
sanderson
3/21/2017, 3:00 pm
»
Rolling Boxes
by
sanderson
3/21/2017, 2:50 pm
»
Bok Choy
by
Scorpio Rising
3/20/2017, 7:16 pm
»
2017 SFG in Brooks, Ga
by
countrynaturals
3/20/2017, 11:53 am
»
Need Plant Chart for Nighttime Lows
by
Judy McConnell
3/20/2017, 10:55 am
»
Collecting Rain Water - Come on Rain!
by
newbeone
3/20/2017, 3:39 am
»
Did I kill my strawberry plants
by
bigdogrock
3/19/2017, 8:45 pm
»
Carrot Week 2017!
by
Turan
3/19/2017, 6:05 pm
»
Gift Amaryllis
by
countrynaturals
3/19/2017, 12:48 pm
»
question about Garlic and winter
by
GWN
3/19/2017, 10:41 am
»
has55's R & D Journey:expanding my SFG to front yard
by
AtlantaMarie
3/19/2017, 9:56 am
»
Northern California & Coastal Valleys - What are you doing this month?
by
sanderson
3/19/2017, 12:35 am
Hi folks, great forum.

I'm having troubles with the quantities for Mel's Mix - I want to do things correctly so that I'm not wasting money and time.

My bed is 4x4ft and 8" deep and according to the Mel's Mix calculator I need 3.56 cubic feet each of peat moss, vermiculite and compost.

Now the bags of materials I buy are in litres - so I've convert the cubic feet into litres and got 100litres for each of the materials. Does that sound about right?

I read that the peat moss will expand to double it's size - so do I just use 50litres of it or what? I've bought 200litre bales of peat moss.

I can only source Micafil Vermiculite http://www.dupreminerals.com/en/vermiculite/grades/micafil - will this be course enough?
Will I need 100litres of the vermiculite ?

Then for the compost - I need 5 different types of non-peat compost, 20 litres of each?

I'm in the UK and I'm struggling to find 5 different types - any suggestions?
Atm i can source
spent mushroom compost
farmyard manure
worm castings - expensive, but if needs must

that leaves two more - what about chicken manure pellets? can these be used? If so, how much

sorry for all the questions , but as i said I want to do things right.

thanks



Posts

: 1


Join date

: 2011-05-26


Location

: northern ireland



Hi and Welcome !

I'm a total newbie with purple thumbs but here's some links I think might help.

Mel's Mix Calculator

Conversion from cubic feet to liters (roughly) http://www.calculatoredge.com/enggcalc/volume.html
Scroll down that page to Enter Value box and click on Cubic feet to liters icon.


And this page gives the particle size comparison. Mel says coarse, I ended buying extra coarse because that's all I could find.

I hope the dried chicken pellets are ok to use because that's what I ended buying and using as one of my composts too. Hopefully this will bump your post and wiser folk will come along and advise.

Oh, and packing suppliers and heating places might be another place for you to spot vermiculite



Posts

: 78


Join date

: 2011-02-27


Location

: Montreal Zone5a



Allen, I posted this the other day. I'm a complete idiot with math. I took the 5 different kinds of composted compost, put it on a tarp and rolled it around until it was all mixed up well. Then I opened up the peat moss, and spilled that out on a tarp (not all at once, little bit now and then), making sure it was broken up and fluffy. Then took a 3 gallon bucket (it doesn't matter the size, whatever your comforable with) and took one bucket of each ingredient and mixed in a wheel barrow with a hoe. I used my gloved hands to break up bits that were chunky and then poured it into the boxes. It was a windy day, so I sprayed it with water now and then to keep the dust down. Anyway, this worked out great for me and it all turned out very nice. Took 2 days, but I am an old lady after all. Plus, I did 3 boxes.
I would think the chicken compost would be fine, just try to keep each compost in proportion to the others. There's rabbit, cow, horse, etc to add. Check out craigslist under farm and garden (or the equivilent). Where I live, people give it away for free, but I am in the country. Just make sure it really is composted and has no smell to it. If it smells, it's not completely composted. I had this problem and had to let mine set for a couple of weeks to finish composting.
I opened one bag of vermiculite and it was the size of cat litter or coffee grounds. I opened the next and it was the size of small pebbles. That is the size your suppose to use. I mixed mine all up, so that they were evenly distributed. The ideal size is the coarse.
Oh, and welcome! Please visit and post often. This is a very nice place to come for advice and the people are friendly




Posts

: 291


Join date

: 2011-03-28


Location

: SE Iowa



Chicken manure is excellent as long as it is fully composted. The kind I used here in the US was also what you might call pelleted. But I blended it in and the mix is working great. I used it as 1/5 of my mix. Others are suggesting that because it is so strong that less of the chicken manure and more of another compost is a better choice. But 1 of my composts may have been a little iffy.

Anyway welcome and happy gardening,
Kay
____________________________
A WEED IS A FLOWER GROWING IN THE WRONG PLACE
Elizabeth City, NC
Click for weather forecast

Certified SFG Instructor




Posts

: 4334


Join date

: 2010-10-17


Age

: 74


Location

: wilmington, nc zone 8



Hi Allen and Welcome.

I'm in Wales, Uk so have had the same probs.

If you use the same bucket for measuring everything out you will get the mix quantities right. Fluff that peat up and wet it well of course, warm water apparently works best.

The Dupre Micafil is coarse. It was all I could get locally too. I've opened mine so I'll get the camera out and post a pic of it for you.

If you draw a blank locally it would be worth looking in your phone book and ringing DIY sheds and garden centres further away to see if they have horse and / or green waste composts.

I found 6X poultry waste as well as chicken pellets. I haven't opened it yet but it doesn't feel like pellets.



Posts

: 306


Join date

: 2011-03-25


Location

: Wales, Uk. Last frost May



Here you go Allenm. Micafil with 10p and pound coin.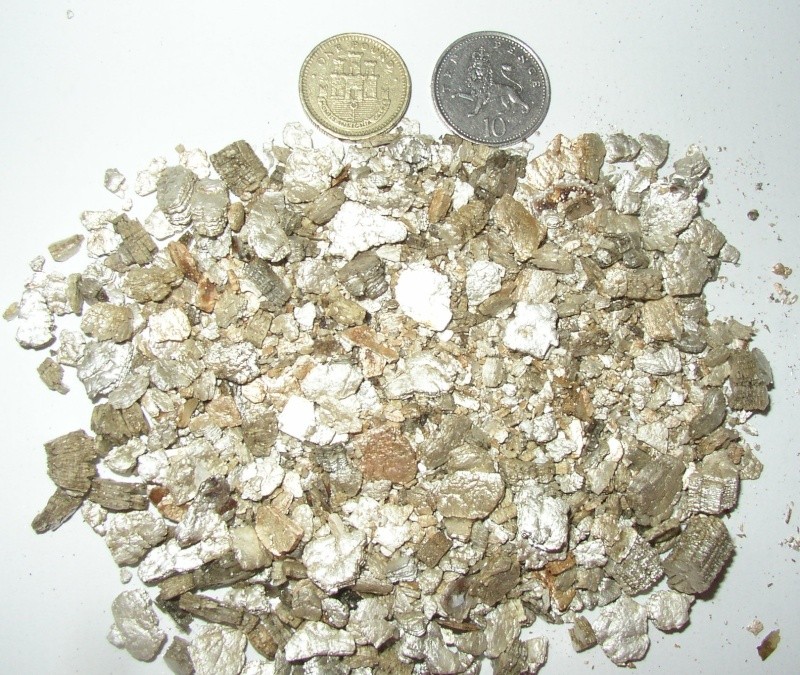 Porridge oats but glittery.



Posts

: 306


Join date

: 2011-03-25


Location

: Wales, Uk. Last frost May



AllenM
So glad to have you join us. Hopefully the responses above will help you with your calculations for preparing Mel's Mix.
Please review posts from the European forum to find other SFG in your region and perhaps some of their prior posts will be of helpful to you.
Please continue to ask questions and we will help when we can. We also want you to share your progress and pictures if you will.
Again, Welcome!



Posts

: 3141


Join date

: 2010-06-10


Age

: 70


Location

: Coastal Oregon, Zone 9a, Heat Zone 2 :(



____________________________
I have seen women looking at jewelry ads with a misty eye and one hand resting on the heart, and I only know what they're feeling because that's how I read the seed catalogs in January - Barbara Kingsolver - Animal, Vegetable, Miracle
sfg4u.com
FB: Square Foot Gardening 4 U

Certified SFG Instructor




Posts

: 1912


Join date

: 2010-09-30


Age

: 58


Location

: Glen Burnie, MD



Welcome Allen!

I had a tough time finding 5 composts as well; I think most people do. Have you tried looking at any of the more fancy potting/garden mixes at garden stores/centers around you? I ended up finding this stuff called Pro-Mix that was 8 USD per 1 cubic ft. bag (a bit pricey but like you said, it was necessary), but it was half peat moss and half compost made from shrimp shells, seaweed, and "forest products" (leaves and stuff I guess). Another one, Miracle Grow's "Organic Choice", had both poultry manure and poultry litter, though sounds like you already found composted chicken manure. Anyway it might be worth checking any mixes you can find out, as that's what allowed me to make a proper Mel's Mix.

The important thing is to start on your own compost pile, so you don't have to go through this every year! Good luck. xD



Posts

: 139


Join date

: 2011-05-16


Age

: 32


Location

: Forest Park, OH (Zone 6a)



---
Permissions in this forum:
You
cannot
reply to topics in this forum