This is my first year gardening and I have never attempted starting seed before. Yesterday I put some chamomile seeds in trays of vermiculite. I read that the seeds need light to germinate so I put the trays on a window sill that gets plenty of sun. Today I am reading more about starting seeds and while reading about hardening off I find out that the sun can scorch seedlings.

Do I need to remove my chamomile seeds from the window sill? Will they need to be hardened off after they are placed into small containers of soil? What about other seeds can they be germinated on a window sill?



Posts

: 25


Join date

: 2011-05-31


Location

: Houston, TX (Zone 9a)



Until your seeds have sprouted they need warmth, not light. On top of the fridge is a good spot. Once they sprout they need the sunlight. Once they get their second set of leaves you can get ready to transplant, but first you harden them off by placing outside for short periods of time.

Have you read Mel's book? There is a whole chapter on this process that you will have helpful.



Posts

: 92


Join date

: 2010-07-20


Location

: Alberta, Canada



Well, on Monday night I sprinkled the seeds over some wet vermiculite. This morning I had lots of tiny little sprouts. I know seeds need warmth to germinate but everything I read said that chamomile also needs light to germinate. Now I am concerned about getting them into some soil since they are so tiny. Does anyone know how long they can survive in the vermiculite?



Posts

: 25


Join date

: 2011-05-31


Location

: Houston, TX (Zone 9a)



Does this look like chamomile?  It was growing in a bare pot that I grew carrots in last season.so I thought it might be a late (really late)  carrot.  But as it grew it looked different.  I had a pot of chamomile that I moved around last year so I think these may be from its seeds?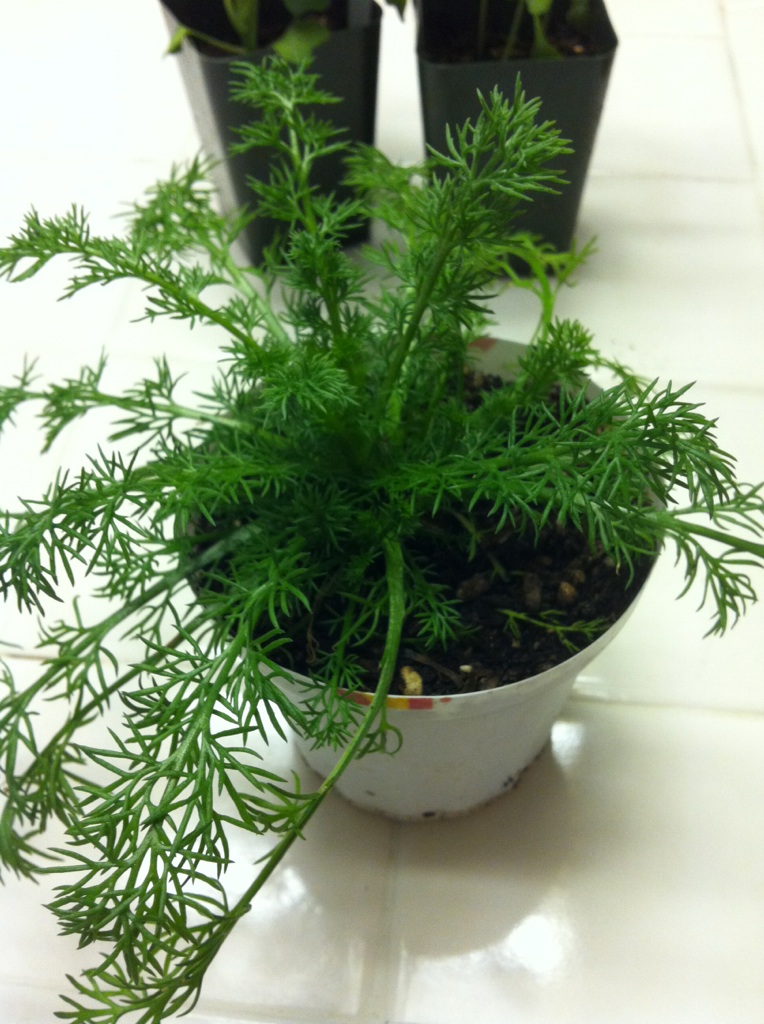 Forum Moderator Certified SFG Teacher




Posts

: 14016


Join date

: 2013-04-21


Age

: 68


Location

: Fresno CA Zone 8-9



Yup, that looks like chamomile. It self seeds easily. The bruised leaves will smell like chamomile.



Posts

: 2205


Join date

: 2012-03-29


Location

: Gallatin Valley, Montana, Intermountain zone 4



such a pretty and healthy looking plant
sanderson!  

love it when something self seeds and I don't have to baby it!
happy gardening
rose



Posts

: 2424


Join date

: 2011-05-10


Location

: Western WA



This was easy to remove and pot since it was growing in MM! The others are growing in dirt. I still may give a couple a try since I'm not as afraid of re-potting as I was a year ago.

Forum Moderator Certified SFG Teacher




Posts

: 14016


Join date

: 2013-04-21


Age

: 68


Location

: Fresno CA Zone 8-9



---
Permissions in this forum:
You
cannot
reply to topics in this forum