This is going to be a quickie. I've got lots of gardening to do today, and I've only just come in for a bit of a break from being out in the hot sun and humidity.

CLIMATE:

Is it hot were you are? It sure as heck is where I am. We have been in the 80s everyday for the last couple weeks it seems. Spring? What Spring? We sure didn't have one here. It seems one day it was 40°F out and the next it was 85°F. As a result, my spring garden is nearing the end of it's life. My lettuce isn't as tasty as it once was, my arugula and radishes bolted, and my broccoli is forming heads at break neck speed. Kale is still hanging on as are the collards. I planted a spinach hybrid called Teton that is also still going strong while most everyone in my area was reporting that their spinach was bolted.

Looks like we are in for a long and very hot summer full of humidity and tornadoes. With 90°F+ temperatures even your tomatoes, peppers, and squash are going to suffer a bit, but take heart. It'll only be temporary. Plants are incredible resilient. If your tomatoes, peppers, or squash drop their blossoms due to the heat they will rebound so enough.

Climate tips: Make sure to keep your beds well watered. Find a place where you can dig down in your box. Feel down to the bottom to make sure you are giving them enough water and adjust your watering routine accordingly. Putting down a couple inches of mulch will help fight against evaporation in your SFG.

PLANTING:

As I mentioned above, it is out with the cold season crops and in with the warm. Now is the time to be planting tomatoes, peppers, squash, beans, eggplant, okra, cucumbers, and the like. Planting tips: Even warm season plants appreciate a bit of shade from the hot summer sun. Consider planting or putting up something tall on the west side of your box. it will help shade your plants from the blistering afternoon sun.

PESTS:

It's getting worse isn't it? I'm already doing battle with cabbage worms, aphids, and a few flea beetles here and there. I hope you are staying on top of the pests in your garden. You should be out in your garden everyday giving the plants a quick once over. Pest infestations can really sneak up on you. It is always better to be proactive rather than reactive.

I'll repost the links from last months update. They are fabulous resources. Also check my signature for other links.

Here is a great link on organic pest control from NCSU. It includes links to other extension websites with great publications on organic farming. http://www.ces.ncsu.edu/chatham/ag/SustAg/pestmanagement.html

Here's a link to Cornell's Resource Guide to Organic Insect and Disease Management. This is one of my favorite online resources for controlling pests organically. http://web.pppmb.cals.cornell.edu/resourceguide/

Pest Tip: Flea beetles are some of the most difficult pests to control with organic pesticides. In their case, your best defense is a good offense. Cover your nightshade plants (tomatoes, peppers, eggplants [especially this one]) with an insect barrier. It can be as inexpensive as tulle from the fabric shop or as pricey as Reemay row cover (#15). You just want to keep the flea beetles from getting to your plants. Nightshades are wind pollinated, so you can keep them covered for the duration of the season. Another good proactive method is to inter-plant radishes (Cherrie Belle or Daikon) or Chinese mustard greens with your nightshades. These two are favorite food sources for flea beetles. They will target those and mostly leave your nightshades alone.

Finally, here is another video of my garden. Please tell us how your garden is growing.





Posts

: 668


Join date

: 2011-01-26


Location

: WNC 6b



It's so hot in Hotatlanta! Good grief. Anyway, my garden is growing great. I convinced the kids today to go with me to the garden to harvest. I knew I had a ton of stuff ready so they could get excited.
Check it out (almost 8lbs):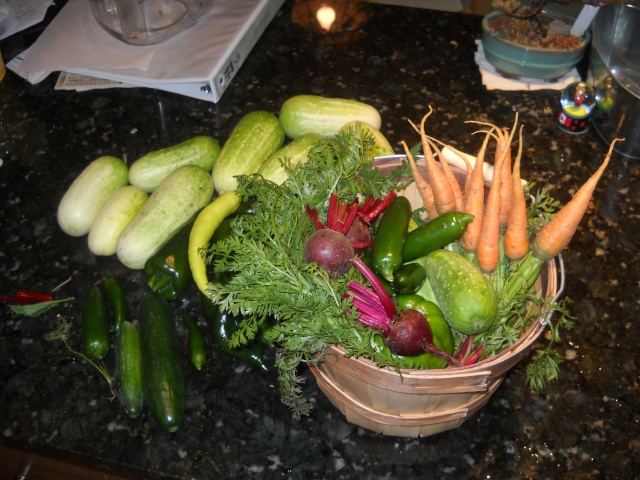 I'm looking in 3 different books for recipes to can everything. I love canning, and pickles. I'm thinking about some hot cucumbers, mixing the jalapeños with other veggies.. so many possibilities. Oh and the kids had fun harvesting, watering and looking at the plants.



Posts

: 88


Join date

: 2011-04-07


Location

: Georgia, USA, Zone 7b (Middle South)



Here's a couple of quick pics of a harvest. Well late getting into the June update. July's will make up for it though (I hope)
Still had plenty of small tubers on the plants that would have made loads more taters. Was eager to get summer plantings in the beds though so pulled the spud plants.
Had a ton of bush beans. Planted four varieties. Loved them all. Awesome snacking veggie. Best picked the day after a good rain. Crunchy AND juicy....yum.
Possibly the largest Bok Choi in the world?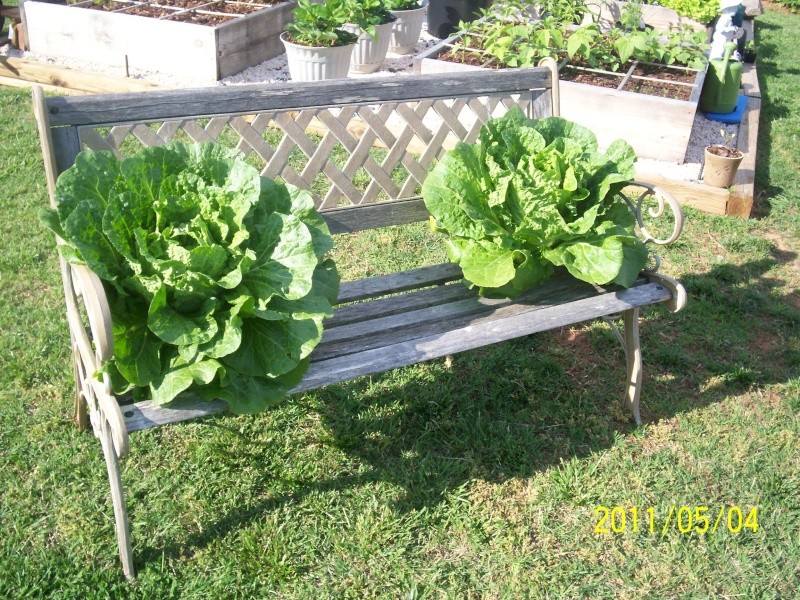 The beds are all now in full summer mode. Toms, 6 types of peppers, cukes, zukes, squash, pole beans, basil. The last of the onions are bulbing up nicely. Berries are a bumper crop (Blueberries and strawberries) but those are in containers.



Posts

: 554


Join date

: 2010-11-24


Age

: 42


Location

: York, SC



Staf, ah-MAY-zing. Ferris Bueller, you're my hero.

My June update is in my personal post, so I won't tie up the cyber-waves by double-posting here. Happy summer everyone.



Posts

: 309


Join date

: 2011-03-20


Age

: 42


Location

: Fort Mill, SC



---
Permissions in this forum:
You
cannot
reply to topics in this forum