May is behind us now and after record rains and a flurry of planting almost everything seems to be off to a decent start in my SFG. Everything is planted that I wanted to get planted and a few extra things I threw in for the challenge of it.
I decided to try sweet potatoes this year. I ordered a dozen Vardeman slips from http://www.tatorman.com . Stuck them in one corner (six squares, 2 plants per) of my 8" deep 4 x 8 box. This was done between rain showers and they took right off. They have very pretty purple-green foliage too. They're supposed to be a bush type, but I fully expect them to take over the one side of the box! Oh yeah, one thing about not planning ahead...before I had decided to plant the sweet potatoes I already had planted some red-core carrots in three adjacent squares. It will be an interesting experiment to see if two root crops can coexist. I will keep you posted -- good or bad.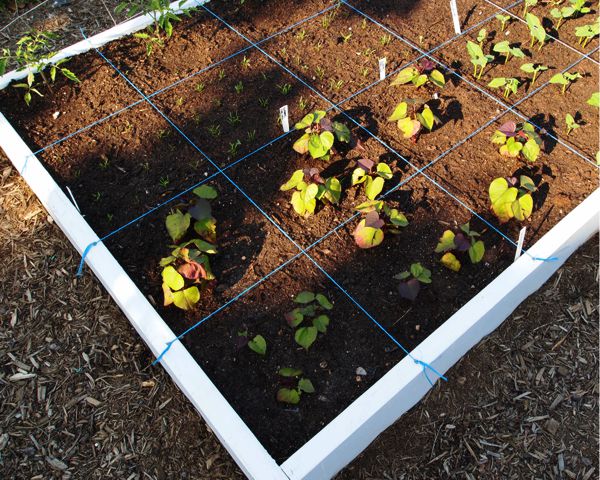 Enjoying lots of salads, as a meal with chicken or steak, and as a side. Salads with strawberries and leafy lettuces. My Red Romaine that lived through the winter is starting to bolt now, but it's been delicious! Tried a new mini butter lettuce called Tom Thumb and liked it so much, that I stuck some seeds here and there so I could have more. It grows fast too!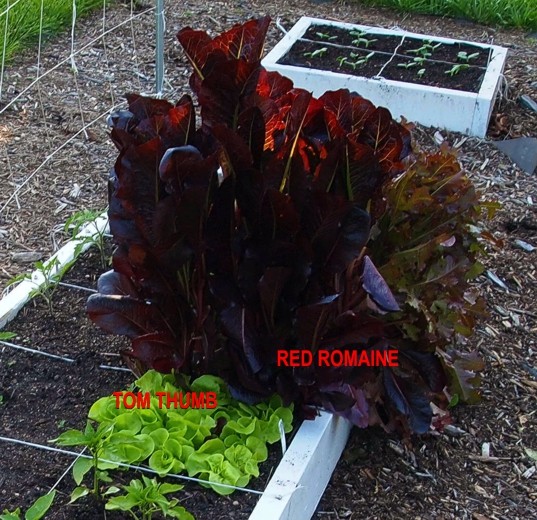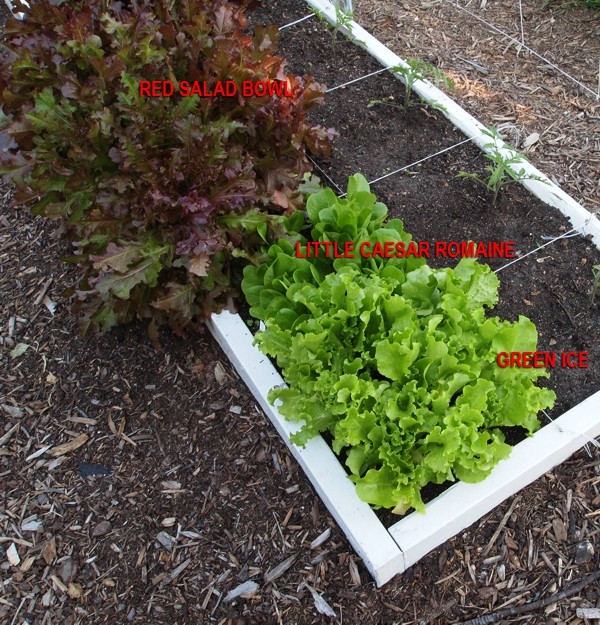 I cut the heads off the broccoli for supper tonight. Steamed them and sprinkled them with lemon pepper and added a pat of butter. Soooo good. We also had some of our sugar snap peas. Here's a view of the garden taken yesterday. You can see that the peas have topped the trellis! I don't remember that happening last year.
My eggplant leaves look like Swiss cheese due to flea beetles despite spraying with Rotenone and dusting with diatomaceous earth. I read an article about using red plastic mulch to ward off flea beetles. So in my desperation I ordered some from amazon.com and put it down with homemade garden staples (a.k.a. bent wire) this morning. I went out to check late this afternoon and did not see any flea beetles -- not one! Could it be that easy?? The jury is still out, but I am crossing all my fingers and toes.
We've also been eating lots of strawberries. I even had enough for the family picnic last Saturday to serve with pound cake and whipped cream. The first crop is almost done now but I'll get two more this season from these day-neutral plants -- yum!
Radishes are finished and spinach has been pulled. I did a second planting of spinach, but with temps in the 90's this week, it will be amazing if it lives. Celery has grown a little, but when you check everyday it's hard to tell for sure. Summer squashes and cucumbers doing well and are already getting their second set of leaves.
Tomatoes are loving the heat, and you can read my latest Tomato Tuesday report to hear about the progress of my 'maters. I've got blooms! June is the month of rapid growth in the garden, so there will be lots more to talk about in July. Can't wait to see the winter squashes climbing up the ladder trellises!
There lots of plants I didn't mention here, but I better get this posted before I fall asleep. So my fellow Upper Southerners...How are your gardens coming along, do you have all you squares filled yet?
pattipan



Posts

: 808


Join date

: 2010-03-04


Location

: WV -- Zone 6a



Your garden area is beautiful.. I especially like your wooden trellis ladders.

Heidi



Posts

: 120


Join date

: 2011-02-14


Location

: 7b (Angier, NC)



Red plastic mulch huh?

Please keep us updated on that! There is a local farmer that is trying to get a handle on his flea beeetles. He says he has tried everything. I wonder if he tried that?



Posts

: 668


Join date

: 2011-01-26


Location

: WNC 6b



@dizzygardener

wrote:Red plastic mulch huh?

Please keep us updated on that! There is a local farmer that is trying to get a handle on his flea beeetles. He says he has tried everything. I wonder if he tried that?
It's Day 2 with the red plastic mulch and not a flea beetle in sight! The newest eggplant leaves might actually look normal! I'm going to start a new thread on this later under Pests. Here's the article where I first read about it:
http://www.veggiegardeningtips.com/eggplants-flea-beetles/
pattipan



Posts

: 808


Join date

: 2010-03-04


Location

: WV -- Zone 6a



---
Permissions in this forum:
You
cannot
reply to topics in this forum