I am pretty new to SFG--I bought Mel's book last year and started with a 4x4 square last August (Lettuce, spinach, beets, cabbage) with mixed results--no spinach, 2-3 salads worth of lettuce, the cabbage never quite fomred a tight head, beets were really small but tasty. I was just happy to get something. I think I crowded the beets and cabbage too much. I assumed the cabbages would just grow into smaller heads, but that did not work out.
So this year I havee 3 4x4 beds with lettuce, kale, carrots, cucumbers, sunflowers, basil, cilantro, tomatos, anad onions. I just got the carrots in two weeks ago, but they are looking promising now. I have some peppers and tomatoes in containers. And a few things that I put directly into the ground around my boxes for comparison (2 blackberry busses that have not done anything

) two figs that I planted last year, more sunflowers and some flower mixes, some extra cucumbers and tomatoes. I also had some store-bought potatos that started to sprout, so I cut them up and planted--suprisingly they are comeing up pretty well now!
I also have two 2x6 beds with about 120 tulips (surrounded by chicken wire to keep the deer out--looks like they are in Gitmo!)
I am originally from the PNW (Edmonds, WA) and grew up doing traditional gardening (or at least watching Mom and Dad and planting a few things myself). I remember always having tons of all types of vegetables + blueberries, apple and plum trees and wild huckleberries and salmon berries (can't find those out here!).
So my foray into gardening is part wanting to grow my own fresher-than-supermarket produce, part wanting to use the land to produce something we can eat, and maybe part trying to recapture the childhood memories.
I am happy to have found this forum and I look forward to receiving and giving advice (mostly receiving at this point in my learning curve).



Posts

: 3


Join date

: 2011-06-01


Location

: Zone 6A - NJ Pine Barrens



leahcim
Yeh, the cabbage needs a full square (I'll have to cut some of the outer leaves that are encroaching on the adjacent squares. How many beets did you plant? More than the 9 recommended? Of course, with SFG you need to think "gourmet" (i.e., small) not "county fair prize-winning" veggies. So small & tasty works.

Here's my cabbage. See how badly it needs to be "trimmed"?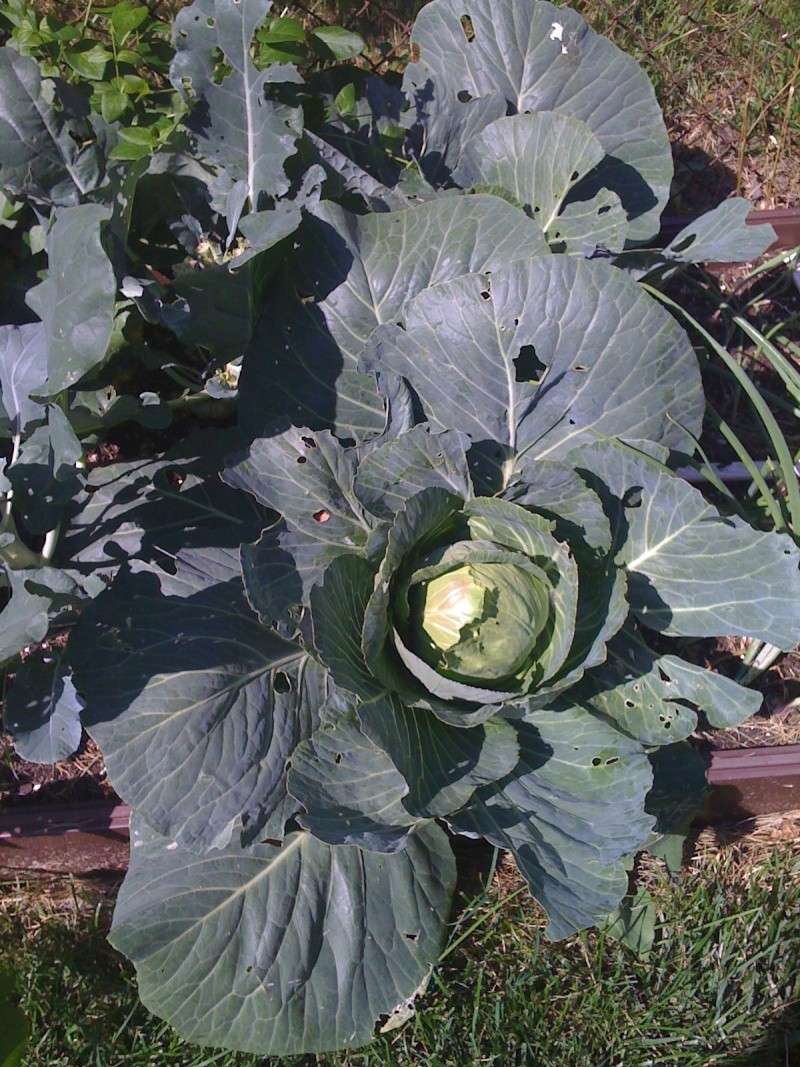 ____________________________
I have seen women looking at jewelry ads with a misty eye and one hand resting on the heart, and I only know what they're feeling because that's how I read the seed catalogs in January - Barbara Kingsolver - Animal, Vegetable, Miracle
sfg4u.com
FB: Square Foot Gardening 4 U

Certified SFG Instructor




Posts

: 1915


Join date

: 2010-09-30


Age

: 58


Location

: Glen Burnie, MD



I am glad you found us. Sounds like you are off to a great start.



Posts

: 1697


Join date

: 2011-04-01


Location

: zone 9a St.Johns county FL



---
Permissions in this forum:
You
cannot
reply to topics in this forum