I've been trying to prune my tomato plants to remove suckers now that they are out in the garden. However, I'm not sure if I'm doing it correctly.
Firstly, I've been trying to remove suckers once I see them, but am worried that I have been doing it too soon and perhaps pruning things that I shouldn't. The photo here shows a sucker that I would prune (circled in red):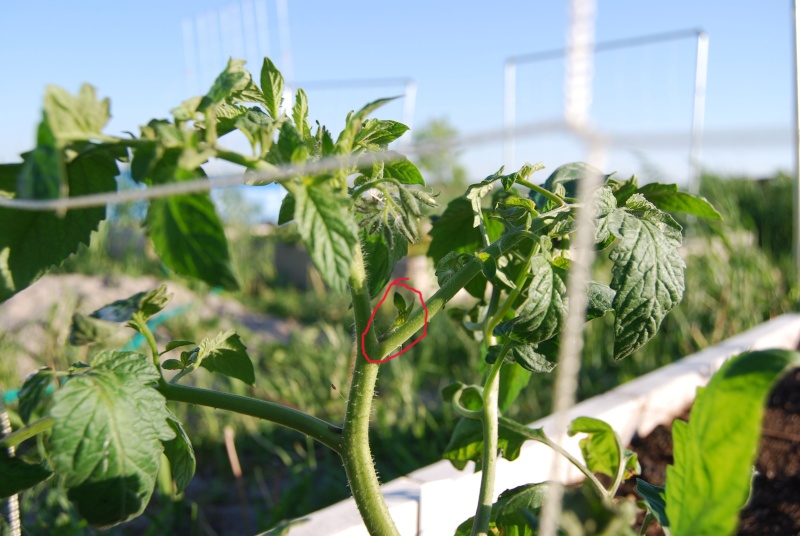 Should I be pruning at this stage? Or is it too early to determine if this is a sucker or needed growth?
Secondly, I have several plants where there seem to be rather large "suckers" already. For instance: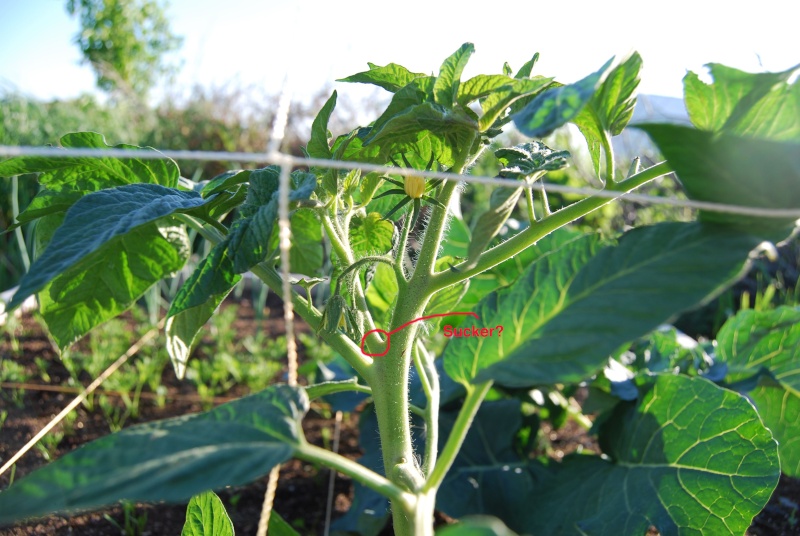 Is the node circled in red a sucker? It seems so large. My transplants have only been out in the garden for two weeks now.
Or these two: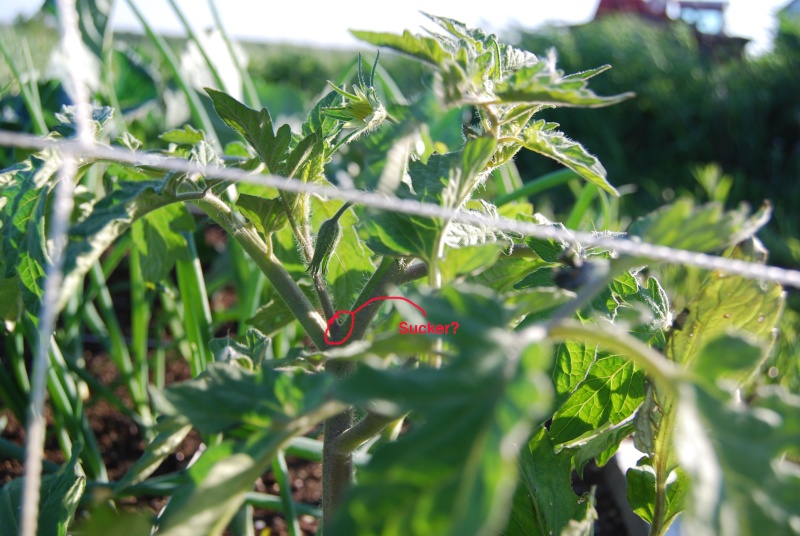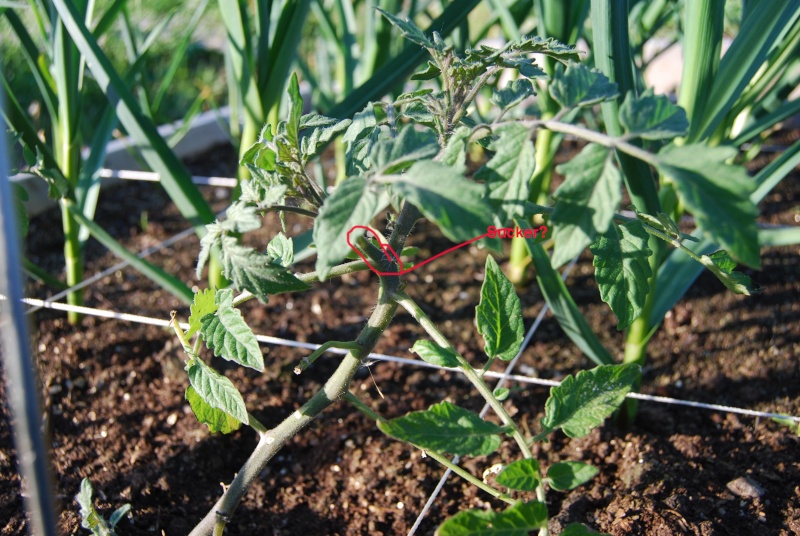 Again, they seem too large to be suckers. Yet, there are three "nodes" which means that the middle one has to be a sucker - right? I've read several topics here (and watched linked videos) on pruning tomatoes, yet when I'm faced with the actual plant I just can't seem to tell where I should prune. I have a short growing season and am worried that I am sabotaging my yields by removing the bits of the plant that produce tomatoes!
If it matters, I am as sure as I can be that these are all indeterminate plants. I think the varieties pictured are brandy wine, persimmon, golden cherry, and red zebra - but I may be incorrectly remembering which plants I photographed.
Any pruning advice would be greatly appreciated!



Posts

: 11


Join date

: 2010-07-31


Age

: 41


Location

: Ottawa, Ontario



Here is a good youtube on pruning that has been referenced somewhere in the forums before. http://www.youtube.com/watch?v=qJgA4n-sCE8&feature=related



Posts

: 512


Join date

: 2011-03-22


Age

: 75


Location

: West Union, Iowa



I let mine get a little larger than the one in the first pic but one does not have, you can pinch them at that size if you want to. A cheap and easy way to get more plants is to let a sucker grow about 4-6 inches snip it off with snippers and root it in water on a sunny window sill, Stick it in some MM for a week or two and then out in the garden just like any other seedling.
I also clip any leaves that touch the ground to help keep the plant healthy.



Posts

: 1697


Join date

: 2011-04-01


Location

: zone 9a St.Johns county FL



One of the "rules" I learned from a video linked here was this...

Remove suckers below the top group of blossoms, never above it. This keeps it simple for me. That way you never wonder if you're snapping off the top of the vine.



Posts

: 198


Join date

: 2011-04-30


Location

: Gardiner, Maine, 5a



Thanks for the help!

I have watched that video, but I guess I'm a little gun-shy in practice. I suppose in the first "large sucker" photo I posted that there is clearly blossoms above that first sucker?

It seems to me that I take out a lot of suckers. I'll go out and take a look nearly every day, and there will always be more suckers there. Is that possible or does that mean I'm pruning away too much?



Posts

: 11


Join date

: 2010-07-31


Age

: 41


Location

: Ottawa, Ontario



fustian, You will be fine. You'll get more sure of yourself with practice. The tomato plants are sturdier than you might think when it comes to pruning. Just remember that the suckers form in the "v" between the main stalk and a leaf. The sucker is just basically what would become yet another branch, if allowed to grow. Pruning them just allows more energy to be put towards growing the tomatoes, rather than the bushes. Just be sure to keep any pruning below the most recent flower stem.




Posts

: 850


Join date

: 2011-04-03


Age

: 65


Location

: Mississippi Gulf Coast Zone 8B



If you make a mistake and break off the top, just let one of the suckers take over as the main stem. These plants are very tough to take out accidentally.



Posts

: 440


Join date

: 2010-05-25


Location

: Beaver Dam, Kentucky, zone 6a



---
Permissions in this forum:
You
cannot
reply to topics in this forum