I have been diligently trying to keep my toms under control. I've been pruning back the suckers, pruned off the bottom branches and pruned off some more suckers.
All the other toms are behaving, but the sweet 100 is growing like it is on steriods.
It is right next to my sugar snap peas, so I don't want to prune too much so it will continue to shade the peas. However, it is now trying to take over the air space in 3 boxes it has no business in.
My trellis set up is only about 4 feet high, so I am going to have to add to it. I am not really sure how tall these guys grow though. Last year when I had toms they were squeezed so tightly into the 2 ft x 6 ft cage they didn't have a lot of places to go. Maybe since this one hasn't been constrained so much it has decided to be the big plant of the garden.
Other than building the trellis system in the book, what are some other things I can do to get this tom under control. If I recall correctly, you aren't supposed to prune above the flowering branches, but you can prune above them. That is what I am doing so far, but it doesn't seem to be enough.
Any help is appreciated!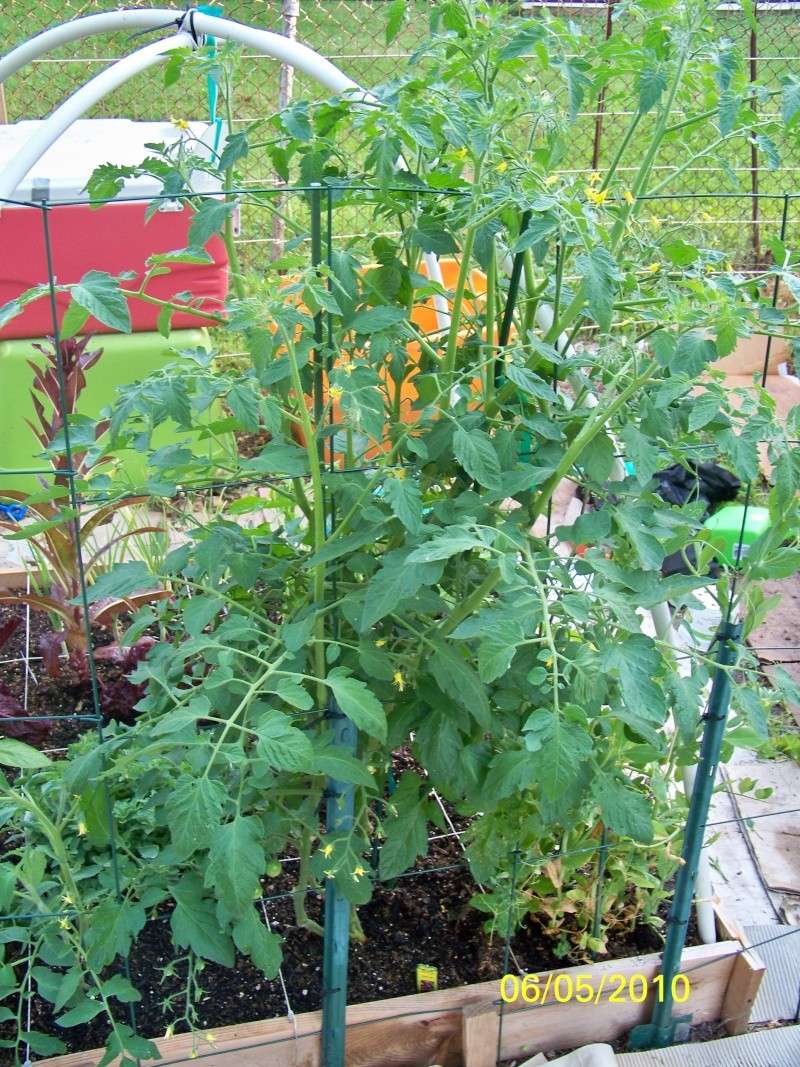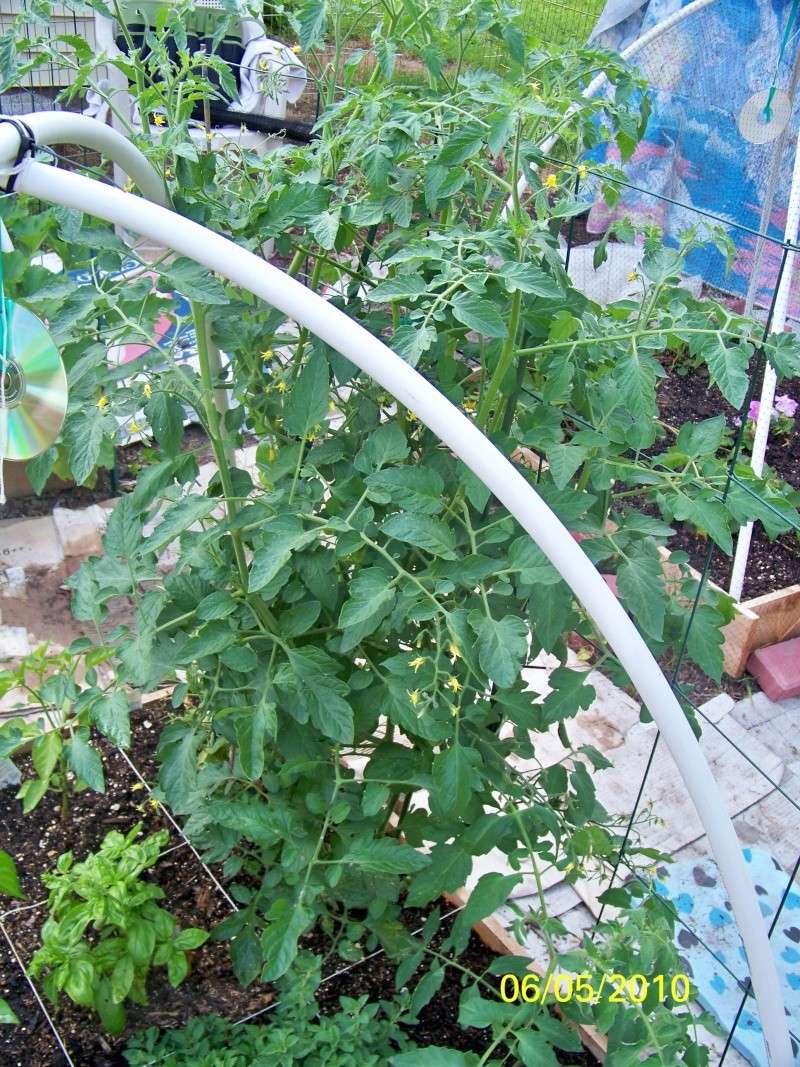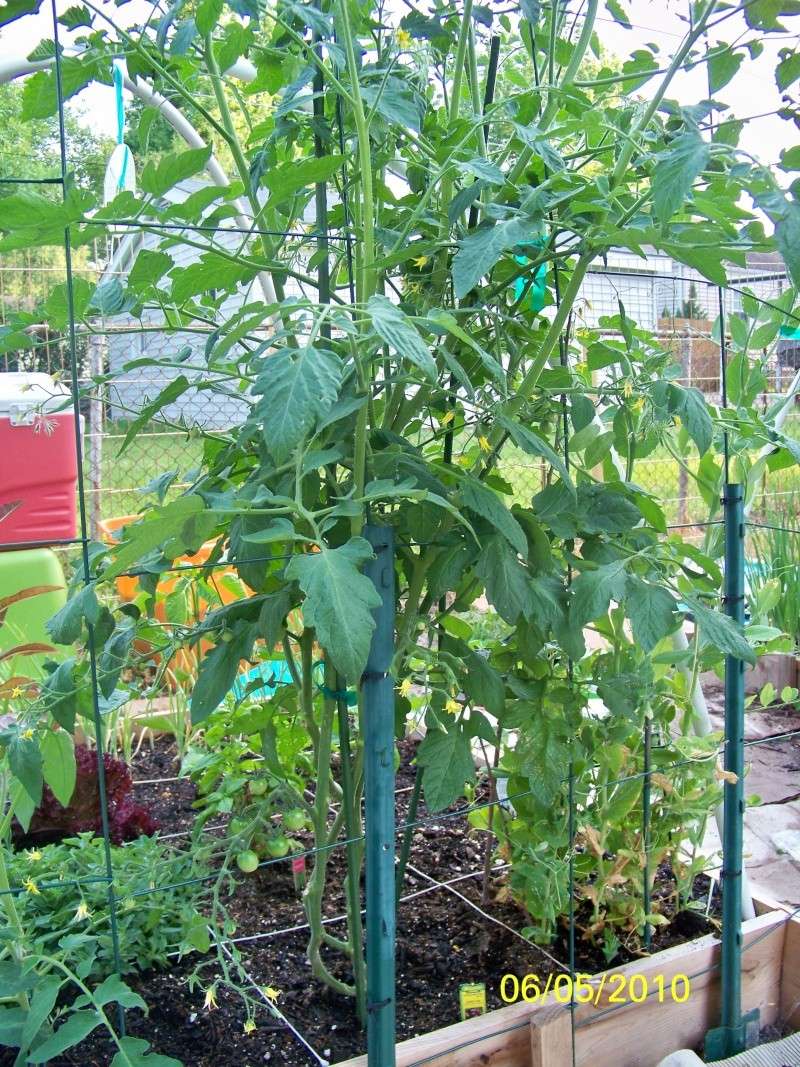 I see that your tomato plant has more than one vine. I am trying to keep mine down to one vine or two at the most. I have a sweet million tomato that is a one vine and doing well. Its packed in with other tomatoes and peppers. I also trim the leaves that seem to hang down to the ground, shortening them.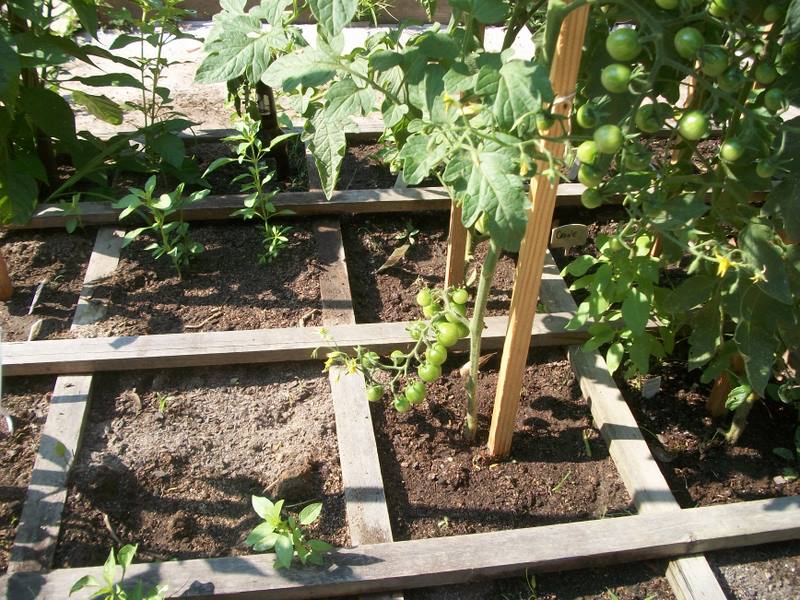 The sweet million is there on the left and a creole is on the right.
I will be going to the garden in a minute and I will get a picture of it full length next to its neighbors.
Ha-v-v



Posts

: 1123


Join date

: 2010-03-12


Age

: 57


Location

: Southwest Ms. Zone 8A (I like to think I get a little bit of Zone 9 too )



lol - yes my sweet 100's are on the same 'roids. they were my only tomato variety that rocked last year, it rocked in full sun, in half shade and 90% shade. I think that variety is indestructable, and this year is shaping up to be a repeat - I have 6 other tomato varieties I think and none are taking off like my sweet 100's - your either going to love or hate their enthusiasm




Posts

: 142


Join date

: 2010-05-10


Age

: 44


Location

: Durham, NC



That is good to know, at least I know I'll get lots of yummy toms out of it. I wonder if plants can inherit hyperactivity from their gardeners as children inherit it from their parents. If so, this could be a crazy summer!

I have learned this year that tomatoes grown in Mel's Mix will attempt to take over the world.

Be careful. Be very, very careful.



Posts

: 343


Join date

: 2011-03-08


Location

: Zone 8b, Coastal & Tropical South



Shhh, I don't want my toms to hear you. I think they are already plotting to take over the yard anyway.
---
Permissions in this forum:
You
cannot
reply to topics in this forum