Latest topics
»
Happy Birthday!!
by
sanderson
Today at 1:38 pm
»
Seed Organizing Ideas
by
donnainzone5
Today at 12:42 pm
»
N&C Midwest: February 2018 !
by
aliceingardenland
Today at 7:35 am
»
has55's R & D Journey
by
sanderson
Today at 1:55 am
»
parsnips in square foot garden?
by
sanderson
Today at 1:43 am
»
WANTED: Pictures of Compost Bins
by
bigdogrock
Yesterday at 10:28 pm
»
A new SFG fan from Texas
by
BeetlesPerSqFt
Yesterday at 10:27 pm
»
2018 SFG in Brooks, GA
by
yolos
Yesterday at 7:06 pm
»
The New Square Foot Gardening Foundation page is now online!
by
sanderson
Yesterday at 6:40 pm
»
February: What to plant in Northern California and Central Valley areas
by
sanderson
Yesterday at 6:31 pm
»
How's the Weather Where You're At?
by
Scorpio Rising
Yesterday at 6:24 pm
»
Invasive Tree Roots - Very important topic for newbies.
by
sanderson
Yesterday at 6:23 pm
»
excited to be here!
by
Kate888
Yesterday at 2:57 pm
»
Northern California & Coastal Valleys - What are you doing this month?
by
sanderson
2/18/2018, 2:58 pm
»
Butterfly Junction
by
sanderson
2/18/2018, 12:16 am
»
New England Feb 2018
by
sanderson
2/17/2018, 8:14 pm
»
Eggplant - (Japanese) Millionaire
by
Scorpio Rising
2/17/2018, 11:42 am
»
TrolleyDriver's Compost Thermometer
by
has55
2/17/2018, 8:17 am
»
SUGA 2018
by
SQWIB
2/16/2018, 3:15 pm
»
LED grow lights......any advice?
by
sanderson
2/15/2018, 12:08 pm
»
Mystery plant - need ID please
by
yolos
2/14/2018, 8:44 pm
»
new to the site from Arkansas
by
Scorpio Rising
2/14/2018, 8:36 pm
»
Hiya from Massachussets
by
Scorpio Rising
2/14/2018, 8:31 pm
»
What I learned this year
by
Scorpio Rising
2/14/2018, 8:21 pm
»
Happy Valentine's Day!
by
Scorpio Rising
2/14/2018, 8:19 pm
»
Jicama
by
countrynaturals
2/14/2018, 3:29 pm
»
CANADIAN REGION: What are you doing in February 2018?
by
Kelejan
2/14/2018, 1:56 am
»
What are you eating from your garden today?
by
Scorpio Rising
2/13/2018, 10:10 pm
»
Fourth Year SFG in Canada
by
trolleydriver
2/13/2018, 7:32 pm
»
Turan in the Western Mountains
by
sanderson
2/13/2018, 2:57 am

Holy critter batman!

Joe and I were talking on our back patio this afternoon when he got home from work and I was chattering like a little school girl telling about all the newly sprouted seeds in the garden. I was pointing toward the box with all the new babies and he sees something move! I didn't see it at first but t hen our dog went NUTS!

I have no idea what it was. We both thought it was a squirrel at first then we realized there was no fluffy tail and it moved along the ground more like a ferret. We are still stumped. It was the size of a squirrel. But it passed about 3 trees escaping the dog and didn't make effort one to run up a tree. Which leads me to believe it lives in the ground.

What in the world could it have been? Never seen anything like it here on the property or anywhere around here in the 2 years we have been here.

I am ready to pay the neighbor kid to set up a stake out in my back yard with his BB gun.
What color was it? Did it have a tail? Size.... red or gray squirrel? Did it run with it's back up, like a ferret?
Could have been your neighbor kid's ferret! Maybe he wants Charlie back?

I've seen rare squirrels with goofy tails. Don't rule out the tree rats yet. But, do you have weasles or even otters? They have that long, slender shape, too, but I imagine they are noticeably bigger.

You apparently have ground squirrels (prairie dogs to us Kansans) like crazy over there, too. Ground squirrel sounds about right from your description, but I have no idea.



Posts

: 2727


Join date

: 2010-12-25


Age

: 44


Location

: St. Louis, MO



Prairie dogs don't run like this thing though. They are kinda chubby, this thing was long and slender. It was dark brown. And friggin' lightening fast....it ran like a snake slithers if that makes any sense. If it had a tail it looked like the rest of it's body cause I couldn't tell the difference between a body and a tail.
I wish I could describe it more. Between me screaming at the dog to get it and Joe to shoot it I wasn't getting the detail I should have. LOL...I will be sure to update if we see it again.
If its the neighbor kids ferret they are 0 and 2. Cause I am sick of their dogs being in my SFG and I am ready to do something mean to them. If his ferret is in there wreaking havoc on top of their dogs I will kill that sucker. Cute or not... I don't have a garden for all the neighbors to be irresponsible pet owners and mess my SFG up! I know I sound like a witch but if I can keep my own dog out of my garden the neighbors certainly should be able to keep their dogs on THEIR 5 acres and off mine. Grrr.
I have googled images of every animal I could think of to figure out what this thing might be with no luck.
If it was a squirrel it's the first I have seen in our neck of the woods in the 2 years we have been here. We have one pine way in the back 40 and it's the only one for miles. And we see a hawk and an owl in it regularly. I have trees closer to the house but they are nothing I have ever seen a squirrel in. They are not tall at all. And the foliage is thin. They would be out in the open for any hawk or owl in the neighborhood.
It remains a mystery.....

My first thought was a weasel or mink... I don't know beyond that. :scratch:



Posts

: 343


Join date

: 2011-03-08


Location

: Zone 8b, Coastal & Tropical South



@Tril

wrote:You have these in Idaho...

Did it look like this at all?
This is bigger than what I saw. Is that a mongoose? I looked those up but all the images are blurring in my mind. I never saw this things face...it was low to the ground. And darker brown than this. Hmmmm....
It's a long tailed weasel... found in Idaho.
"Long-tailed weasels have a long slender body, short legs and a small, narrow head with long whiskers. Their fur is brown, almost the color of cinnamon, and yellowish-white underneath."
Could it have been this... a Pine Marten? They're about 12 to 17" long and run/look like a ferret.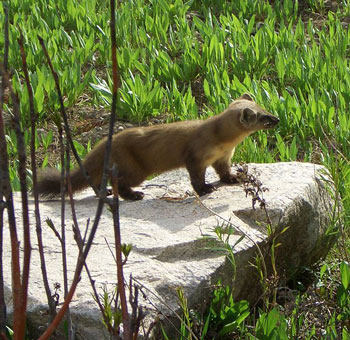 If what you saw was smaller than a marten... then my guess is that it's a Least Weasel. They're small... only 8-10" long. They look like this: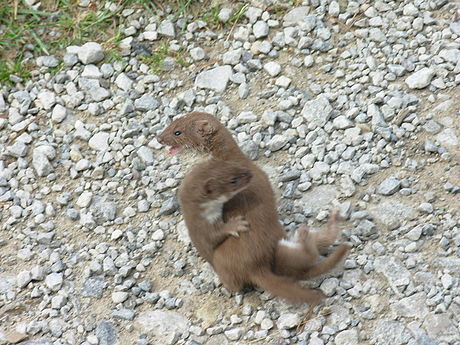 If what you have belongs to the weasel family... do NOT kill it. They are voracious carnivores and will keep your rodent population under control. They eat insects and grubs, too.

Don't they eat snakes too, I know a mongoose will, I loved the story of Rikki Tikki Tavvi.



Posts

: 1611


Join date

: 2011-01-29


Age

: 51


Location

: NE Texas, 75501, Zone 8a



Maybe mink or ermine? They're in your area.



Posts

: 54


Join date

: 2011-02-11


Location

: central Arkansas



You're just going to have to post sentry and fill us in. Now we're all wondering.




Posts

: 2298


Join date

: 2011-02-25


Age

: 57


Location

: Southern New Hampshire




---
Permissions in this forum:
You
cannot
reply to topics in this forum